Posted by Andie on November 10, 2015
A couple weeks ago we drove out to a beautiful farm in the hills of Virginia to go apple picking. We were already falling in love with autumn on the east coast, and this experience just sealed the deal!! Everything about the day was perfect- the acres and acres of of gorgeous crisp apples, the yummiest apple cider I've ever tasted, and 25 lbs. of fresh apples we (well, truthfully my husband) picked and took home!
Let me tell you, 25 lbs. of apples is a lot of apples to have on hand! My husband loves anything and everything apple, and so he got to work making apple sauce, apple cider, and the best apple pies you've ever tasted (I got real lucky when I married him:) The only problem with all of these wonderful apple concoctions coming from our kitchen was the fact that it required PEELING 25 lbs. of apples! Let's be honest- isn't apple peeling the worst?!
I knew my husband was busy in the kitchen, so when I heard the drill going I wondered what on earth was going on. This is what I found when I walked into the kitchen: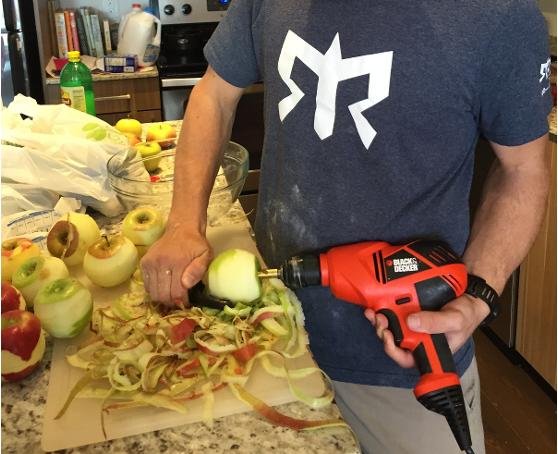 Subscribe to the Room To Talk Blog
Unsubscribe from the Room To Talk Blog