Sorry There are no featured products right now, or they have all sold out.
Sign-up for our e-mail promotions and watch your inbox for more specials!
Click here
to check out our
clearance
section. There you will find close-out pricing and unbelievable savings. Check back frequently...you never know what you'll find.
Your search - "" did not return any results.
Try these tips to refine your search, or try using our categories to the left to narrow your results.
Here are results we compiled from variations of your search terms:
Other Products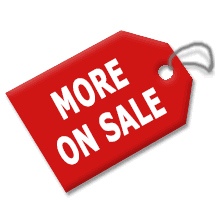 See More Items On Sale