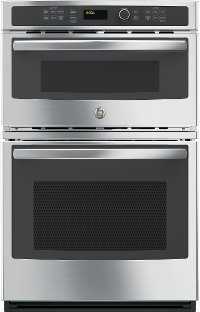 GE 27 Inch Combination Wall Oven with Microwave - 6.0 cu. ft. Stainless Steel - 2099

99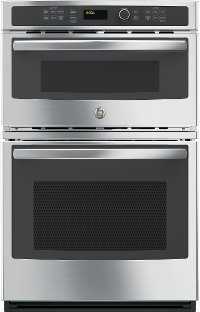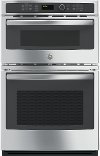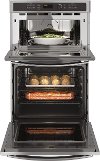 GE 27 Inch Combination Wall Oven with Microwave - 6.0 cu. ft. Stainless Steel
Description
This GE 27 inch combination wall oven with a microwave is available at RC Willey and gives you and your family everything you need to get your favorite meals prepared and ready for the table. With a lower thermal oven and a microwave oven up top, this combo microwave/thermal oven has it all. Even baking is assured with heat that covers more surface area with a 10 pass heating element. Get full broil coverage and even browning from edge to edge as well with 8 pass broil element. This microwave oven provides a built-in sensor in the upper microwave that automatically calculates and adjusts cooking times and power levels for favorite foods
Fit Guarantee
Replacing a similar wall oven from GE or another brand? GE wall ovens are guaranteed for an exact fit to make replacement easy.
Self-Clean, Heavy-Duty Oven Racks (Lower Oven)
Conveniently clean your oven and racks together
Ten-Pass Bake Element (Lower Oven)
Even baking is assured with heat that covers more surface area
Eight-Pass Broil Element (Lower Oven)
Get full broil coverage and even browning from edge to edge
Sensor Cooking Microwave (Upper Oven)
Provide a built-in sensor in the upper microwave that automatically calculates and adjusts cooking times and power levels for favorite foods
16" Turntable (Upper Oven)
Rotates food throughout the cooking cycle for even cooking results
Self-Clean with Steam Clean Option (Lower Oven)
Clean your oven the way you want
Glass Touch Controls
Set temperatures quickly and clean with little effort
Features
Fit guarantee for an exact fit
Self-clean, heavy-duty oven racks
Ten pass bake element for more surface area heating
Eight pass broil element for full broil coverage
1.7 cu. ft. microwave capacity
Sensor cooking microwave
Self-clean with steam clean option
Glass touch controls
Audible preheat signal
Programmable for C° or F°
Specifications
Collection
GE
Dimensions
26.75"W x 26.88"D x 42.38"H
Shipping Weight
192 lbs.
Appearance
Color
Stainless Steel
Fuel Type
Electric
Oven Style
Combination Double Wall Oven with Microwave
Control Type
Digital and Knob
Clock Display
Yes
Fingerprint Resistant
No
Dimensions
Overall Dimensions
26.75"W x 26.88"D x 42.38"H
Cutout Dimensions
25"W x 23.5"D x 41.13"H
Capacity
Upper Oven
1.7 cu. ft.
Lower Oven
4.3 cu. ft.
Total Capacity
6.0 cu. ft.
Upper Oven
Microwave
Yes
Speed Oven
No
Steam Oven
No
Convection
No
Cleaning Method
Manual
Window
Yes
Heating Modes
Microwave, Defrost, Popcorn, Reheat
Turntable
Yes
Lower Oven
Steam Oven
No
Convection
No
Number of Racks
3 Adjustable
Cleaning Method
Self-Clean with Steam Clean Option
Window
Large Clear View Window
Heating Modes
Bake, Broil, Warm
General
Smart Home Protocol
None
Time Bake
Yes
Auto Turn Off
Yes
Oven Light
1 halogen light in each
Timer
Yes
Rapid Preheat
No
Dehydration Setting
No
Temperature Probe
No
ADA Compliant
No
Sabbath Mode
Yes
Power
Broil Element
3400 W
Bake Element
2600 W
Microwave
1000 W
Warranties
---
Manufacturer Warranties
1-Year Parts & Labor Limited Manufacturer Warranty
General Electric Microwave Combo Reviews
GE 27 Inch Combination Wall Oven with Microwave - 6.0 cu. ft. Stainless Steel
is rated
4.5
out of
5
by
477
.
Rated

5

out of

5
by
frontier482

Wonderful Oven / Microwave

It is great. It does exactly what I want and nothing more. The microwave is large and works perfectly. The over is just what I needed for baking. I did not need a fancy oven just needed it for baking and it does not disappoint. It is a great buy for a great price. I highly recommend it.

Date published: 2019-02-10
Rated

5

out of

5
by
Prairiegal

Spacious interior!

I love this model and am still impressed by the room inside. Esp the microwave! Lovely exterior as well. I do recommend.

Date published: 2019-02-08
Rated

5

out of

5
by
Oleboots

Fantastic Wall Oven

This Microwave / Oven is very practical and all the features are so easy to use and make cooking a dream

Date published: 2019-02-07
Rated

5

out of

5
by
Red Tail 2010

Great value!

Great product with the quality and performance I was looking for.

Date published: 2019-02-07
Rated

5

out of

5
by
Linda Lee S

Has all the functions need for the home cooking

easy to work with various function and looks great in kitchen with my matching GE refrig

Date published: 2019-02-05
Rated

3

out of

5
by
ggiebaby

Oven temperature

I feel it takes much to long for the oven to reach a baking temperature, i.e. 450 degrees - at least 20 minutes!

Date published: 2019-02-02
Rated

4

out of

5
by
Gbns

Large capacity microwave - good overall features

So far so good. Temperatures seem to be pretty spot on. Haven't had to clean bottom oven yet. Like all the features of the microwave and easy to use. Can't rate overall performance Excellent yet as I haven't used the clean feature. Oven is too new

Date published: 2019-01-31
Rated

5

out of

5
by
JGP1

Great fit great style great color

Love.the look love, love the features of both oven and microwave BUT microwave door should be adaptable to open to side ---- difficult for 'shorter' (5') users to reach in to place or retrieve items and to clean!

Date published: 2019-01-31
Rated

5

out of

5
by
KarenJo

AWESOME!!!

I really enjoy the Microwave and how spacious it is; and the fact that it has a very sleek look. And the oven is fantastic. I thought that I would not like baking with electric; but I like it more and more. I love having the "pad" on top and not on the side. Makes it so much easier for me. Keeping it clean is a breeze.

Date published: 2019-01-31
Rated

5

out of

5
by
HOUSE WITH A VIEW

CLEAN DESIGN

WITH A BIT OF CABNET MODIFICATION IT WENT RIGHT IN. GREAT FOR A 80'S KITCHEN REMODEL

Date published: 2019-01-27
Rated

4

out of

5
by
KTGS

Replacement

Looks and working fine have not tested steam cleaning yet.

Date published: 2019-01-25
Rated

5

out of

5
by
0237

Great look and features

We love the quietness of the fan when cooling down.

Date published: 2019-01-25
Rated

4

out of

5
by
joey99

Good value for the price

Oven works great, microwave is larger (inside) than expected, was a very pleasant surprise.

Date published: 2019-01-24
Rated

4

out of

5
by
Kevetch

Works Great

Functionality and style very good. Micro wave controls a bit complex!

Date published: 2019-01-24
Rated

4

out of

5
by
Richard 43

Easy to operate

We find the operation to be very simple, and oven and micro wave work well.

Date published: 2019-01-24
Rated

5

out of

5
by
Nana25143

Easy to use

The oven/micro is very modern looking and easy to use. Love it.

Date published: 2019-01-24
Rated

4

out of

5
by
Victor13

GE Replacement

So far...so good with this combo unit. I was in the market to replace a combo unit that had only lasted 3 years. Originally, the plan was to go with another manufacturer, since the previous was a GE and had only lasted 3 years. I was bound to go with this option due to the size of the cut out in the wall. That said, the performance of this new unit has been impressive.

Date published: 2019-01-24
Rated

5

out of

5
by
Alan1954

Easy to operate and offers tremendous value!

Easy to use, looks great, and compliments all of our other stainless appliances.

Date published: 2019-01-21
Rated

5

out of

5
by
prell78

Great Features

Many cooking options. User friendly! Super quiet! Cook times very accurate. Cooks very evenly. Beautiful appearance.

Date published: 2019-01-20
Rated

5

out of

5
by
Brenda Lulu

Love It!!

Features are great. Easy to use and easy to install, my son installed. I'm a senior and have no trouble using.

Date published: 2019-01-18
Rated

5

out of

5
by
Jomer

Great oven

My 30 year old wall oven went out Thanksgiving and I was dreading the expense of replacing it. We bought this GE and not only did it fit perfectly but I love it! Had great features and works great! Very happy with this oven.

Date published: 2019-01-17
Rated

5

out of

5
by
BiteMe 11

I Feel Good !!

I love everything about this unit !! Looks, Quality, Performance, and the price .

Date published: 2019-01-17
Rated

5

out of

5
by
Handyman62

Love my purchase

This oven/microwave combo was just as described and easily installed. It has a smooth and quiet operation.

Date published: 2019-01-11
Rated

5

out of

5
by
bpsizemo

Looks great! Works great!

We've had this for a few months now and it's been great. Very quiet microwave and oven. Love it!

Date published: 2019-01-10
Rated

3

out of

5
by
Gamaliel

Single Knob Control is Trouble

Overall quality appears good. Fit and finish is good. One knob controls most settings. To operate microwave you need to dial in operation, then push the knob three times to start microwave. How many times can you turn and push the single plastic knob before the system breaks? Cumbersome and feels like a low quality part.

Date published: 2019-01-04
Rated

5

out of

5
by
jo808

Perfect Fit

I bought this GE combo Microwave/ Oven to replace a 1988 set. Works great, fit is just right for a small space. My only wish is that the control panel was back-lit.

Date published: 2019-01-01
Rated

5

out of

5
by
dmbbmd

DB

Have installed and used for 3 months. Love it. Cooks much faster than one replaced.

Date published: 2018-12-29
Rated

4

out of

5
by
ChasJ7845

Replaced my old GE Wall oven/microwave

I bought this GE wall oven/microwave to replace my prior GE product because the microwave broke. My 8 year older GE had more features and was a $1,000 dollars less, but the microwave broke and the new GE fit the cutout opening in my Kitchen.

Date published: 2018-12-24
Rated

5

out of

5
by
Fawci

So far, so good!

I bought it two days ago and I have used many of the features. So far, so good.

Date published: 2018-12-22
Rated

5

out of

5
by
Rleizer

Love it

Very happy with this purchase. Works well,it's of features. Beautiful design

Date published: 2018-12-21
Rated

5

out of

5
by
Inette

beautifull

I bought this 3 months ago and I'm so happy I did. Perfect

Date published: 2018-12-21
Rated

1

out of

5
by
Sher19

Inferior to older oven

This was a replacement for my previous version oven. Much harder to use. A very big disappointment.

Date published: 2018-12-19
Rated

5

out of

5
by
Tess37

LOVE IT

Just bought this and LOVED my old one Installation was quick and easy !!

Date published: 2018-12-18
Rated

5

out of

5
by
kalmira

Love this combo unit

This unit is sleek and works terrific. The microwave interior is cavernous and the settings/features are really thoughtful. The oven works perfectly. I love that you can use the oven, the micro and the kitchen timer all at once.

Date published: 2018-12-17
Rated

4

out of

5
by
Mtphillips

Great features

The controls took a little time to get used to. I do like the 30-sec feature on the microwave.

Date published: 2018-12-14
Rated

5

out of

5
by
DebL65

Love it!

I bought this a few months ago & have found it easy to use & all the functions work great. Fit perfectly into the space I had.

Date published: 2018-12-14
Rated

5

out of

5
by
Art LLL

What I Was Looking For

We have had this appliance for 4 months and we are very satisfied with its performance. The controls are easy to use and the controls clearly defined. Whether using the microwave or the oven, it performs well.

Date published: 2018-12-13
Rated

5

out of

5
by
CMM25

Exactly as it appears in the picture

It fit perfectly, works and looks great! The unit was just as it was pictured.

Date published: 2018-12-05
Rated

5

out of

5
by
Brenda Lulu

Great Buy!

This is my second GE Micro/Wall Oven unit. First One has lasted 20 years +.

Date published: 2018-12-02
Rated

5

out of

5
by
peppermint pattie

Great replacement oven/microwave

Love the look, updated features, and increased inside capacity compared to my old unit.

Date published: 2018-11-29
Rated

5

out of

5
by
wardkj

Outstanding 26 year microwave/oven combo

Excellent oven, I thought the door opening down would be a problem but my wife loves it and says door is no problem.

Date published: 2018-11-26
Rated

5

out of

5
by
MauraP

Great product!

When my freezer broke, it was the perfect opportunity to replace all my kitchen appliances. Because it was going to be a huge investment, I did A LOT of research, and based on my research, reviews, and even the sales person's preference, I settled on GE appliances. I love all the features of the microwave / oven, but probably the best is the screen, where I have multiple things going (timer, oven, microwave) and everything shows in the one screen. I also like the multiple choices of the microwave (melt, cook, etc.) and the times provided by food and weight are pretty accurate!

Date published: 2018-11-25
Rated

5

out of

5
by
pebby

prettty and efficient

is large enough for my needs. I like the settings. timer is loud and long enough to be attention grabbing microwave has very good settings such as warm for plate of food or coffee

Date published: 2018-11-16
Rated

5

out of

5
by
DieselFxr

So far so good

Bought a couple months ago and it has been working without any issues. Nice and simpleoven and microwave. The wife is happy so am I.

Date published: 2018-11-09
Rated

5

out of

5
by
Laureline

Oven./Micro Combo is great!

We love the new combo micro/wall oven. It has all the features we like and the digital screen is awesome. Not too complicated to figure out either. Nothing but thumbs up from this customer

Date published: 2018-11-06
Rated

5

out of

5
by
Semi

great looking

This model fit in our kitchen and looks good with other applinces.

Date published: 2018-11-05
Rated

5

out of

5
by
heyrachelk

Easy to Use - Works Great!

Our old double oven finally went out, and this, along with the new hood, are excellent. I recommend getting the convection feature for the microwave if you cook for a lot of people often. Baking, roasting, braising has all been a breeze with this oven!

Date published: 2018-09-13
Rated

5

out of

5
by
Williegutz

Awesome Oven/Microwave

We just installed our GE oven / microwave appliance and wife and I are just glad we choose GE. Very easy to install and simple to operate. Packaging were superb and no damage or any scratch at all. I highly recommend GE to everyone looking for appliances. Beautiful appliance.

Date published: 2018-09-10
Rated

5

out of

5
by
dean63

So far, so good!

We've had the unit just under a month, and it works great. The dials take some getting used to, but we've gotten the hang of them. Much more efficient than our old oven and microwave.

Date published: 2018-09-03
Rated

5

out of

5
by
Fshep

Always reliable

Replaced 29 year old model which served me well. Expecting the same with this one.

Date published: 2018-09-02
Rated

5

out of

5
by
Terry1123456

Works well so far pleased.

Microwave and oven work well. Could you the additional convection feature. Otherwise, seems to work well and the styling is fantastic.

Date published: 2018-08-30
Rated

4

out of

5
by
alanbalk

convenience

I wanted an oven that I didn't have to get down onto my knees to check on the progress of dinner. This wall-mount oven combo was exactly what I was looking for.

Date published: 2018-08-30
Rated

4

out of

5
by
Susan571

Good features

Controls are logical and responsive. Oven takes a long time to come to temperature.

Date published: 2018-08-30
Rated

5

out of

5
by
YankeeJoe

Great unit.

Easy install, controls very user friendly. This unit looks great in our kitchen. Very happy with the purchase , and the price. If your thinking of buying one go for it . Purchased 8/11/2018 delivered to our house 8/29/2018 . Installed by my self. You will need help putting it up in the wall. Took about and hour to finished install after we got it in the wall.

Date published: 2018-08-30
Rated

5

out of

5
by
DonInDallas

Looks Great

Easy to use and enjoying cooking again. Looks great and plan on using for years to come.

Date published: 2018-08-26
Rated

5

out of

5
by
Ronnie G

LOVE THE OVEN

We purchased this oven about a week ago and glad we did. So far it seems to be working just like it is supposed too. Love the combo it looks great also definitely a step up from what we had.

Date published: 2018-08-26
Rated

5

out of

5
by
ceescotty

I love to preset timer and go.

I have been looking at this unit for more than a year. found it at the right store for the right price and just had to have it.

Date published: 2018-08-26
Rated

5

out of

5
by
Isaac love

Looks great, works great- couldn't be more satisfi

Replace older model of the same and that unit lasted for 20+ years. No reason to believe this one will not do the same. Great product!

Date published: 2018-08-22
Rated

4

out of

5
by
TLMills

Love the look of appliance

Only owned for a short time but really like this model

Date published: 2018-08-12
Rated

5

out of

5
by
Gil G

Great Appliance

Just bought a combination microwave and oven and it looks great in my kitchen.

Date published: 2018-08-06
Rated

5

out of

5
by
Dezyher

Beautiful Product!!

I love my product— haven't had the opportunity to use it yet because I don't want to mess it up. I love the inside light feature which faded out after you close the door

Date published: 2018-07-28
Rated

5

out of

5
by
Frantsiske

Beautiful fit!!

This GE model looks elegant. It's a perfect fit!!!

Date published: 2018-07-11
Rated

4

out of

5
by
Rick Con

Good Value

Includes all basic features. Only draw back is bottom door is slightly wider than prior GE model which created problem with clearing trim.

Date published: 2018-07-03
Rated

4

out of

5
by
julie4

Simple programing

I replaced a 1994 GE model with this new one and the design is much better. The inside of the oven is much larger.

Date published: 2018-06-21
Rated

4

out of

5
by
Tembo1

Excited

Just had it installed and already love it. What a big difference from our VERY old system.

Date published: 2018-05-30
Rated

5

out of

5
by
Pwash1209

Great Prouct. I seen it on HDTV

I love this product. Did not know they still made these. Especially in stainless steel.

Date published: 2018-05-17
Rated

1

out of

5
by
MyGEOvenSucks

Temperature Incorrect, Only 3 yrs old

My three year old oven is already on the fritz. it will not hold the temp stated in the dial. Even worse, while I live in a robust and thriving suburb of Seattle, the GE Service team does go to my area. Maybe they cannot afford the gas?

Date published: 2018-05-07
Rated

5

out of

5
by
myoone

Great look

So happy I purchased this oven, it looks great and the microwave has some really great features

Date published: 2018-05-04
Rated

4

out of

5
by
Kpater

Easy operation

The Microwave is simple to use, the oven takes awhile to preheat and blows hot air, we rebooted the unit by shutting off the circuit breaker, turned on the circuit breaker and it pre heated quicker and it seemed the blower blew less hot air, have to say that was a plus, also the clock kept shutting off when the unit wasn't in use that was an easy fix went into settings for the clock and put in 24hrs and the time and now it stays on, I hope this information is helpful ,once you learn to use the settings you can appreciate what the unit has to offer .I understand all the new ovens today blow hot air our old oven didn't but it was 30 years old and had to be replaced that's the main reason why I gave it a 4 stars instead of 5 blowing hot air makes it hard to cook come summer. Since most of the new ovens today blow hot air I would recommend buying a GE it seems to blow the lowest amount of hot air compared to other brands.

Date published: 2018-05-03
Rated

5

out of

5
by
MindyT

Good choice for small kitchens!

We purchased this microwave/oven combination to fit in a small kitchen as a second oven. The narrow 27" size is perfect! The oven heats quickly, the control panel is easy to use, and the twinkling bell sound when the timer is complete is very pleasant!

Date published: 2018-05-02
Rated

5

out of

5
by
RayRay123

Replacement for GE Wall oven

Bought this new model to replace an old GE wall ovens and it fit perfectly. The digital interface took some getting used to, but didn't have trouble adjusting at all. The microwave vents air out while using which was strange, but doesn't affect performance at all. I feel like food cooks faster in the unit than our old one and the oven coolant down a lot faster.

Date published: 2018-04-29
Rated

5

out of

5
by
Dicko 1

Microwave /Oven Combo

Very nice set up, replacement for 14 year old GE model. I love the stainless inner chambers for easy cleaning. The controls had a little learning curve but are pretty easy once you get used to them.

Date published: 2018-04-26
Rated

5

out of

5
by
Meliinda

Great appliance

Bought two months ago and great experience with it.

Date published: 2018-04-26
Rated

5

out of

5
by
Movinmom1

Great Value

We were very surprised at the room we had inside of the oven. We replaced a 24 year old unit that wouldn't fit a cookie sheet inside lol. Love all the features it has to offer.

Date published: 2018-04-21
Rated

4

out of

5
by
Cuznsher

Great Features

The only thing I have against it is that the oven takes too long to preheat. Other than that, I love it.

Date published: 2018-04-18
Rated

5

out of

5
by
soccerfool

Efficient

Great quality for the money. Heating and cooking features work great.

Date published: 2018-04-16
Rated

3

out of

5
by
Jarmila

Good appearance

Both Apps. are difficult to handle: The Microwave's Manual doesn't clearly explain how to use it. For a little woman it is difficult to clean it because too high situated or too deep!

Date published: 2018-04-15
Rated

5

out of

5
by
Coouzz

Wall oven microwave

Great appliance. It was a replacement of a 22 year old

Date published: 2018-04-08
Rated

5

out of

5
by
Denmorse

Perfect replacement

Replaced a very old wall oven. So glad i chose this one!

Date published: 2018-04-06
Rated

5

out of

5
by
winman

End user friendly and installed with no problems.

The product is easy to use and is reliable. Is a good replacement for previous oven.

Date published: 2018-04-04
Rated

3

out of

5
by
ridget

It works

We needed to replace our ancient combination microwave/oven unit. The store recommended this GE so we had it installed. It works. That's the important thing. However, my 93-year old mother cannot learn to work it. Push the knob, turn the knob, push then knob, push and push...it's just too much for her. Thankfully, I can use it so guess who's doing all the cooking?

Date published: 2018-03-31
Rated

5

out of

5
by
Bassboat

new GE microwave/oven with the door to microwave a

The stainless stain adds a great new look to our kitchen. We love the new microwave door which matches the oven door. The timer settings are helpful when trying to gauge how long an item heats up.

Date published: 2018-03-31
Rated

5

out of

5
by
Rosemariekathleen

Beautiful! Works perfectly!

The microwave/wall oven combination fits perfectly in my kitchen. The oven heats quickly and bakes the food to perfection.

Date published: 2018-03-30
Rated

4

out of

5
by
MT1949

NICE COMBO UNIT

SO FAR THIS UNIT HAS A QUIET FAN COMPARED TO MY LAST OVEN. I WAS SURPRISED THAT THE OVEN DOES NOT HAVE A LOWER HEATING UNIT. I GUESS THE ELEMENT ON TOP DOES ALL THE HEATING.

Date published: 2018-03-28
Rated

5

out of

5
by
LDreier

Built-In Combination Microwave/Thermal Wall Oven

This unit is perfect for our older kitchen, just the right size and works great, easy use.

Date published: 2018-03-26
Rated

5

out of

5
by
Shannon311

I'm in love with my combo unit!

Replaced a 27 year old GE oven, so I was definitely overdue for an upgrade, but this model is AMAZING! The microwave is huge and powerful, cooks quick and defrosts evenly. The oven is also a generous size and I love the steam clean option. Oh, and did I mention - it's a beautiful piece too, goes great with our new quartz countertops and other stainless appliances. Extremely pleased with this appliance and highly recommend.

Date published: 2018-03-25
Rated

3

out of

5
by
OORWULL

Complex Features

Compared to the previous similar G.E. Wall Oven I had, this is quite complex for anyone technologically challenged. In addition the fixed microwave functions do not function as stated. e.g. Setting the microwave to melt 1/2 cup of butter, the butter exploded, covering the inside of the microwave with partially melted butter. Defrosting bread function - Set defrost for bread weight to 1.5 pounds, did not defrost, the center was still frozen. Now I just use my own timing for any defrost functions. Event timer completion signal is far too weak, if not standing in front of the appliance it can not be heard. Perhaps this could have some type of volume control in future models.

Date published: 2018-03-23
Rated

5

out of

5
by
DaveRichmond

Easy to use

Easy to install and fantastic to use. Controls with knob takes a minute to get used to using, but so much easier than buttons. Works great! If installing yourself, have a strong friend handy because this over is heavy. Super easy to install. 4 wires and 6 screws. Took about 1 hour total to remove old oven and install new.

Date published: 2018-03-20
Rated

5

out of

5
by
85 and still going

Great features and eay to use

though it took some adjustments on our part, we love how it functions and the end products turn out great

Date published: 2018-03-19
Rated

4

out of

5
by
Bob1990

Nice Kitchen Upgrade

This unit replaced the original GE combination wall oven/microwave and has been a good improvement. We purchased this unit because the old and new GE models fit the cabinet opening perfectly.

Date published: 2018-03-16
Rated

3

out of

5
by
CaKu

mixed reviews

I love the appearance of this microwave / oven. This unit replaced my previous GE oven that we had for 20 years. The old unit was in good working condition but we remodeled our kitchen and wanted new appliances. We decided to purchase GE because we never had any problems with the previous appliances. My review is as follows: The door of the microwave does not open to the side like the old unit, instead it opens down and this prevents me from reaching the back of the microwave to clean it. Also, to heat up something you need to push the bottom too many times. they need to simplify this. Regarding the bottom oven, the preheating time takes much longer than our old unit did. I wish GE would consider making these changes in future models to make it more user friendly. Overall I am pleased and hope this unit lasts as long as the old one.

Date published: 2018-03-13
Rated

5

out of

5
by
Ricky Roadrunner

If it ain't broke ..............

Replaced 30 year old GE unit with this new almost identical updated GE unit.

Date published: 2018-03-06
Rated

5

out of

5
by
Shyneise

GE Microwave/Oven Combo

My home warranty company offered this product as a replacement when my previous GE combo oven could not be repaired. I absolutely love every aspect of this product.

Date published: 2018-03-06
Rated

4

out of

5
by
Fredonna

The GE stove/microwave was purchased on 10/31/2017

Paid to have old unit checked out...was to receive credit on new unit...didn't happen Paid to have old unit hauled away...didn't happen New unit dumped on kitchen floor...no info given on how to install unit

Date published: 2018-03-05
Rated

4

out of

5
by
the other judy

Had to fit space for old GE oven and microwave

Like the product, but the microwave door is a real problem. I am 5'2", and it will be a real problem for me to reach the back of the microwave to wipe it down. Also, it is a problem for me to reach some things. I never had this problem with a door that opened to the side. Also, I'm afraid the electronics will not last. I feel this was designed by a man who would have no trouble reaching the back of the oven.

Date published: 2018-03-02
Rated

5

out of

5
by
GEORGE WARSHEL

MICROWAVE AND OVEN COMBO

I BOUGHT THIS THREE MONTHS AGO AND LOVE IT. IT IS SO EASY TO USE.

Date published: 2018-02-27
Rated

5

out of

5
by
Dutchman96

Very Stylish

Very pleased with the oven/micro unit. We purchased, dishwasher, oven unit & new refrigerator all GE and match perfectly.

Date published: 2018-02-27
Rated

2

out of

5
by
Hoklard

Complicated Controls

Controls are complicated and oven does not heat consistently.

Date published: 2018-02-26
Rated

4

out of

5
by
Windyj

Very nice

Great combo oven, microwave. My only issue is that setting the cooking time is frustrating and could be simplified without the dial.

Date published: 2018-02-25
Rated

5

out of

5
by
1GRANNY

Looks and works great

Purchased as gift to us from our son. Both son and gift were a great surprise.

Date published: 2018-02-25