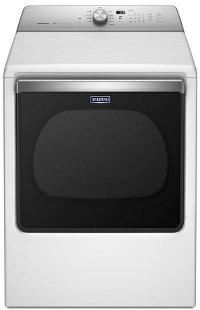 Maytag 8.8 cu. ft. Gas Dryer - White - 849

99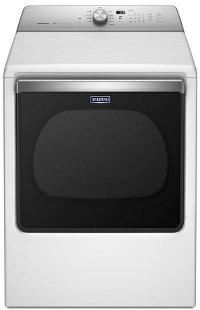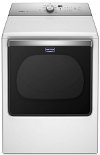 Maytag 8.8 cu. ft. Gas Dryer - White
Description
This white front load gas dryer () When it comes to getting the laundry done, it's all about doing fewer loads in less time. That's why we gave this dryer a huge 8.8 cu. ft. capacity and features like the PowerDry cycle, to make sure your clothes are ready to go in no time. This dryer doesn't just power through your clothes: it gives them the attention they need with Advanced Moisture Sensing that measures temperatures so every shirt and sock gets the right amount of dry. All that and a 10-year limited parts warranty on a model designed, engineered and assembled in the U.S.A. make this machine pure Maytag brand. Pair it with the matching to complete the look.
Features
Dries Faster with the PowerDry Cycle
With optimized heat and airflow, this cycle gets your toughest loads completely dried faster. It runs hotter and works harder to power out moisture.
Sanitize Cycle
The Sanitize cycle removes up to 99.9%2 of three common household bacteria.
LED Drum Light
The LED drum light brightens up the inside of the dryer, for a nice shine when you need to track down the last of the laundry.
Audio Level Option
Set the audio level on your dryer so no matter what you're up to or where you are in the house, you can hear the end-of-cycle signal.
10-Year Limited Parts Warranty on the Drive Motor and Dryer Drum
We're backing these drying machines with a 10-year limited parts warranty on the drive motor and dryer drum.
American Pride
We take pride in building strong, reliable appliances for your home. From Marion, Ohio to you, these dryers are designed, engineered and assembled in the U.S.A.
Built With a Bold Design
The bold new look of Maytag® top load dryers features a redesigned door and window, premium console and chrome accents.
Improved Lint Screen
An improved lint screen lets you capture lint in a single swipe, so it only takes you a second to keep the dryer's airflow optimal.
Airflow Monitor
The Airflow Monitor provides a visual display to help ensure optimal drying and energy efficiency.
Maytag® Commercial Technology
These dryers come standard with high-performance, commercial-grade parts like a high-torque motor, 5-rib dryer belt and premium rollers.
Extra-Large Capacity
These 8.8 cu. ft. capacity dryers have plenty of space to dry 21 towels in a single load.
High Torque Motor
This motor powers fast spin speeds, which work perfectly with optimized airflow and an extra interior fin for exceptional drying.
Advanced Moisture Sensing
Advanced Moisture Sensing uses sensor strips to measure moisture levels and temperatures, delivering exceptionally even results every time, even for the largest loads.
Extra Interior Fin
An extra interior fin creates a random tumbling pattern and keeps clothes movin' in the dryer drum for an exceptional drying performance.
Rapid Dry Cycle
Waiting for the dryer is no fun. Get small loads like that must-have outfit dry in a jiffy with the Rapid Dry cycle on Maytag® dryers.
Wrinkle Prevent Option
The Wrinkle Prevent option helps prevent wrinkles by tumbling clothes up to 120 minutes after the cycle has ended.
Largest Loads, Evenly Dried
Advanced Moisture Sensing, monitors inside moisture and air temperatures to get your largest loads evenly dried every time.
Specifications
| | |
| --- | --- |
| Collection | Maytag Dryer |
| Dimensions | 29"W x 32.25"D x 41"H |
| Shipping Weight | 169 lbs. |
| Finish | White |
| Requires Assembly | Yes |