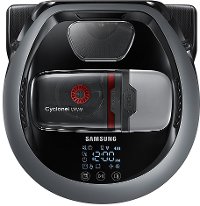 Samsung Amazon Alexa Enabled POWERbot R7040 Robot Vacuum - 499

99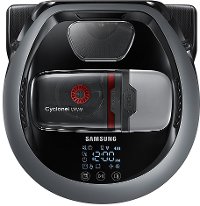 Samsung Amazon Alexa Enabled POWERbot R7040 Robot Vacuum
Description
Welcome to the future and say goodbye to pushing your vacuum around. With Samsung's Amazon Alexa Enabled POWERbot R7040 Robot Vacuum from RC Willey, you can spend more time doing what you want and less time cleaning. This robot vacuum features Visionary Mapping Plus and FullView 2.0 Sensor that creates optimal cleaning path and avoids obstacles. Coverage map shows on app where POWERbot has cleaned making it easy to ensure that your robot cleaning slave isn't missing any spots.
From the Manufacturer

|

Powered by
Key Specs
| Visionary Mapping™ | FullView Sensor™ | Wi-Fi Connectivity |
| --- | --- | --- |
| Edge Clean Master | Suction (W): 10 | Running Time: ≤ 60 MIN |
Product Features
20x more powerful suction*

Powerful suction delivers optimal cleaning results with 20x more suction power than the previous model1 .


*Tested internally on Samsung POWERbot VR7000 and Samsung conventional VR10F71UCAC.


Visionary Mapping™ Plus and FullView Sensor™ 2.0

Onboard digital camera and nine individual smart sensors help create an optimal cleaning path by scanning the layout of your home and its surroundings. You won't need to worry about furniture or objects on the floor. Simply turn it on, and let it do the job for you.


Wi-Fi connectivity

Remotely control your robot vacuum with your smartphone via Smart Home or Samsung Connect, or voice control with Amazon Alexa or the Google Assistant2


Edge Clean Master

Thoroughly cleans corners and edges of the wall.


CycloneForce™ Technology

Get consistent power with less clogging.1 Strong centrifugal forces separate dirt and debris into an outer chamber to maintain long lasting suction power.


EasyPass™ Wheels

Large wheels move smoothly over obstacles, transitioning from hard floors to carpet with ease and providing the right type of cleaning action for whichever surface it's on.


Intelligent power control

Automatically detects surface types to optimize suction power. From wood to carpet flooring, and whatever in between, the POWERbot senses the surface type to provide optimal cleaning.


Schedule

Program your own cleaning time. Simply set a time when you're away or at home for automatic cleaning.


Washable filter

The washable filter makes for easy and cost-effective maintenance.

Choose the POWERbot that's right for you
Docs
User Reviews Top 10
Samsung makes the best robot vacuums hands down!

Author Name: MFaust96
Rating: 5

Outstanding product! Samsung makes the best Robot Vac

Submission Time: 2017-12-03
What a grate machine

Author Name: GuyanaD
Rating: 5

I got my robot today loved it I try it out today for the first time works great . We'll what happens after a few runs.

Submission Time: 2017-08-25
The device is great, the App not so much

Author Name: tm2guy
Rating: 5

Does a good job as long as it doesn't get stuck. I travel for 3-5 days at a time and so far have come home to a stuck unit every time. Picks up a good deal of dust and carpet "fuzz" so it is truly vacuuming, not just brushing like its competitors. The big disappointment is that I bought it thinking the app would be good. It is a model that "Not yet supported" so I use the remote. The Alexa voice support is only good for starting and stopping the unit. That "skill" is so basic as to not be useful.

Submission Time: 2017-08-13
Love this robot!

Author Name: dcpeders
Rating: 5

First time user of a robot vacuum. Like the two speed option for the vacuum. Low speed works great on the hardwood floors. Pressing the return to home for recharge seems to take a while to find it's way home. To be fair, it was slightly more than 20 feet from home. It did return to the charging base. Overall I think we are going to like this vacuum.

Submission Time: 2017-08-01
Fantastic Product

Author Name: Newhomeowner121212
Rating: 5

This powerbot has exceeded expectations and does well on carpet and hardwood.

Submission Time: 2017-07-16
Awesome

Author Name: Roaminglunatic147
Rating: 5

it sucked up a lot of dirt, dust, and other stuff too.It is very good you should buy this product.does well for the money.

Submission Time: 2017-04-29
Excellent vacuum cleaner

Author Name: KipWilliams
Rating: 5

I've done a lot of research over the past couple weeks and finally made my decision to purchase this unit. I've had it for about 2 days and had a little trouble with the app to recognized my wifi but a new Android app update came in on April 13th that corrected the problem with the Wi-Fi now it works perfect. The new low profile model over the one I had earlier actually goes under my tables and furniture much better now without hitting. I really like the Amazon Echo voice support so I can just say Alexa turn on my vacuum cleaner. So far when it's going back to the charging dock it finds the dock every time with the new improved charging dock. My previous model had a lot of trouble trying to find the charging dock when it was on carpet. I'm amazed how it's able to remember where it left off last and return to that spot. My previous model was always getting stuck causing me have to come to rescue it but so far this model has only got stuck twice.

Submission Time: 2017-04-14
Good Product

Author Name: TowelLady
Rating: 4

Got this product to assist with dog hair on tile floors. Dog enjoys chasing it around.

Submission Time: 2017-12-02
Best thing for hardwood floors

Author Name: BobW55
Rating: 4

Was looking at a more expensive model but they were out of stock.. Bought my R7040 at Best buy. I have hard wood floors in every room of my house, and with 2 dogs and 2 cats, the dust bunnies would quickly take over. In the 2 days I have had this, you wonder why I did not get one sooner. Set up was a breeze. Take unit out of box, remove some plastic film, flip unit over and turn ON the master power switch, plug in docking station, sit unit onto base to charge. While charging, download the Samsung App. The App configured with ease, only hard part was trying to remember my home network password. Total set up time was maybe 10 minutes. The Good stuff. The unit is quiet, even on high power. (my dust buster is 10X louder). Conversations and the TV were not bothered by it. It picks up stuff. Dust Bunnies, hair, lint, small leaves dragged in by the dogs were no problem. I even spilled some sugar and coffee grounds on the floor and she ate them all. Had some issues with some "O" cereal I placed on the floor but I figured it would. It does a pretty good job of covering the entire surface. Being that we plan to use this every day I am sure any spots missed will get covered the next day, I was most surprised when it maneuvered, under and around the kitchen table and chairs, I thought for sure it would have gotten tangled up,but it handled it with ease. After cleaning the kitchen she headed for the hallway, the bathroom, and then to wards the master bedroom. Not sure how much of the bedroom was done, but heard it shut down , and after a moment heading out of the room looking for the docking station. There is a chair right next to it and on the 3rd attempt it drove right up on it, and started to charge. The dust bin was packed. I was amazed at what all it had picked up even though I had just vacuumed the house with a Dyson upright. I had the unit set to resume cleaning once it had recharged, I noticed that it took off after about just 1 hour on the charger. Because of this it also died again about 20 minuted later. Hopefully Samsung will fix this with a firmware update. I had set it to run while I was out shopping. 20 Minutes later I get a notification on my phone that the Bot had something in the main brush. Opened up the App, hit pause, then told it to go back to the charging dock. About 5 minutes later I see on the App that it is charging. Not sure what had caused the blockage all was fine when I got home. The BAD Small throw rug will some times get cleaned, sometimes just pushed out of the way. IMHO not meant for carpet, while it can and will traverse carpet, it does seem to bog down, and will not deep clean like a large upright would. I sure an all carpet home would take a big hit in battery life. Did not come with the Boundary marker (Magnetic tape) So far no one carries it other than online. Needs firmware update so that it does NOT resume cleaning until fully recharged. Over all I am 100% pleased with my purchase. I am amazed at how well it can maneuver around the house. My dogs and cats have already gotten use to it. Will it replace your normal vacuum, no way, but it will keep your floors looking spotless for a whole lot longer with no effort. Should they ever make one that empties it's own dust bin I want it.

Submission Time: 2017-09-05
Impressive

Author Name: Dave1584
Rating: 4

We replaced our Roomba 770 with the Powerbot R7040. the Powerbot has surpassed the Roomba in every way except battery life. After using the Powerbot you realize how "dumb" the Roomba really is. The Powerbot's navigation system is very impressive. The kids had some shoes left out and the Powerbot would navigate around them and get right back on track. Running on normal I was surprised how quite it is. The only bad things I've noticed is battery life isn't enough to cover my living room and kitchen. It will go back and charge after about 50 minutes. The Roomba would have enough battery to clean the living room, kitchen and I could then take it somewhere else and clean a bedroom if needed. The other thing I notice is when it runs in the dark the navigation system doesn't perform nearly as good. Its seems no better than Roombas random wondering. I only did 4 stars on design because the fan to pull dirt into the dirt bin gets covered with hair and blocks the path to allow more dirt into the bin.

Submission Time: 2017-07-26
1

Tested internally on Samsung POWERbot VR7000 and Samsung conventional VR10F71UCAC.

2

Requires wireless network and Samsung Smart Home and Samsung Connect App. The Samsung Smart Home and Samsung Connect App supports Android OS 4.0 (ICS) or later which is optimized for Samsung smartphones (Galaxy S and Galaxy Note series). This app also supports iOS 7 or later for iPhone models. Smart Home App available in App Store and Play Store. Amazon Alexa devices and the Google Assistant devices sold separately.

3

Tested internally on Samsung POWERbot VR7000 and Samsung conventional VR10F71UCAC
Features
20X more suction power* - Powerful suction delivers optimal cleaning results and running time of less than or equal to 60 minutes
Visionary Mapping™ Plus and FullView 2.0 Sensor™ - Creates optimal cleaning path and avoids obstacles. Coverage map shows on app where POWERbot has cleaned
Wi-Fi Connectivity - Works with Amazon Alexa - Remotely control your robot vacuum with your smartphone, or voice control with Amazon Alexa**
Edge Clean Master - Thoroughly cleans corners and edges of the wall
CycloneForce Technology – More consistent power with less clogging*
Specifications
| | |
| --- | --- |
| Collection | Samsung Powerbot |
| Dimensions | 13.7"W x 13.4"D x 3.8"H |
| Shipping Weight | 14.3 lbs. |
Add-Ons
More from the Samsung Powerbot collection
Warranties
Optional Warranties
5-Year Vacuum Protection Plan

39

99