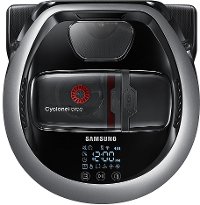 Samsung Amazon Alexa Enabled POWERbot R7070 Robot Vacuum - 699

99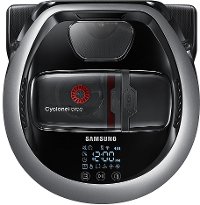 Samsung Amazon Alexa Enabled POWERbot R7070 Robot Vacuum
Description
Welcome to the future and say goodbye to pushing your vacuum around. With Samsung's Amazon Alexa Enabled POWERbot R7070 Robot Vacuum, you can spend more time doing what you want and less time cleaning. This robot vacuum features Visionary Mapping Plus and FullView 2.0 Sensor that creates optimal cleaning path and avoids obstacles. Coverage map shows on app where POWERbot has cleaned making it easy to ensure that your robot cleaning slave isn't missing any spots.
From the Manufacturer

|

Powered by
Key Specs
| Visionary Mapping™ | FullView Sensor™ | Wi-Fi Connectivity |
| --- | --- | --- |
| Edge Clean Master | Suction (W): 20 | Running Time: ≤ 90 MIN |
Product Features
40x more powerful suction*

Powerful suction delivers optimal cleaning results with 40x more suction power than the previous model1 .


*Tested internally on Samsung POWERbot VR7000 and Samsung conventional VR10F71UCAC.


Visionary Mapping™ Plus and FullView Sensor™ 2.0

Onboard digital camera and nine individual smart sensors help create an optimal cleaning path by scanning the layout of your home and its surroundings. You won't need to worry about furniture or objects on the floor. Simply turn it on, and let it do the job for you.


Wi-Fi connectivity

Remotely control your robot vacuum with your smartphone via Smart Home or Samsung Connect, or voice control with Amazon Alexa or the Google Assistant2


Edge Clean Master

Thoroughly cleans corners and edges of the wall.


Self Clean Brush

Automatically removes hair tangles around the brush.


CycloneForce™ Technology

Get consistent power with less clogging.1 Strong centrifugal forces separate dirt and debris into an outer chamber to maintain long lasting suction power.


EasyPass™ Wheels

Large wheels move smoothly over obstacles, transitioning from hard floors to carpet with ease and providing the right type of cleaning action for whichever surface it's on.


Wide brush

The wide brush cleans larger areas more efficiently. It has a width of 11.4 inches, which is over 42% larger than conventional 8 inch brushes, so it cleans a greater area with less movement needed.


Intelligent power control

Automatically detects surface types to optimize suction power. From wood to carpet flooring, and whatever in between, the POWERbot senses the surface type to provide optimal cleaning.


Schedule

Program your own cleaning time. Simply set a time when you're away or at home for automatic cleaning.


Washable filter

The washable filter makes for easy and cost-effective maintenance.

Choose the POWERbot that's right for you
Docs
User Reviews Top 10
Great Vacuum

Author Name: WildTea14
Rating: 5

Overall I'm really impressed by this vacuum. Since this is my first robotic vacuum I can't compare the navigation with other brands but the navigation seems to be really good. I have the dock in a out of the way hard to reach corner and so far this robot has been able to find it every single time. It does a great job at not ramming furniture and objects and seems to cover most of my apartment. It also has really powerful suction and does a great job at cleaning the floor.The only complaint I have is with scheduling. You can only set a time, and then the vacuum with vacuum at that time every single day. If you want to have the vacuum only run every 2 or 3 days or if you want to run it at 7:00 some days and 3:00 other days, your out of luck. For such an expensive vacuum I expected more scheduling options.

Submission Time: 2017-11-13
Cleans better than my vacuum

Author Name: Llem
Rating: 5

My Powerboat R7070 is a week old. I have been using my new Powerbot R7070 several times every day. It cleans my floor better than my human-operated vacuum. I have even been moving furniture to see if the Powerbot could handle the built-up dirt and dustbunnies collected underneath. It has done great at any job I have given it. I get down on my hands and knees and check the floor after it finishes running, and the floor is consistently clean right up to the edges. It doesn't miss a spot. I find the Powerboat easy to use via its remote control. It lives under a bed and has no trouble finding its base to charge. It cleans my 1000 sq. ft. house in one charge. I am in love, but I worry that the Powerbot won't hold up well. After only a week of use, it already has a couple of rips on the beater-brush's flaps. The Powerboat was an expensive purchase, so I am disappointed that rips have occurred. I hope it doesn't continue to deteriorate so quickly.

Submission Time: 2017-07-27
Easy to set up.

Author Name: SGTofMarines0331
Rating: 5

My first robot vacuum. It was easy to set up and get running. I felt it did a very thorough job of getting in every spot to clean. It is very quiet and I was able to still hear the TV as it moved about the house. A little pricey but still worth the money. I got this for dog hair and it does an excellent job at picking it up. Also the only Samsung with the self cleaning brush for the hair and that is the main reason I chose this model. Now to set up the app on my phone and connect it to Alexa. Great buy and I am very happy with it.

Submission Time: 2017-05-10
Pleased with our purchase

Author Name: RustyD
Rating: 4

Powerful suction. The best part about it is that we can use our big machine & then run the POWERbot & are amazed at how much dog hair had been left behind!! This machine gets it all!! It cleans deep down. We love the drop down edging feature a lot. So far we haven't gotten 90 minutes cleaning time before it gets low on power & tries to find "home". I just moved the base to a more open area & it finds it better now. FYI: Don't put the base behind a chair or other large furniture. A problem is that it doesn't want to go under the furniture with skirts on the bottom...we can lift them & it goes under but that is not "hands free" or "start it & forget it" ease of use. A little trouble climbing one threshold. It works hard to conquer that & succeeds. It sometimes sees a puffy hair clump as a obstacle & goes around it. That's not good. It seems confused at times as well. I find myself talking to it & watching it work. Go that way! You missed a spot! LOL! Even both dogs like to follow it around! I don't think I would want to schedule it to work while we are not home because, in our case, we have to stop it to empty it 2 or 3 times during each cleaning cycle. Don't know what would happen to it if left over full. That brings me to a suggestion. We think it should have a safety stop feature when it's full & maybe a beeper to alert you to empty it. It would be a great addition to future models! As far as value goes, it's a good machine, however, we feel the price was quite high even after the discounts with the things I described above. Would have been more comfortable paying closer to $300 to $400 for it so we hope it lasts a very long time... But I would recommend it to anyone with pets anyway. Just be sure to empty often as needed.

Submission Time: 2017-12-18
this product has a great design.

Author Name: leslormore
Rating: 4

seems to go over same areas to much. Less objects in its path the better it works.

Submission Time: 2017-12-17
My New Rosie

Author Name: 3Tcubed
Rating: 4

First impression of the Bot in the Box, very impressive, it comes well packed with sufficient instructions to do things in the right order. First it says the POWERbot should be fully charged before first use. Since I needed to install the app first, I didn't think this was a big deal. In fact it said it was fully charged after about 60 minutes out of the box. Installation of the app on iOS went fairly smoothly, the only hiccup I encountered was I could not get the POWERbot one of of my WiFi networks (I have 5, so using a different networks was not a big deal, and it worked fine immediately - never found out why the initial problem). The app is pretty minimal, I'd kind of expected more with regard to programming, and options, but the robot seems to have all the smarts it needs built in. Still I wish you could review where it had been and to possibly give it area to exclude. Maybe in another version. How does Rosie clean? Really pretty darn well. I tested it in 3 separate areas. My main living area is tiled with hardwood floors and some oriental throw rugs, the orientals are pretty plush, being 3/4" to 1" tall. The POWERbot easily climbed up these rugs, increased it's power and vacuumed each efficiently. It did a great job under the toekicks in the kitchen, and it repeated each area at least twice, it ran for almost 90 minutes on normal. I have to say it makes a noticable amount of noise, but probably half the volume of a Roomba 770 (my Daughter has one, and you really can't listen to the television when it's in the room. Not that much of a problems with the POWERbot . That I see as a big plus. I hav smaller drop rugs in my bathrooom that I was concerned would be a problem for the POWERbot , but it had no real issues, and and off the small rugs with out bunching them up. Another plus. And it's easy to empty and clean, the dust bin ejects easily and can be washed out with water, and the filter can be washed, another big plus, and they give you an extra one. My other surprise was when the POWERbot came to a two step (tiled) drop, it did not fall, it detected the drop over and over and stayed on the upper level. The lower level is all tile with a bed room, after making sure there were no cords dangling on the floor, I watched it go back and forth under the bed where there was a tight squeeze but it managed quite well. A couple of small throw rugs were no problem again. it did a great job along the edges, better than expected. I then tried in my upstairs, where I have some more orientals, this time with fringe, a possible concern, so I watched what happened and my concerns were well founded. The fringe got cought up in the brushes and jammed. I had to stop the POWERbot and back the fringe out, no harm, but I wouldn't try this on more expensive rugs. So for now I have to only use POWERbot in rooms without fringly rugs. For some this may be a bigger issue, but for me I'll probably only use it one area. Yes it like a dancing bear, you'll watch it and be amazed for a while. It bumps into things VERY gently, as it "sees" then coming. I have alot of glass vases on my floors and the POWERbot touch each of them gently, not enought for be to be worried in the future. It much more quite than a roomba, and probably sucks stronger/smarter. It won't wake you up when it starts and stops like a roomba....I happy with my POWERbot (Rosie) wish I could teach it to avoid the fringe on my oriental rugs. But for now I just have to keep it away; (it does have magnetic "gates" you can use, maybe I'll try this around the fringe (not hopeful thought). But I do recommend my new friend Rosie (POWERbot 7070).

Submission Time: 2017-06-24
Not a big improvement on previous models.

Author Name: Lokon19
Rating: 3

Vacuum still tends to get lost and sometimes can't find its way back to the charger. Also occasionally gets itself stuck against a chair leg or other obstacles where it lifts itself up and then needs to be manually reset. One of the biggest caveats is the ground clearance is also much lower than previous models and is unable to properly vacuum rugs.

Submission Time: 2017-06-05
Wi-Fi connectivity

Author Name: Samsungphoneandvacuumuser
Rating: 2

I bought this a week ago and at first there was no problem but today just tried to turn it on from my phone it says it needs to be updated I tried to update it 3 times every time I does the same thing again again asking for update and it's connected to Wi-Fi but still shows disconneted on the phone.

Submission Time: 2017-10-05
Extremely disappointing

Author Name: Ricky7
Rating: 1

Vacuum get hung up on everything. Virtually useless.

Submission Time: 2017-12-09
Gets stuck 100% of the time

Author Name: Adrian1212121212
Rating: 1

I had great hopes for this robo-vacuum, it is a pretty expensive Samsung product after all. First of all, setting up the vacuum with the Samsung app was a pain. It literally took me three days until the app and the vacuum managed to connect. And once it connect, the app is pretty useless. The vacuum is supposed to draw a floorplan of your home, and then you are supposed to be able to tell it where to clean. Well, not on my app (Samsung Smart Home, which is the only app it connects to). Nevertheless, the real problems began right away, as the vacuum has still not managed to complete a cleaning cycle and get back to its base. The stupid machine gets stuck EVERYWHERE. High pile carpet? STUCK. Between toilet and vanity? STUCK. Against a chair? STUCK. In the middle of a hallway, at least a foot away from anything? STUCK! I cannot really attest how well it cleans, as it NEVER cleaned for more than 10 minutes before getting stuck. Stay away from this product!

Submission Time: 2017-12-08
1

Tested internally on Samsung POWERbot VR7000 and Samsung conventional VR10F71UCAC.

2

Requires wireless network and Samsung Smart Home and Samsung Connect App. The Samsung Smart Home and Samsung Connect App supports Android OS 4.0 (ICS) or later which is optimized for Samsung smartphones (Galaxy S and Galaxy Note series). This app also supports iOS 7 or later for iPhone models. Smart Home App available in App Store and Play Store. Amazon Alexa devices and the Google Assistant devices sold separately.

3

Tested internally on Samsung POWERbot VR7000 and Samsung conventional VR10F71UCAC
Features
40X More Suction Power* - Powerful suction delivers optimal cleaning results
Visionary Mapping Plus and FullView 2.0 Sensor - Creates optimal cleaning path and avoids obstacles. Coverage map shows on app where POWERbot has cleaned
Wi-Fi connectivity - Remotely control your robot vacuum with your smartphone via Smart Home or Samsung Connect, or voice control with Amazon Alexa or the Google Assistant**
Edge Clean Master - Thoroughly cleans corners and edges of the wall
Self Clean Brush – Automatically removes hair tangles around the brush
Specifications
| | |
| --- | --- |
| Collection | Samsung Powerbot |
| Dimensions | 17"W x 17.6"D x 4.75"H |
| Shipping Weight | 15 lbs. |
Add-Ons
More from the Samsung Powerbot collection