Whirlpool Water Softener WHES48 - 679

99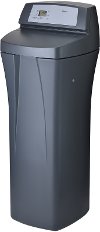 Whirlpool Water Softener WHES48
Description
Get this 48,000 Grain Capacity Whirlpool Water Softener from RC Willey. This water softener helps avoid hard water damage to plumbing, appliances, dishes and clothes with a Whirlpool® Water Softener. Soft water saves energy, too. Features include super high-flow valve, do-it-yourself installation kit, water flow indicator, water management system, E-Z touch technology, lighted salt storage tank, low salt light, and demand initiated regeneration.
Get an additional 2 year parts & labor warranty with every annual purchase of 3 bottles of cleaner, up to 10 years.
Professional install sold separate. Call or see store for details.
Features
48,000 Grain Capacity - Ideal for family size of 1-6+, comes with a space-saving single tank design.
High Hardness Removal - Removes a maximum of 160 gpg of hardness
Salt Saving Technology - This feature ensures that your softener will always be providing soft water for your entire home but also minimizes the amount of salt you will use. Whirlpool® Water Softeners are the most salt-efficient units in the industry.
Demand Initiated Regeneration - Water softeners need to regenerate to continue to soften water. With Demand Initiated Regeneration, the Whirlpool® units monitor your water usage and only regenerate when necessary, which minimizes your water and salt usage. Older timer-based models regenerate on a set cycle regardless of how much water you?ve used; this can result in unnecessary water and salt consumption.
Low Salt Light - This is an indicator light that will inform you when your softener is getting low on salt. When the light comes on you will be low on salt, not out. This will allow you a few days to refill the salt tank.
Super High Flow Valve - Designed for worry-free plumbing flow characteristics. Delivers maximum water flow even when multiple water-using devices (showers, appliances, etc.) are being used the same time. Connects to plumbing up to 1 ¼? in diameter (1 ¼? plumbing requires special adaptors for installation).
Do-It-Yourself Installation Kit - Softeners come with detailed instructions and everything you need to install the unit, including a bypass valve.
Iron Removal Setting - This setting will trigger an additional backwash cycle to rid itself and your water supply of excess non-ferrous (clear water) iron.
Sediment Guard with Internal Filter Screen - This feature will filter sediment and other particles to 70 microns and is ideal if you are on a private well supply. By comparison, a human hair is approximately 75 microns in diameter.
Water Flow Indicator - Display indicates when water is flowing through the system. The water flow indicator could also show a potential leak in your home?s plumbing.
Water Management System - This system allows you to view and monitor the performance of your softener and your home water usage.
E-Z Touch Technology - The control panel on this unit is operated by using touch screen technology.
Lighted Salt Storage Tank - Light inside tank allows you to view the salt level inside the tank.
Lifetime Warranty - The warranty on this unit is: lifetime warranty on softening media and tanks only 2 years full parts and labor 3 years on the electronics
Specifications
| | |
| --- | --- |
| Collection | Whirlpool Water Softener |
| Dimensions | 18"W x 19"D x 47.88"H |
| Shipping Weight | 116 lbs. |
| Finish | Gray |
Whirlpool Softeners Reviews