What is Berber Carpet
What is Berber carpet? This is a question I asked myself while watching my 1 millionth home show on HGTV®. I have heard the term Berber my entire life and really just let it float through one ear and out the other, but now I feel like it's my duty to learn all the insides and outs of flooring and I am starting with Berber because it is fun to say. Go ahead and say it with me... ber ber...brrrrr brrrrr. Berber. Ok, we need to stop. People are looking at us!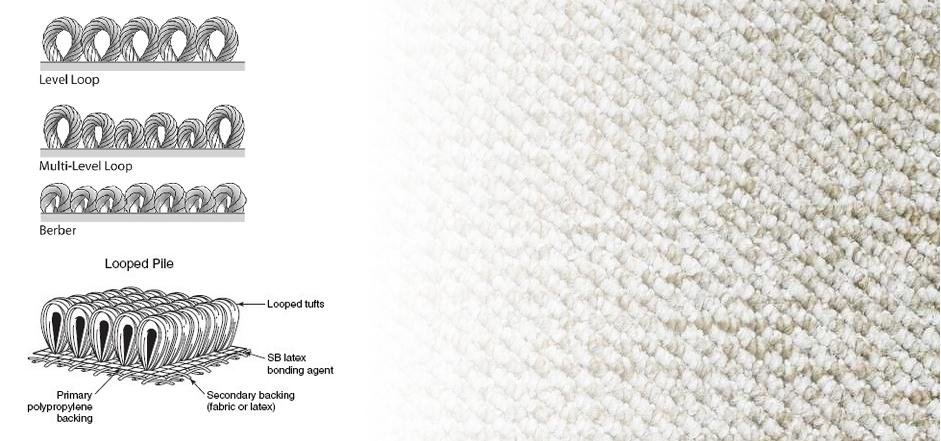 So what is Berber carpet?
Berber carpet is named after the style of weaving done by the Berber people of North Africa who are well known for their beautiful traditional rugs. Traditionally, the term Berber referred to a light colored carpet with flecks on a darker color mixed in, and this Berber fleck was most commonly found in looped carpets. This is why the term Berber became associated with looped carpet and now you can purchase looped carpet in a variety of colors and patterns, not just the traditional Berber fleck. Modern Berber carpet can be made of nylon, olefin fiber, polyester or wool and there are a few features or advantages of Berber carpet that most Berber owners will agree with.
Durability: The fibers you choose will help determine the durability of your Berber carpet and since Berber has a low pile it doesn't show footprints as easily as longer pile carpets, making it ideal for high traffic areas or people who want a low-maintenance look.
Clean look: There are many unique designs and color schemes when it coms to Berber carpets. This allows it to look great in a variety of interior designs.
Spill resistance: Berber carpet tends to let spills sit on top of the pile and not absorb it, which allows you time to blot up most spills before they really set in.
Comfort: The looped design of a Berber carpet gives a cushioned feel under your feet. Many people find wool and nylon Berber to be softer on bare feet with olefin and polyester to be a bit rougher. Make sure you ask your salesperson to show you both so you can decide for yourself.
Economical: If you stay in the olefin and polyester varieties you can get a great new look with a good value and while wool might be a bit more expensive, many people find it is worth the extra cost for look and feel.
With everything in life there are pros and cons and that's why we offer so many options at RC Willey. Here are a few things to consider if you think you might want Berber carpet in your home or office.
Stains: While many spills can be blotted up when they occur, some spills will turn into a stain. Berber can be harder to clean than other varieties of carpet due to it's tight closed loops.
Snags: On the rare occasion you can snag a loop in Berber carpet. If this does occur and you don't take care of it right away it can unravel and turn into a worse problem. Maintenance and care is something we should do with whatever carpet we decide on.
Pets: Some animals like to sharpen their claws on particular weaves such as Berber. If your cat has been trained on a Berber-covered scratching post, you might not want to confuse him or her by turning the entire house into the ultimate scratching post.

Now, let's talk Berber carpet pricing. A few factors will contribute to the price in your home but most notably will be the fiber you choose with wool coming in at the highest followed by nylon, and then polyester and olefin being the least expensive.
The next factor will be the carpet's face weight. Face weight is the amount of fiber in ounces per square yard. An average face weight that people are happy with is usually 35 ounces or more. Obviously the higher the face weight the higher the price because you are using more fiber per square yard. Be careful though for a number called "total weight." This number is actually the weight of the carpet and the backing which doesn't tell you anything about the face weight itself.
Other important factors to consider are density and twist level. Density is the measurement of the proximity of the fibers at the base of the carpet and a higher density can make for a lower face weight. Twist level is how much each fiber is twisted and generally the higher the twist level the longer the carpet will last.
Since most rooms aren't made in the exact size as the carpet roll, our professional installers will need to cut and seam some extra pieces. You want to minimize your seams so they aren't noticeable in the room and a fresh piece of carpet and a skilled installer will do just that. If you are purchasing a patterned Berber carpet expect to purchase additional yardage to ensure a clean seam.

Finally, when creating your carpet budget, don't forget about padding and installation. Your RC Willey flooring associate can let you know exactly what to expect from start to finish. If you want to get an accurate quote of what your room will cost just measure out each individual room and bring us that info. Since carpet is installed on a room to room basis make sure you bring your measurements that way and not a whole house square footage, reason being, the installers want to create as many seamless rooms as possible for an overall clean look in your home.
I hope we have helped you learn more about Berber carpet than you ever knew you wanted to know and if you want to learn even more ask any of our RC Willey flooring associates next time you are in the store. Just don't forget your measurements!