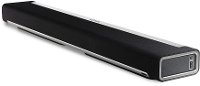 Sonos Playbar - 699

00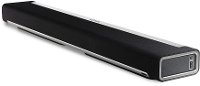 Description
Sonos Playbar
The Soundbar for Music Lovers
PLAYBAR's nine speaker design floods your home with huge waves of epic, full-theater sound for TV, movies, music and video games.
EXPAND WIRELESSLY
Build a house of sound, one room at a time. Play different music in any room or the same song everywhere, in perfect sync.
CONTROL YOUR WAY
Different music sources from one app combined with complete multi-room capabilities so you can listen to your entire world of music in every room of your home. Compatible with Android, iPad, iPhone, Mac and PC devices.
STREAM ALL THE MUSIC ON EARTH
Play your iTunes library, listen to your online music services, and get access to thousands of free radio stations worldwide.
From the Manufacturer

|

Powered by
Product Details
PLAYBAR. The soundbar for music lovers.

This wireless, beautifully engineered soundbar provides spectacular audio for all your movies, TV shows, sports, and games—and streams your favorite music, too.

BEATS STANDARD TV SPEAKERS: PLAYBAR has nine amplified drivers–six mid-woofers and three high range tweeters–for deeper lows, clearer dialog and more immersive sound effects than you can get from your built-in TV speakers.

SONOS SPEECH ENHANCEMENT: PLAYBAR automatically sends dialog directly to the center channel where you can hear it best. Want even greater clarity? Turn on our exclusive Speech Enhancement option.

SONOS NIGHT SOUND: This exclusive Sonos feature automatically boosts quiet sounds while lowering the volume and impact of more intense sound effects.

EASY HOME THEATER SOUND UPGRADES: Add a wireless Sonos SUB for soul-shaking bass. Plus a pair of Sonos PLAY:1, PLAY:3 or PLAY:5 rear speakers for a full wireless surround sound system.

Sonos is the wireless Home Sound System that fills your entire home with great-sounding music. Use one app to stream different music to Sonos speakers in different rooms. Or send one song all through the house.

Contents: PLAYBAR, power cord, Ethernet cable, optical audio cable, Quick Start Guide, and Legal/Warranty information.
---
Simple setup. Better over time.

No need to run speaker wires around the room. Just set your PLAYBAR up and connect it to your TV with a single optical cable. Then plug SUB in, it syncs up to your PLAYBAR wirelessly. No extra cables or special programming required.

Regular, ongoing software updates bring new features and services to your Sonos Home Theater setup. So the longer you own it, the better it gets.

WiFi, not Bluetooth

With Sonos, the songs stream from your WiFi network (not your phone), so there's never any of the dropouts, delays or interruptions associated with Bluetooth.

Multi-room music

One room of streaming music is great. But a house full is even better. Fill more rooms with music by simply adding more Sonos speakers. They all work together seamlessly so you can play different songs in different rooms or the same song everywhere.
Rekindle your love for music

Sonos makes it easy to bring music back into your life. Enjoy old favorites or discover something new. With Sonos, music wakes you in the morning, surrounds you all day, and fills every moment with the full body joy of listening out loud.

All the music on earth

Sonos plays everything - the most popular streaming services, on-demand Internet radio, your favorite podcasts and audiobooks, your go-to collection of downloads - whatever you love to listen to.

One app. Complete music control.

Choose what to play, where to play it, and how loud. In one room or all over your home. Track down songs across all your music services with a single search. Create playlists in an instant. The Sonos app does it all.
Features
The Soundbar for Music Lovers

PLAYBAR's nine speaker design floods your home with huge waves of epic, full-theater sound for TV, movies, music and video games.

HiFi SOUND FOR YOUR TELEVISION

PLAYBAR's nine-speaker design floods your home with huge waves of epic, full-theater sound for TV, Web, Movies and Video Games.

Pre-loaded Internet radio stations - free of charge

Get over 100,000 free radio stations, shows, and podcasts -- all for free. And you can tune in without turning on your computer. Browse for stations or type in specific call letters or a radio host you love.

Endless music from the most popular online music services

Sonos works seamlessly with Amazon Cloud Player, Deezer, iHeartRadio, JB Hi-Fi NOW, JUKE, Last.fm, MOG, Pandora, Rdio, Rhapsody, SiriusXM Internet Radio, Slacker Radio, Songl, Songza, Spotify, Stitcher SmartRadio, TuneIn, Wolfgang's Vault, WiMP, and downloads from any service offering DRM-free tracks. (Service availability varies by region.)

Computer-free music playback

Get instant access to millions of songs and thousands of radio stations - without ripping, downloading or turning on a computer. Sonos connects directly to these services over the Internet and then streams the music to the rooms of your choice.

EXPAND WIRELESSLY

Build a house of sound, one room at a time. Play different music in any room or the same song everywhere, in perfect sync.

FLEXIBLE DESIGN

PLAYBAR can sit above or beneath your TV on a table or a console, or mounted horizontally against a wall.

UNIVERSAL AUDIO

PLAYBAR speaks DOLBY DIGITAL and stereo, so you never miss a moment of the action.

EASILY CREATE A 3.1 HOME THEATER

Pair PLAYBAR with SUB.

EASILY CREATE A 5.1 HOME THEATER

Pair PLAYBAR with SUB and a stereo pair of PLAY:3s.

Wireless connectivity

Android devices, iPhone, iPod touch, and iPad connect to your Sonos system through your home WiFi network.

Includes Sonos Controller for Mac or PC

Turn any Mac or PC desktop or laptop computer in your home into a Controller. The software is included for free with every Sonos component.

ALL THE MUSIC ON EARTH

PLAYBAR is also a stand-alone all-in-one Sonos player that allows you to wirelessly stream all the music on earth - your iTunes library, your favorite music services, and thousands of Internet radio stations, shows and podcasts.

Play the music on your computer in any room

Play music stored on up to 16 PCs, Macs or NAS (Network Attached Storage) devices on your home network, supporting the most popular audio formats, from iTunes to MP3.

Control all your music and rooms with your Android device, iPhone, iPod touch, and iPad

Free Sonos Controller apps for Android, iPhone and iPad let you control your Sonos players, music on the Internet and your computer right from the palm of your hand. Download the apps for free on the iTunes App Store or Google Play.

Integrated, multi-room control

If you have multiple music players, you can control what music is playing in every room in your house, from anywhere in your house. Sonos Controllers aren't tied to a specific player, so you can use any Controller to control the music and the volume in all your rooms.

CONTROL YOUR WAY

Different music sources from one app combined with complete multi-room capabilities so you can listen to your entire world of music in every room of your home. Compatible with Android, iPad, iPhone, Mac and PC devices.

Find and play your favorite songs in an instant

Browse or search for songs and stations, choose the music, and control the volume from anywhere in the home.

EASY SETUP

PLAYBAR connects to your TV using a single optical cable and power cord and plays everything that is connected to your TV, from cable boxes to gaming consoles.

WIRELESS

No rewiring required. Connect PLAYBAR or BRIDGE to your wireless router and link all Sonos players wirelessly with one touch.
NOTE: To get started, you must wire either one player or BRIDGE to your home network using a standard Ethernet cable.

Expandable wireless system

Expand your music system room by room - without adding wires. Add new Sonos components with the press of a single button.

New features and music services delivered automatically - and for free

The Sonos system keeps getting better over time with new features and music services. Once the Sonos music system has been registered, Sonos will automatically notify you when software updates are available. Simply press one button and your system updates itself.

STREAM ALL THE MUSIC ON EARTH

Play your iTunes library, listen to your online music services, and get access to thousands of free radio stations worldwide.

"There's no easier soundbar to live with than the Playbar."

Sound + Vision

"Sonos PLAYBAR is more than just a sound bar."

Big Picture Big Sound
Specifications
| | |
| --- | --- |
| Dimensions | 35.43"W x 5.51"D x 3.35"H |
| Shipping Weight | 12 lbs. |
| Finish | Black |
Sonos Inc Soundbars Reviews