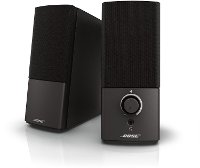 Bose Companion 2 Series III Speaker System - 99

99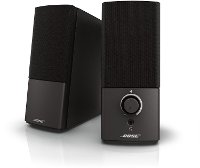 Bose Companion 2 Series III Speaker System
Description
Upgrade your sound - and your experience
Love playing music, games and videos on your computer?
Wait until you try it with the Companion® 2 Series III multimedia speaker system. You'll enjoy performance that's significantly better than your original speakersand it's our most affordable computer speaker system.
Inputs/outputs:

AUX input
Headphone jack

In the Box:

Powered speaker
Accessory speaker
Audio input cable with mini-plug
Speaker cable
AC power pack
Features
Quality sound within reach
You can access a world of entertainment on your computer. Bose® engineering makes sure you hear it all with just two speakers. Unique digital signal processing produces consistently clear, full sound at any volume. So you'll enjoy your favorite music, videos and streaming content even more than before.
A wide soundstage
Sit down at your computer or laptop and get ready to hear sound that seems to extend far beyond the actual speakers. It's spacious and lifelike, made possible by TrueSpace® stereo digital processing circuitry.
Feel the performance
Don't just play music, games and videos - feel them. You'll notice deep lower-end performance and more detailed sound, thanks to the speakers' ported cabinet design.
Simple setup, easy listening
Everything you need is in the box, and you can set it up in minutes. Volume control and headphone jack are on the right speaker.
Expand your entertainment
Use the auxiliary input to bring Bose performance to another audio source such as your iPhone® or iPad®.
Specifications
| | |
| --- | --- |
| Dimensions | 3.1"W x 5.9"D x 7.5"H |
| Shipping Weight | 5 lbs. |
| Finish | Black |
Bose Theater Systems Reviews
Bose Companion 2 Series III Speaker System
is rated out of
5
by
59
.
Rated

5
 by out of
Companion® 2 Series III
I use the Series III for my TV> in my 5th Wheel good sound
May 24, 2015
Rated

5
 by out of
Fair Warning
Awesome speakers. Great sound. Do not take up much room. Reasonable price. Durable.A fair warning though. If you buy these, as I imagine most speakers are, don't get caught behind the computer while the screen is prompting you to accept something, and then wonder if you are missing a cord since you don't hear anything and do not see that.
April 7, 2015
Rated

5
 by out of
Very Very low longevity on the Companion 2 Series 2
I installed these several years ago on my wife and I's "office" desktop as such these speakers spent maybe 99% of the time with the knob in the OFF position and never had them turned past half volume. A few days ago I turned them ON no sound!Tried them on another computer still no sound! Checked the transformer . . . still putting out 12.04VDC . . . ?I remember thinking they sounded great initially, but for the amount of use they got before becoming paperweights NO SPEAKERS AT ANY PRICE are worth purchasing a second time.
March 20, 2015
Rated

5
 by out of
Awesome Sound & Volume -- Small Footprint
If you are looking for a small set of speakers with big sound, and want to avoid buying a system that depends on a subwoofer the size of a small refrigerator, you will really like these speakers. I wanted to avoid a 2+1 system and a two-speaker system with bookshelf sized speakers without compromising on sound quality. These do the job. The speakers are about 3"x6"x8" each and put out enough volume to satisfy any listener within 10-15 feet without taking up all your desk space. Excellent bass and treble, balanced, and detailed sound of even the smallest of background sounds in a movie track. The on-off switch is built into the volume control. There is no power-on light, but I don't believe these speakers draw much, if any power without a line-in signal since they use the newer styled power adapter that doesn't draw phantom power. A really nice system at a great price.
December 17, 2014
Rated

5
 by out of
Great
I am a big Bose man have many products of theirs these speakers are great I travel to town to town every week I am a fair worker they might have got skuffed up in travel but play as good as I bought them a year ago I just got the new noise canceling on ears awesome and got mom Bluetooth headphones great great buy all around keep up good work yall
December 15, 2014
Rated

5
 by out of
Great sound for a 2.0 speaker system, room for improvement
Pros: very good spacious sound, sounds better than most 2.1 systems that cost about the same.Possible improvements: twin driver setup with crossover so that highs aren't washed out by lows at higher volumes. I find that mid volume is where the quality is best for these speakers.a white mark inlayed into the volume knob. I find that when I am at my computer at night, it is difficult to find where the volume position is currently.The right speaker is set up perfectly as far as cables. Every cable can be removed or replaced. The left speaker however has the cable permanently fixed to it and the end is plugged into the right speaker. I would like for the cable to be removable at the left speaker because cable shorts and fraying seem to be the main failure point in speaker systems. When I pay $100+ for a speaker system, I would like to think that these speakers would last a lifetime.I rate these speakers 4-5 stars because they are great speakers for a computer without having to find space for a subwoofer box. The issues I have mentioned are not flaws in quality but small things that could be an improvement for the next release of the C2 speaker system.
December 5, 2014
Rated

5
 by out of
computer speakers
My daughter and new husband just bought a new computer with a large flat screen. Thinking they may need speakers we agreed on these Bose Companion 2 Series III speakers. A wonderful Christmas gift for my new son-in-law, I thought. They arrive quickly, and the message on my Facebook page said "Speakers are loud and clear". They are keepers. Easy to hook up. The first movie to see was one with music in it, big picture and good speakers made "Almost Famous" a delight.
December 3, 2014
Rated

5
 by out of
Great Speaker!
My first Bose purchase and I was not disappointed. Room-filling wide soundstage with good low-notes production from compact speakers. I would definitely recommend them to anybody in this price bracket.
November 14, 2014
Rated

5
 by out of
exquisite
I have these, I wore them out, I'm ordering my second pair
November 11, 2014
Rated

5
 by out of
So much better...
I ordered these four days ago and they have arrived already. A breeze to set up to my laptop and do they sound great! I couldn't ask for better and one can't beat the price. I'm totally satisfied. Bose, as usual, has delivered a wonderful product. Thanks Bose.
October 23, 2014