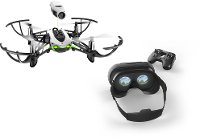 Parrot Minidrone Mambo FPV - 179

99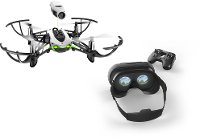 Parrot Minidrone Mambo FPV
Description
The Mambo FPV drone is the perfect introductory immersive flight drone and RC Willey has it! You'll be going big by starting small—the Mambo drone can fit in the palm have your hand, but don't be fooled, it packs a serious punch! Your immersive flight is made possible with the included cockpit glasses and FPV camera that features 720 resolution. With different flight modes, you can both drift and race. Plus, the Parrot Mambo lets you fly over a distance of up to 100 m and its new high-performance Power Battery can last up to 10 minutes on one charge!
Features
Feel the adrenaline of a drone race! - Parrot Mambo FPV can be flown in complete immersion using its new accessories. Connect the FPV camera to the minidrone using Smart Block technology to record and transmit content in HD. Slip on the Parrot Cockpitglasses 2 for a fully immersive view from your drone guaranteeing you new sensations of speed.
The perfect FPV drone to get started - Become an FPV drone racing pilot thanks to three new flying modes. Start with the Easy mode, which keeps your drone in the air even if you let go of the controls. Then switch to the Drift mode, which turns the horizontal stabilization off and lets you to make tight turns. Finally, give the Racing mode a try to have complete control of the drone without any stabilization assistance. The possibilities are endless!
Fly even farther and longer - It has never been so easy to escape thanks to the Parrot Flypad which lets you fly your Parrot Mambo over a distance of up to 100 m. Fly not only farther, but also longer with the new high-performance Power Battery lasting up to 10 minutes. Don't miss a single race!
Join the Mambo racing club - Is your equipment ready? Have you got your Parrot Cockpitglasses 2 FPV glasses on, Parrot Mambo FPV ready to take off and the Parrot Flypad high-precision controller in your hands? You are now officially part of the #MamboRacingClub! Take on the challenges we suggest, organize races with other pilots and share videos and photos of your flights on social networks: show everyone that you're the best Parrot Mambo FPV pilot
Download and you're ready for the next race! - With a user-friendly interface, simplified drone connection and automatic recognition of your connected minidrones and accessories, everything in FreeFlight Mini has been designed to increase your gaming possibilities and experiences tenfold. Access FPV video rendering on your smartphone and turn on the cardboard view to use your Parrot Cockpitglasses 2. Change your minidrone's flight settings and check the remaining battery and its flight time. Easily select and perform amazing aerobatics! Enough to let your imagination run wild and impress your friends...
Includes: - 1 Parrot Mambo, 1 FPV Camera, 1 Parrot Cockpit Glasses 2, 1 Parrot Flypad, 1 Power Battery, 4 Hulls, 1 USB Cable, 1 User Guide
Specifications
Collection
Mambo
Dimensions
7.1"W x 7.1"D
Shipping Weight
1 lbs.
Finish
Black/White
Stabilization Sensors
Inertial Measurement Unit to evaluate speed, tilt and obstacle contact (3-axis accelerometer and 3-axis gyroscope), Ultrasound sensor, Pressure sensor, Camera sensor
Energy
660mAh LiPo Battery, 8 min autonomy with accessory connected or bumpers, 10 min autonomy with neither accessory nor bumpers, 30 min charging time with a 2,1A charger
Aeronautical Design
Stabilization and flight control software, Optimized weight/speed ratio
Speed Measurement
60 FPS vertical camera
Camera
Streaming and Recording HD 720p 30 FPS, FOV 120°
Parrot Cockpit Glasses 2
Wide vision with 96° of field of view, Compatible with IOS/Android size from 4.5" to 6"
Parrot USB Connection
Patented system to connect remotely, accessories on drone
Bluetooth Range
100 ft / 30 m with smartphone, 100 m with Parrot Flypad
Weight
2.22 oz / 63g (without bumpers or accessories)
Weight with Camera
73g
OS Compatibility
iOS 7 and up / Android 4.3 and up
Parrot FlyPad
Energy
200 mAh LiPo Battery, 6 hour battery life, 2 hour charging time
Connection
330 ft / 100 m range, stable signal, automatic and direct connection to your drone
Bluetooth Control
Bluetooth V4.0 BLE connection
Weight
10.40 oz / 295 g
Max Size
6"L x 3"W x 0.4"D / 160mm L x 78mm W x 9.8mm D
Reviews
Parrot Minidrone Mambo FPV
is rated out of
5
by
1
.