Night Owl 8 Channel 1080p Home Security System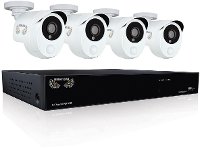 Night Owl 8 Channel 1080p Home Security System
(1)
SKU: 110958268
MODEL: HDA10P-10BU-841-PIR
Please note: This item is not currently available online and may not become available again.
Price includes any available discounts
Out Of Stock
Overview
RC Willey has the Night Owl's 8 channel 1080p home security system with 4 infrared cameras and 1TB HD DVR. When it comes to protecting your loved ones, why not go with the best? Not only does this system provide 1080p High Definition images, it also utilizes Dual Sensor Technology to ensure that you are alerted to actual threats or meaningful events. Prior to this advancement, standard security systems would send alerts to your Smart Device anytime a camera detected motion. While this was of huge benefit to our consumers, some articulated that they were receiving too many false alerts. Night Owl listened! Our Dual Sensor Technology truly takes it to the next level! By incorporating infrared sensors into the 1080p cameras, this system utilizes both motion detection and heat detection to minimize false alerts and keep you apprised of Real threats in Real time.
These premium cameras use a passive infrared sensor to detect heat produced by humans, animals and vehicles. Whereas heavy rain, bugs and changes in lighting could potentially produce motion alerts on older systems, this new technology requires both changes in motion and heat be detected simultaneously. Not only does this one-of-a-kind technology significantly reduce the number of false alerts you receive, it also conserves hard drive space. This guarantees that you are made aware of those threats that pose the greatest risk to you and your loved ones without having to sift through unnecessary recordings. This truly is innovation right at your fingertips!
Dual Sensor Technology
Night Owl's Smart Detection Security System uses dual sensors to eliminate the number of false alarms you receive by up to 90%. Whereas standard security systems using current motion detection technology send out alerts every time motion is sensed, our heightened detection system is designed to focus in on objects that present more of a threat. Gone are the days of receiving an alarm when a bug flies in front of the camera, a cobweb appears, the wind strongly blows or heavy rain looms. Instead, enjoy the peace of mind that accompanies fewer motion alerts as Night Owl helps you protect what matters most.
While our systems are set to motion record by default, we do offer multiple recording options as we understand the needs of our consumers are varied. As such, you may elect to set your cameras to 24/7 record or scheduled record should this be a necessity for your home or business. Keep in mind, setting your system to motion record with our Dual Sensor Technology will drastically increase the life of your hard drive and make locating important recordings much easier!
Conserving Hard Drive Space
Locating your recordings has just been made that much easier! Night Owl's Smart Detection Security System comes equipped with a pre-installed 1 TB Hard Drive (HDD). With the advent of Night Owl's Dual Sensor Technology, your HDD will now last longer and not be riddled with false recordings. By efficiently eliminating up to 90% of false alarms, you can now easily locate the recordings that matter most!
Additionally, the 1 TB pre-installed HDD can easily be upgraded to a max 6 TB internal SATA HDD.
1080p HD Resolution Indoor-Outdoor Cameras
Night Owl's 1080p Infrared Cameras are intended for both Indoor and Outdoor use. Come rain or shine, you can protect what matters most by placing the cameras where they will be of most use! These cameras are weatherproof, meaning they can withstand minimal moisture and dirt debris. However, the cameras are not waterproof meaning over exposure to water will reduce their lifespan.
When placing your cameras Outdoors, Night Owl strongly recommends placing them under shelter of some kind. This can include but is not limited to eaves and awnings. By doing this, you will ensure your cameras are not overly exposed to harsh elements and will be there when you need them most!
Night Vision
Night Owl's Infrared Cameras provide up to 100 ft. of Night Vision. During the day your camera will display in full color mode. At night, it will enter black and white mode. Whichever mode, your cameras will always display the full 1080p resolution you savor!
Wide Viewing Angle
These wide angle cameras provide a 100˚ field of view, which far surpasses the standard 42˚ field of view of standard cameras. This enhanced field of view allows you to view a larger area while providing ease of mind.
Vandal-Proof Camera Mount
Night Owl's 1080p Wired Infrared Camera comes equipped with a 3-axis vandal-proof mounting bracket. The cable runs directly through the center of the bracket into the wall or ceiling, preventing exposure that could attract potential intruders.
Expandable System
While 4 cameras may suit your current coverage needs, one of the best features of this Smart Detection Security System is that it is expandable. At any time, you can add up to 4 more cameras to this system to further enhance your security presence. Additionally, the DVR is compatible with both High Definition and Analog cameras. Night Owl truly believes in offering our customers the variety they deserve!
Features
4 1080p Indoor/Outdoor Wired Infrared Cameras
100' of Night Vision
100 Deg Wide Angle Viewing
Reduces False Alerts by up to 90%
Includes 4 60 ft. bundles of upgraded 24AWG cable, 6' HDMI cable
24/7 Technical Phone Support
Specs
| | |
| --- | --- |
| Model | HDA10P-10BU-841-PIR |
| Dimensions | 12"W x 8.25"D x 2"H |
| Weight | 13.5 lbs. |