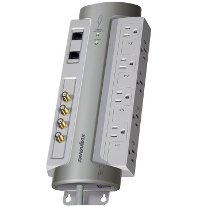 PowerMax 8 AV Surge Protector - 104

.99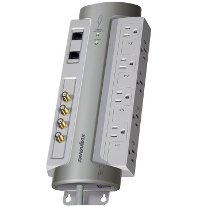 PowerMax 8 AV Surge Protector
Description
From RC Willey, the PowerMax 8 AV surge protector is the perfect tool you need to protect all of your AV equipment from surges and irregularities.
AC power, telephone, and coax lines can provide direct pathways for surges and spikes to enter and damage expensive audio/video equipment. The PowerMax 8 AV protector eliminates voltage irregularities and protects your AV system.

Surge Protection

Protect your equipment against surges with the exclusive Protect or Disconnect circuitry. In the event of a catastrophic surge such as lightning, it completely disconnects AC power to connected equipment.

Improves Picture and Sound Quality

The PowerMax 8 AV's Power Cleaning and Filtration eliminate common symptoms of contaminated power (including loss of detail, pops, hisses, hums, and visual artifacts) and allows your AV equipment to perform up to its full capability.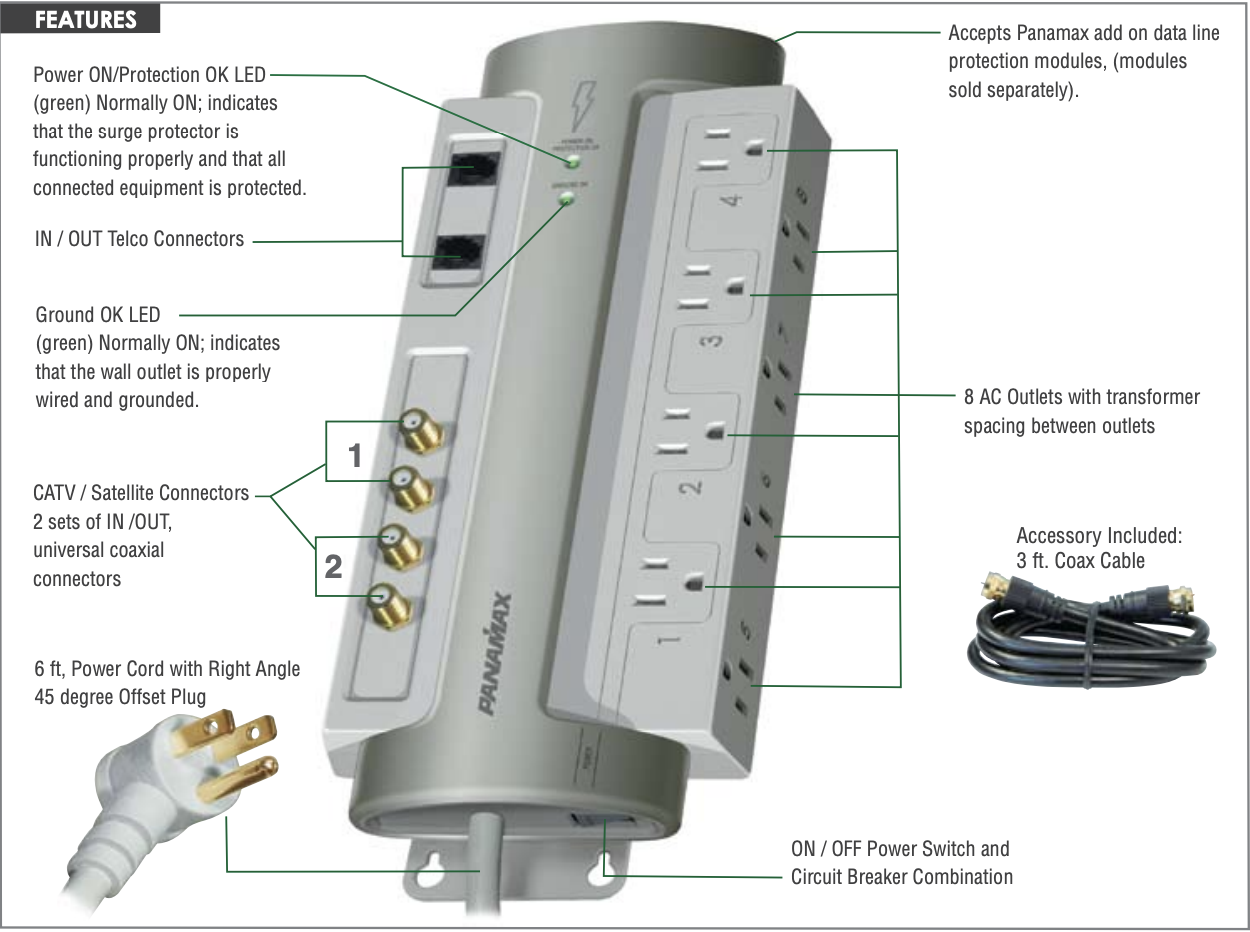 Features
All 8 Outlets Filtered and Surge Protected
Cable/Sat/Telephone Line Protection
Exclusive Protect or Disconnect Circuitry. (In the event of a catastrophic surge such as lightning, it completely disconnects AC power to connected equipment.)
Hi-Def Ready
Hi-Def Designed to Work with Your High Definition System.
Improves Picture and Sound Quality
6-ft Captive Cord
Specifications
Collection
PowerMax
Dimensions
5"W x 12"D x 1.75"H
Shipping Weight
2.6 lbs.
Weight
3.5 lbs.
General
Line Voltage
120 Volts
BlueBOLT Enabled
No
Number of Outlets
8
Outlet Descriptions
All 8 Outlets Filtered and Surge Protected
Control
On/Off Control to All Outlets Through Power Switch
Compliance
UL 1449 3rd Edition, 3000A
USB Charging
N/A
Low Voltage Trigger
N/A
AC Power Cord
6 Ft. Captive Cord
AC Protection
AC Protection Technology
Protect of Disconnect; L-N, L-G, N-G Protection Modes; Thermal Fusing
Automatic Voltage Shutoff
No
Undervoltage Shutoff
N/A
Over-Voltage Shutoff
N/A
Maximum Current Rating
15 Amps
Initial Clamping Level
200V Peak
Filtration
Filtration Technology
RFI/EMI Filtration
Filtration Rating
45dB @ 100kHZ - 1 MHz
Signal Line Protection
Signal Line Protection
1 Tel, 2 Cable/Satellite
More from the PowerMax collection