Rated

5

out of

5
 by
Dlwilde
Sectional couch
Love my new couch If it didn't take 3 deliveries to get the right pieces.
May 23, 2016
Rated

5

out of

5
 by
Snowpanic
So comfy
This was the ideal size and shapeople for our home space. The texture and color are soft and appealing while very sharp. Great support even where the cushions meet. Highly recommended.
December 26, 2015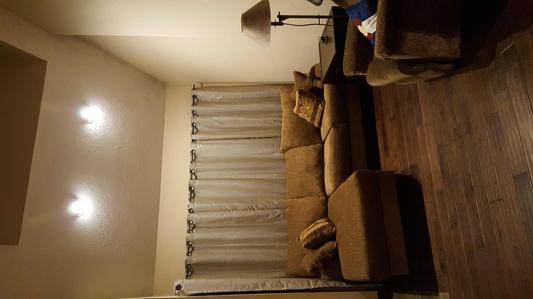 Rated

5

out of

5
 by
Queed
This product is great for a small apt.
This sofa is very comfortable. The material is very soft.
July 20, 2015
Rated

5

out of

5
 by
Tiredmommy
Just what we needed
We have loved having this couch. Super comfy and lots of space! We look forward to getting the whole set one day!
June 9, 2015
Rated

4

out of

5
 by
footballfan
Laguna couch chaise
Very comfortable. Love being able to move chaise spot to left right loveseat. Highly recommend
May 13, 2015
Rated

5

out of

5
 by
busygirl
Most Comfortable!
This is the most comfortable piece of furniture I've ever owned! I have had family and friends over and they all love it too!
April 16, 2015
Rated

4

out of

5
 by
leighanneh13
Really love this couch
I was in a crunch to purchase a couch five days before Christmas. I had seen this in an add and didn't think much but went in to take a look. Glad I did! This couch is comfortable and stylish, fits my longish living room perfectly and I get compliments whenever anyone walks in the door!
January 31, 2015
Rated

5

out of

5
 by
Fulpster
The Service was outstanding
We really appreciated working with Brigitte Burget - she was wonderful and helped us get everything we wanted.
November 10, 2014
Rated

3

out of

5
 by
nursecookie
Brown Sectional
This sectional was chosen due it's huge size and large ottoman. The color of it looked much nicer once in our house than in the showroom. It's a very nice neutral color that I feel can coordinate with any color. It has a nice firm feeling to it when you sit, which we love because our former couch sunk in way too much. The negatives are the brown feet. They kind of spin around and don't stay in the right spot. The wood backing does not feel as solid as I would have liked. I wouldn't let anyone sit on the back of the couch, as I don't think it would hold. Our previous couch was much thicker and sturdier feeling there. Also, when delivered, I suspect the delivery guys sliced open the upholstery. RC willey fixed the problem immediately and delivered a new cushion.
February 18, 2013
Rated

5

out of

5
 by
MommyOfOne
Very comfortable
I love this sofa. It is very comfortable and easy for my whole family to fit together. I love that the chaise is reversable and can be moved to either side. I would recommend this couch to anyone looking for a versitile, family-friendly sitting arrangment.
January 14, 2013
Rated

4

out of

5
 by
charchar
couch chaise
Looks great in my newly finished family room. Comfortable, appears to be of good quality.
December 24, 2012
Rated

1

out of

5
 by
LVLady
Does Not Wear Well
Purchasedd the whole sectional and loved the size and the comfort at first but after 8 months it looks like I've had it for years. The cushions wrinkle and sink, and the material shreds apart at the seams. For the expense I shouldn't have to replace it already.
December 16, 2012
Rated

5

out of

5
 by
srainey
Living Room Couch
We are 8 people at the house and it has worked out very well while watching movies, reading books, ect...
October 12, 2012
Rated

2

out of

5
 by
Deja77
Less then a year....
I'm sitting here waiting for the guys to come pick this mistake up. I wonder after reading the reviews how people feel now about this sofa. The fabric is awful, it's sinks where you sit after a short while, and there is a hole in the arm rest. It's a cool sofa, but the fabric looks like I've had this for 3-4yrs., not 8mo. Can't wait for my new sofa from rc....they were great helping me with this. Thanks Pam Fountain for your help....
May 18, 2012
Rated

5

out of

5
 by
imimimi
Sofa Chaise
I love my new Sofa Chaise, it is really comforable. I like how you can change the Chaise to either side.
April 10, 2012
Rated

5

out of

5
 by
Lorn
This sofa has a great feature
I just love my new sofa as you can change the chase from one end of the sofa to the other side if you want to change the room around. It is very comfortable.
January 3, 2012
Rated

4

out of

5
 by
Cece
Comfortable and flexible
Great couch for a family room. It's a little hard to get into the chaise part, as it sinks down into the couch. Also flexible because it can be reversed so the chaise part is on either side.
May 16, 2011
Rated

5

out of

5
 by
afwife44
New Couch
I love it!!!! Super comfy and looks great in our living room!
April 25, 2011
Rated

1

out of

5
 by
Verified Reviewer
Sofa
I like the sofa okay. It is attractive and will do for now. However, I did not realize in the store that the back pillows were not attached to the couch. They are misshapen easily and often out of place. Also, it does not have the highest quality of fabric, but the price was right. I am sure this couch will have to be replaced sooner than I would like, but because I did not like the service provided by the sales man I will not return to your store for future purchases.
March 1, 2011
Rated

5

out of

5
 by
shopmom
This product has great feature
I absolutely love my new couch. The whole family can fit and watch tv or movies comfortably. The chaise cushion can be moved to either side which is a wonderful feature if you like to move your furniture around. So glad I bought it just wish I had more room to buy the other pieces.
January 27, 2011
Rated

5

out of

5
 by
Liz
Soooooo comfy
We went in to the store looking for a nice couch at a low price. This was the one that the salesman recommended. It's wonderful very comfy and is holding up well. We've had it less than a year but it is holding up to daily use and the destruction caused by a toddler very very well.
August 15, 2010
Rated

1

out of

5
 by
crazy cool
chase has issue but sure is comfortable
the sofa is great except for the cushion is too short.[...] but it was explained that it is the way it is. nice right????
May 30, 2010
Rated

5

out of

5
 by
For the Dogs
Nice Sofa-Chaise
So far this sofa-chaise has worked out well. The back cushions seemed a little too overstuffed when I first got it. It is also not as firm as my previous sofa but is very comfortable. I like that the chaise can be moved to either side of the sofa. It works well in small areas where a larger sectional would not fit. My dogs like it also.
April 26, 2010
Rated

4

out of

5
 by
jenny
We love this couch
We love our new couch. it is so comfortable and really provides a lot of seating for our family, even in our small living room.
March 24, 2010
Rated

4

out of

5
 by
Patty
Comfortable, durable, and flexible
We purchased this couch to replace another one in the family room. The other couch, 2 years old, did not hold up well to constant use, i.e., it was difficult to clean and lost its shape quickly. This couch has a great, easy to clean fabric and is large enough to fit 2 adults in the recline position. One of the best aspects is the ability to change the position of the chaise part from one end to the other depending on room placement. This will offer flexibility in whatever the room size and layout.
January 31, 2010
Rated

5

out of

5
 by
Christie
Love this sofa so far
Large enough and then some for our family of five. We haven't had it too long but it appears as though it will retain shape, color, and durability well.
November 29, 2009