Rated

5

out of

5
 by
Gascarn
Looks really lovely
Enjoying couch & its looks great! Material seems easy to care for
April 4, 2016
Rated

5

out of

5
 by
DreamTable
Wonderful heavy duty sofa!
From the minute we saw this sofa at the store, my wife and I have been in love with it. We went back multiple times before we finally bought it and were always drawn to its simple yet modern design. It is sturdy and very comfortable to sit on for hours at a time. People keep commenting about how nice it looks when they come to our home. This sofa was built to last! We love it!
February 9, 2016
Rated

4

out of

5
 by
Kturn73
Good buy
Comfortable couch and great sturdy material for pets. Only down side is that the pillow backs are literally filled with stuffing. No way to remove them and wash them unless you want stuffing everywhere.
July 31, 2015
Rated

5

out of

5
 by
kay6
Very comfortable couch
This couch is very comfortable and matches everything. Perfect size for my living room.
July 8, 2015
Rated

5

out of

5
 by
markntravel
Very well built sofa and comfortable!
Really Happy with the whole experience!...Keep up the great work
June 2, 2015
Rated

5

out of

5
 by
danboone
this is a great and comfortable couch. i highly recommed it
This couch would look good in anyone's home. It has class and style. . I am so happy with this price.
March 23, 2015
Rated

5

out of

5
 by
sjpearl31
Loving My New Couch!!!
I'm in love with my new couch now only do I love the color but it goes so good in my apartment which I like scene I don not have a lot of space and I have added so many colorful pillows to go with it. Very comfortable and easy to keep clean.
December 8, 2014
Rated

5

out of

5
 by
Colllin
Grey Couch
Great price. Two couch, four pillows, and three tables under 1k. Great price and great deal!
December 2, 2014
Rated

4

out of

5
 by
Kourtney202020
Comfy couch
It's a really comfortable couch for a great price!
November 17, 2014
Rated

5

out of

5
 by
jp312
Bought Sight unseen
Purchased online without seeing it in person. Excellent quality and was better than expected
October 6, 2014
Rated

5

out of

5
 by
AshleyR
Great Sofa for the Price.
Love it. Easy to clean. Pillows stay in place, and very sturdy. We have dogs and kids and so far has been great.
May 15, 2014
Rated

5

out of

5
 by
tucker727
Perfect Price and fit
After looking for quite some time, I purchased this sofa in grey for my living room. Delivery was quick and smooth. The sofa is firm and comfortable. I love the fabric, which has a very durable feel and quality. The cushions and back pillows have a tight fit to stay in place. The classic styling of this sofa makes it a welcome furniture addition to our home for years to come.
November 20, 2013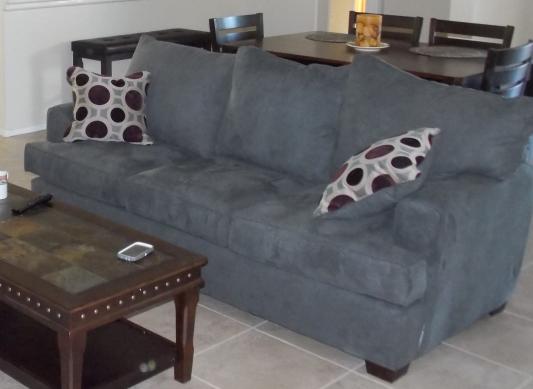 Rated

3

out of

5
 by
santloi
like back cushions that come off
Couch a little harder than when we sat in it at the store. Thought it was a little widder also.
October 14, 2013
Rated

5

out of

5
 by
KarmaB
love the color
I am VERY happy with my new sofa. I love the sturdyness of the fabric, yet it is very comfortable to sit/lie on. I also love the neutral color in that is goes with a multitude of accent colors!!
October 10, 2013
Rated

5

out of

5
 by
Randall2013
Love this set!!!!!
I was looking all over for a living room set at a reasonable price then I came across this set. I went to the showroom and checked it out and loved it, it was delivered 2 days later and completed my new place. Super comfy and stylish.
May 13, 2013
Rated

5

out of

5
 by
BethanyVegas
Great!
We bought the couch and love seat/set thing with the tables... These are a little darker gray than what it looks like in the picture, but we checked them out in store and then came exactly like the looked. They're comfortable, and nice looking. They clean so easy. My kids put boogers and other kid byproducts all over these things. Is just wipes off with a damp rag. And, unlike the microfiber stuff we've had it doesn't leave a wet ring where you cleaned. I didn't like the pillows, but with a quick recover (of the pillows), the couches look great!!
April 22, 2013
Rated

5

out of

5
 by
lhking
Comfortable
Sofa is firm yet very comfortable. We have 2 dogs and the sofa does not collect their dog hair. Very happy with this purchase.
February 11, 2013
Rated

4

out of

5
 by
Raskal1
Grey Sofa
We love this sofa! The color and design are just what we were looking for. It has good stablily in the cushions and will not sag like some of the couches that we sat on. It is very firm right now but we are sure that it will gradually break in a litlle.
January 1, 2013