Rated

1

out of

5
 by
Mommyof3kiddos
It's not holding up
We bought this couch and were in love with the color and simplicity of it. It was the perfect size for our space, but we are so upset with the quality. We haven't had this couch for more than a year and it's a disaster. The pilling is all over it and is awful. We had them put the protection spray on it so it smelled awful for awhile, but does go away. The quality isn't good at all and sadly are already looking for a replacement.
August 7, 2016
Rated

5

out of

5
 by
Luvdecorating
Love love this sofa and loveseat
I absolutely love this furniture. I first bought the loveseat for a basement bedroom/ sitting room area. I then recently wanted to replace the sofa in the family room and after looking everywhere at everything I came back to this same sofa! Comfortable without being too soft, deep enough to curl up on and Looks awesome!
August 4, 2016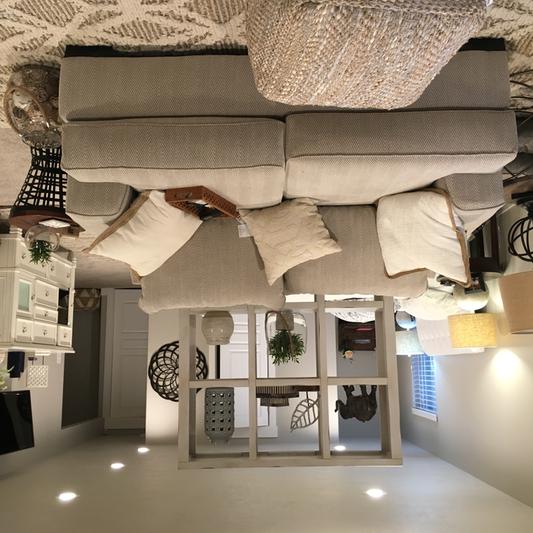 Rated

1

out of

5
 by
AMCM0011
High maintenance. Fabric balls up.
I couldn't sit on this couch without picking little balls off. I used a sweater de-baller twice and then decided to return the sofa. Too much maintenance! It's unfortunate because I love the style, color and comfort of this sofa.
July 29, 2016
Rated

5

out of

5
 by
IceElla
Big and comfy!
This couch is firm yet very comfy. I've fallen asleep many times watching TV. 2 people can easily fit laying down!
July 11, 2016
Rated

5

out of

5
 by
NevadaStyle
Love the depth of this sofa
This sofa is perfect for our family. The man of the house is 6'6" and needs a sofa that fits him and this definitely works. It is super comfortable and I love that it has 2 big cushions instead of 3 smaller ones. The back cushions and all the pillows are great as well. Would recommend this sofa to anyone especially for the price!
June 27, 2016
Rated

5

out of

5
 by
jeffddavis21
Great couches for a great price
Couches are gorgeous and super cozy. They are a little on the firm side but are not uncomfortable by any means.
June 13, 2016
Rated

4

out of

5
 by
reedyfam
Comfortable and deep
We needed some couches to fit our family that had plenty of room lay down and sit lots of people. These couches fit our needs and we are enjoying them
May 2, 2016
Rated

5

out of

5
 by
Scherie
Renegade Oatmeal sofa and birch coffee table
Very good product value and excellent customer service with quick delivery
April 18, 2016
Rated

5

out of

5
 by
RenoFurnitureShopper
Great Couch, Great Price
My wife and I purchased this couch and love seat to replace a sectional and so glad we did! The upholstery seems very durable and the cushions are very supportive but not overly firm. Can't wait to see how it holds up over time!
March 15, 2016
Rated

5

out of

5
 by
Lando
This charming couch
What I like about this couch is that it's seat is big! I can lay way back in it and not slide off. it's big enough to sleep comfortably on, not that I've done that yet. it's also firm and continues to look nice, though I've only had it a short time. Over all I love it.
March 14, 2016
Rated

5

out of

5
 by
Lovemycouch47284741
Great couch!!
Love the couch. It's big yet still fits nicely in my small apartment. Great color and soft fabric. I especially love the large, flat arm rests that allow me to place a drink or bowl on top of without worrying that it will fall over.
February 22, 2016
Rated

5

out of

5
 by
EZCarter04
Comfortable, huge sofa
This sofa is extremely comfortable and it's huge! It can comfortably fit four people and is very deep. My living room isn't very large but it actually fits nicely in the space.
February 22, 2016
Rated

5

out of

5
 by
Quicksilva
Great looking Sofa & Love Seat Combo
This has been a great addition to our living room. It is modern and casual at the same time. We have oak tables with the set and were worried how it would look, but it looks great. We prefer a little more rustic/casual vs. modern and we are so happy we chose this set.
February 13, 2016
Rated

5

out of

5
 by
GenericNickname
Excellent couch
We bought this couch about a month ago, and we absolutely love it. We have a small living room that cannot fit most sectionals. We ended up getting this couch, which is huge. It's comfy, and can easily fit 4 or 5 adults on it comfortably. It did creak quite a bit the first week or so as we were breaking it in (it was loud enough that we thought the frame had broken), but it has since stopped. All in all, I love this couch.
November 24, 2015
Rated

5

out of

5
 by
Bayy
Comfy huge couch
Yes I would tell anyone to get this couch!!!! It is so big and the color is beautiful and goes with everything
November 16, 2015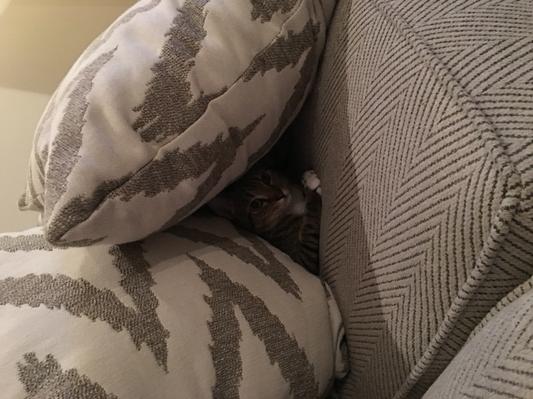 Rated

5

out of

5
 by
NoNo1234
Love these couches!!!
So comfy and very easy to clean. We love how deep the sofa is. We thought the lighter color would show more dirt but it holds up very well.
October 26, 2015
Rated

5

out of

5
 by
happyshopper06
love it!!
I love this couch. Measure you door entry I didn't and we had to bring it around back take the slider door off and the back legs off to get it in the house. Oops my bad but I would recommend this to anyone
September 28, 2015
Rated

5

out of

5
 by
Genia
I love my new furniture!!
The over sized seat makes it super comfortable for my long legged family. The style makes me feel like I am in a beach house even though I live in the desert.
September 2, 2015
Rated

4

out of

5
 by
RMay
Good looking, but too deep for us
We ended up returning it because it was too deep. That is something to be aware of but may not affect your decision (it just didn't look right in our room). The couch itself looks great. I wonder how long it would hold up, but probably comparable to any other couch in this price range. We were going to have it in a room that isn't used very often, so it didn't matter as much for us. Overall, a good looking couch at a good value.
August 3, 2015
Rated

5

out of

5
 by
MsStargazer
Love this couch
I bought this couch in April as I moved into a new home. The couch is perfect for both the space and style of my house. I love it love it love it. Very comfortable and so stylish.
June 1, 2015
Rated

4

out of

5
 by
mamajeffy
compfy couch
Love the pattern and material is soft. Its pretty much a basic couch but works for us
May 19, 2015