Imagine your ideal home theater...
There are many different ideas to what a "Home Theater" should be. To one person it may mean a 4K projector with a robust 150" screen, every possible gadget run by a single remote, and a multi-speaker surround system that would make George Lucas envious. To another it may be a 40" panel TV hung above the fireplace matched with an aesthetically pleasing, yet rich sounding, sound bar. Whatever you envision, let our professional install experts design and build the theater of your dreams all at a competitive, affordable price. And since they are our own employees your satisfaction is guaranteed. Our initial consultation is only $99.95 and will be credited toward the cost of your install (some limitations apply). What do you have to lose? Let us do all the heavy lifting...All you will have to do is sit back and enjoy your new home theater!
Home Theater Install Department
Our install team has been installing audio and video systems for over 14 years. This not only gives them the knowledge to set up the systems of today, but the "know how" to integrate with the previous systems as well. And because the training never stops, our install department is ready for any challenge. Let us setup, install, or trouble shoot your system even if you did not purchase it from RC Willey. Some of the services we provide are...
Mount your new Flat Panel TV and conceal the wiring in the wall
Program and install your new Smart TV
Set up or replace your home network
Adjust your TV and/or your Surround System for the maximum experience
Help you plan, wire, setup, and calibrate your Home Theater
Install DirecTV
Pre-wire new construction for "Smart Home","Whole Home Audio", Theater or "Home Office"
Retro fit new equipment and systems into existing homes no matter the age of the home.
Install in-ceiling or in-wall speakers
Program one remote to control your entire audio/video system
Set up a home monitoring system complete with cameras for home security
Troubleshoot problems with your existing audio/video system
What Can We Do For You?
Here is a small sampling of the services we offer at unbeatable prices.
Complete Home Theater Design and Installation
Wall and Ceiling TV mounting
Projector and Screen Installations
Satellite TV Initial Installation and Trouble Shooting
In Ceiling and In-Wall Speaker Installation
Multi-Room Audio/Video Distribution
Camera Security Systems
Home Automation
Pre-Wire New Construction
Retro Wiring of Existing Homes and Buildings
Single Remote Solutions
Additional services are available.
Please talk with your Sales Person or installer for more information: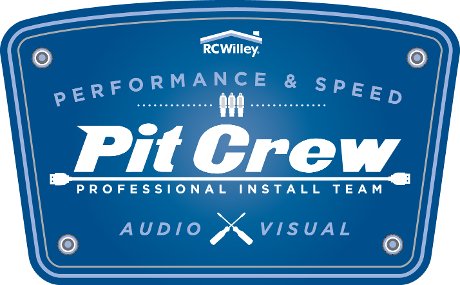 New Television Setup
R.C. Willey believes that great service does not stop at the cashier, but it extends past the time of purchase. As part of that commitment we offer our Deluxe Delivery service that removes the hassle of figuring out how to get your new TV home and takes the guess work out of setting it up correctly to work with all your components. This service is performed by our same professional install team that design and build complete large, complicated, home theater audio/video systems and install DirecTV. So you can be assured your TV will be setup correctly. And it is "FREE" if you are a "5 STAR" member! Below is a list of what is included:
Delivery of a TV to home
Pedestal is assembled and installed on TV.
Build newly purchased TV stand or console (some stands require additional charge).
Place TV on stand and perform initial set-up.
Connect up to 4 existing components such as Cable/Satelite Box, Blu-ray or new Sound bar using customers cords *
Program Cable/Satellite remote to function with new TV and other new items such as a Blu-ray player when possible
Connect Smart TV to wireless router**
Demonstrate how to use new system and remote
Disposal of old TV is possible***
Didn't Purchase Your TV from R.C. Willey?
Did you purchase your TV or components from somewhere other than R.C. Willey...maybe a warehouse club? No problem. Our goal is to make everyone a customer of ours for life. We have years of experience with practically every TV and electronic component made in the last 20 years. All are installed with the same attention to detail as if you purchased them today from our company. Of course we stand behind every thing we sell or install. We're here to make sure your home theater experience is second to none!
Home
|
Contact Us
|
Terms of Use
|
Privacy Statement
Back To Top
© 2017 RC Willey Home Furnishings