Rated

4

out of

5
 by
Zfar
Excellent buy for the price
My kids like their new beds and I feel they get more rest at night. I would recommend them for the price I paid, great buy!
August 22, 2016
Rated

5

out of

5
 by
Babyface
Perfect mattress for my son
We purchased this for my son and it is absolutely perfect for his needs. Not an amazing mattress by any means, but for the price I couldn't ask for better.
August 8, 2016
Rated

4

out of

5
 by
Doneshopping
Great mattress for the price
My daughter loves it! It is a great mattress for the price!
July 18, 2016
Rated

4

out of

5
 by
momoftwoteens
Good product for the price
Purchased this mattress for a metal bunk bead. It is very light to lift, and fits comfortably in the frame. I am pleased I purchased this item.
July 4, 2016
Rated

5

out of

5
 by
Gamaharts
Twin mattress
I bought this mattress for my Grandson. His old mattress was just that; used and old. He loves his new mattress. I am pleased that he is happy and sleeps well at night.
July 4, 2016
Rated

4

out of

5
 by
techgeek
Great deal for the price
This is one of the cheapest twin mattresses I could find (under $100). It is for my second guest room so it will almost never get used. It's not all that comfortable but it will do the job. RC Willey did have some amazingly comfortable twin mattresses but they started around $500 and I couldn't justify spending that on a matress that will get used only a few times a year
March 16, 2016
Rated

5

out of

5
 by
IntheShade
My kids love these mattresses!
I looked for good mattresses at a great deal and found these @ rcwilleys. My kids love the pillow top and sleep longer than before.
February 22, 2016
Rated

5

out of

5
 by
bergermeister
Great!!!
I was looking for two twin mattresses that were comfy and cost efficient. In our office/second bedroom, we put a daybed with a pop up trundle. We needed mattresses. It would be used as a guest bed, of course, but also as a couch type set up. I went into the store to "try" some mattresses. The associate was amazing and super helpful. The different options were great. These were the right ones for us. They're firm, but still soft. They fit perfectly. They look pretty. They were a great price. They were delivered and set up promptly. I love them, and I love RC Willey!
January 18, 2016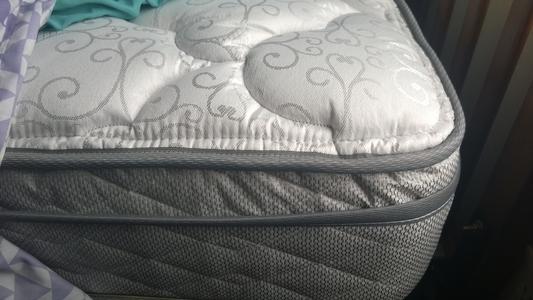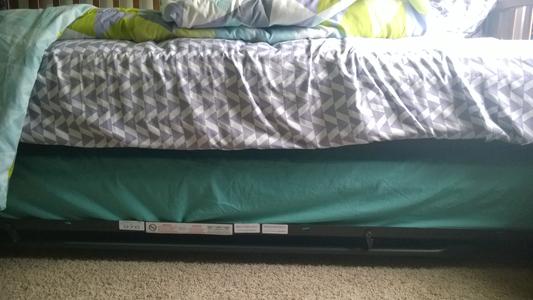 Rated

5

out of

5
 by
TammyE
Awesome Mattress
Sunset Conway Euro Top Twin Mattress is very comfortable and worth the price
January 4, 2016
Rated

4

out of

5
 by
NoRegret
This mattress appears to be a good value
I was experiencing a sore back, wasn't able to afford an expensive mattress. In choosing this mattress, I no longer experience a sore back, so it met my needs at an affordable price.
January 4, 2016
Rated

4

out of

5
 by
Steve88
Price is right
For the price this is a great mattress and a great value. Perfect for a child.
December 28, 2015
Rated

5

out of

5
 by
NicNice
Soo comfy
Bought this for my 4 year old and I want to sleep on it! Firm yet soft so she cant jump on it like a trampoline and its very comfortable. If youre having a hard time finding the right mattress for your little one for a great value, you found it.
December 23, 2015
Rated

4

out of

5
 by
RCWilleyBud
The Price was right
I built a Log Frame Bed and was looking for a short profile mattress with comfort ability. This mattress fit the bill.
December 7, 2015
Rated

4

out of

5
 by
m84loves
great price
Great price for mattress. Its a starter bed. My lil girl is so excited to sleep on it
November 24, 2015
Rated

5

out of

5
 by
Bionicunderwear
Excellent value
Very excellent set for the price. My boys are very happy with their new beds. THANKS
October 5, 2015
Rated

5

out of

5
 by
PlanGuy1
Great Comfort & Value
For the price of a much lesser quality mattress RCW's price allowed us to upgrade for our boy to have a very comfortable experience.
September 21, 2015
Rated

5

out of

5
 by
CiaraLady
Kids Beds
These are great for the kids' room. They will likely last until they are grown. :~)
June 29, 2015
Rated

4

out of

5
 by
SnoringBeauty
Glad I upgraded
Was going to get the cheapest mattress I could find, but salesman talked me into the better one, and you get what you pay for. Great comfort for a bed that gets used rarely. But still it's nice to have a good mattress instead of just a piece of foam.
June 23, 2015
Rated

5

out of

5
 by
FatherofDaughters
Great quality for a low price
This is the third mattress we've bought for a bunk bed. Like the three bears, the first one was very comfortable, but too thick, the second was too cheap and you can feel the springs through it. Now this is the third one and it's just right. It's thin and solid, but still comfortable. This mattress is great, even as an adult it feels good and I can't feel the springs like I can on our second bunk bed mattress. The pillow top does a great job and even when you sit on the edge you don't feel the hard edge of the springs. It's thin enough, about 7 inches, to be safely below the railing so she doesn't fall off the top. You absolutely can't beat the quality for the price. We will buy another when our other daughter moves into the bottom bunk.
June 5, 2015
Rated

5

out of

5
 by
tilly133
It's better than it looks!
I bought this bed because of the amazing prices, I was quite surprised. My stepdaughter grew out of her toddler bed and it was time for a big girl bed! I caught myself thinking, there's no way I was going to get a decent bed at a good price. Then when all else failed, I turned to RC Willey. I searched everywhere for a mattress with the box spring and found this, when I went to pick it up, it was way better than I could have imagined. The bed is so fluffy, but firm, and its a lot thicker than the picture too. She loves the bed and her sleep patterns have improved as well! I would highly recommend this set to everyone!
May 18, 2015
Rated

5

out of

5
 by
JJP801
Affordable and Very Comfortable Mattress
We bought two of these mattresses for my kids bunk beds. I told the salesman I was worried about whether or not it would be comfortable enough for my kids (they are a little picky) . The salesman told me that they have a 90 day trial period where we could try it out and if we didn't like it for any reason we could bring it back and exchange it for a different mattress. Well we brought the mattresses home, they were a great fit on the bunk beds and the kids slept great on them. Over the next few weeks I kept asking if they were still comfortable and they said yes, they love the mattresses. If you are looking for a comfortable affordable mattresses this one is an excellent choice.
May 18, 2015
Rated

5

out of

5
 by
coconut
Comfortable mattress
Comfortable mattress for use in a extra bedroom daybed.
May 4, 2015
Rated

4

out of

5
 by
review456
good mattress for kids
Good value, the mattress is comfortable, good for kids rooms.
April 27, 2015
Rated

4

out of

5
 by
MJN57
Great comfort for a great price
This bed is very comfortable with just the right amount of softness and firmness. And the price can't be beat!
March 23, 2015
Rated

5

out of

5
 by
Vegasrph98
Very nice mattress for the price!
Purchased this mattress for my 5yr old in the twin size. Very comfortable bed. Seems to be well made and should last for a few years until we need to get a FULL size mattress. Overall build quality seems up to par with some of the big names, but costs 1/2 the price.
March 2, 2015
Rated

4

out of

5
 by
shawn03
This bed is thin.
We got the bed for are son. The bed is very thin but it will do the job for price we paid.
March 2, 2015
Rated

4

out of

5
 by
CQ25
My daughter loves it!
My daughter has been sleeping on this mattress for a month now. She is sleeping better through the night, and she loves it. It was affordable and seems to be excellent quality.
March 2, 2015
Rated

4

out of

5
 by
HendersonMOM
Twin Mattress
Happy with the mattress. It was on sale when we bought it which made it even better. Glad we went with this one and not the cheaper one, very comfortable and sturdy.
February 23, 2015
Rated

5

out of

5
 by
JoFam4
Just Right
Not too soft, not too firm. Just right. We got it for our 3 year old and luckily it is comfortable because my husband or I end up sleeping on it with her quite often.
February 21, 2015
Rated

5

out of

5
 by
yourekidding
Couldn't beat the price
Very good investment for a toddler, I expect for ten years as the construction is very good, sleeps all night now, supply was immediate, R. C. gave contact back to make sure everything was great.
January 26, 2015
Rated

5

out of

5
 by
CustomeratRCWilley
Best value for the price.
Good one for the price. Easy to move around while cleaning. Very comfortable, if it fits you are requirement.
November 10, 2014
Rated

4

out of

5
 by
rEDc
Nice Twin bed for a 5 year old
Replaced an old bunk bed with this twin bed from RC Willey. This bed is much more functional than a metal bunk bed with a thin mattress and our child sleeps much better in this bed now. Can't beat the price also.
October 28, 2014
Rated

5

out of

5
 by
Dealhunterut
Great affordable mattress
Got this for our guest room which will only be used occasionally but I actually like it better than my mattress. Nice and supportive without being too firm. Has a thin profile but even though I'm using it without a box spring I don't feel the slats through it.
October 1, 2014
Rated

4

out of

5
 by
GrannyJudy12
Mattress
I bought two of these mattresses for a trundle bed my grandsons sleep in and the quality of mattresses is very good. My grandson aged 7, informed me the bed is "very comfortable."
September 16, 2014