Rated

1

out of

5
 by
Crallison
Broken after one year
I loved this set, but after one year, we were unable to get the gas to stay on. We are going to set up a service call, but for $1500 this set should last longer than a year.
March 20, 2015
Rated

4

out of

5
 by
Bmarie
Fire Pit has wonderful features except the fire control
The fire pit has a low med and high. the med and low doesn't seem to work properly. What do you recomend. I have only had it a month or so. Barbara Adams
February 9, 2015
Rated

5

out of

5
 by
Josh95
Great product!
I purchased the 5-piece patio set a month ago and enjoyed it immensely. The chairs are comfortable and the fabric durable. The fire pit itself gives off a nice glow and warms the patio for those cool nights. Overall, I am very pleased with my purchase.
November 10, 2014
Rated

5

out of

5
 by
KamR
Great Buy
Came in looking for a suitable patio set. Loved all the features on this one and even bought 2 extra chairs for more seating. Can't wait to enjoy the fire pit during the winter!
October 3, 2014
Rated

4

out of

5
 by
imwatchingu
Very Comfortable, well priced patio set.
I would recommend this set to friends and family. The quality of the aluminum frame chairs and table is very good. The cushions are great, but the back cushion could use a velcro strap to keep them on in the wind like the lower cushions have.
June 16, 2014
Rated

4

out of

5
 by
flamingbadger
Enhances our patio experience.
This patio set works very well on our covered patio. We enjoy sitting around the fire pit even during the summer and watching the flames dance. We are pleased with the features and the look of the entire set.
August 19, 2013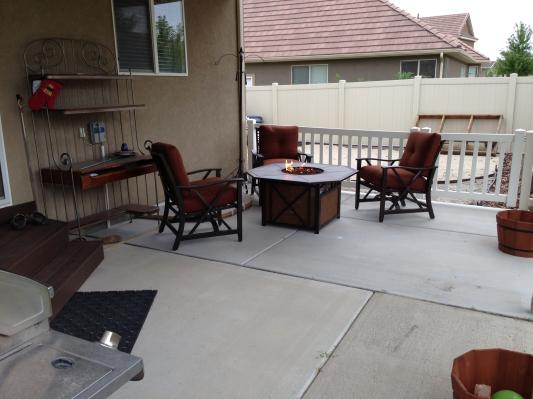 Rated

5

out of

5
 by
CHWII
Great Patio Set With Style & Fucntion
We have been shopping for a patio set for some time and this one met all of what we were looking for. Upon getting set home and assembling it, it exceeded our expectation regarding the simplicity of putting the set together and the final look and functionality of the set. One of the best design, look and quality of a product we have come across in a long time.
July 14, 2013
Rated

5

out of

5
 by
Lakeside
Great Firepit Patio Set
We were looking for a firepit and chairs. So glad we  could find it in a set. Chairs are very comfortable and rock. Firepit works very well and puts out plenty of heat. The whole set looks great and was considerably less money than somewhere else we saw it. Have enjoyed many times already.
May 27, 2013
Rated

5

out of

5
 by
DonnaB
Great Outdoor Patio Set
We've loved our table and chair set since we first saw it in the store. Had some issues with scratches and dents on several chairs that had to be redelivered, a close inspection of the metal is very important. RC Willey made it right and we finally got all the chairs. Selected this set because the fire pit is awesome and the weight of the materials is important in the high winds Reno gets. The table came with a cover and we found chair covers at Lowe's that fit perfectly.
July 25, 2012
Rated

5

out of

5
 by
Pariot
Patio set
Love my new patio set. The patio chairs rock very comfortable also table has a fire pit that comes with, great to fire up marshmallows Thank you RC Willey.
July 23, 2012
Rated

5

out of

5
 by
exxtra4111
perfect on my patio very well made
Love this patio set looks gorgeous on my patio. The chairs are very comfortable and we love the fire ring in the middle of the table
June 25, 2012
Rated

5

out of

5
 by
DJewels
SUPER COMFY FIREPIT CHAT GROUP
This is exactly what we were looking for. The picture does not give this group justice. The fabric is not red but more of a rust color. The chairs are also NOT stationary; they ROCK inside the frame and are so comfortable. This time of year finding a patio firepit set is not easy and we new we could count on RCWilley! The firepit gives off plenty of heat and we just love this on our patio! We can't wait to fire it up all through FALL!!
September 27, 2011