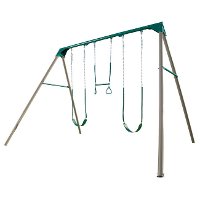 Lifetime Products Heavy-Duty Three-Station Metal Swing Set - 649

99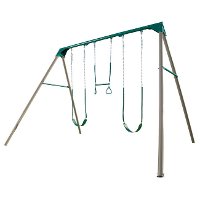 Lifetime Products Heavy-Duty Three-Station Metal Swing Set
Description
Heavy-Duty Three-Station Metal Swing Set in Earth Tones
With this backyard swing set, kids can entertain themselves in the fresh air and sunshine for hours--right in the convenience of your own yard! A metal swing set construction means low maintenance for you. Unlike a wooden swing set, with a metal construction you don't have to worry about splinters, warping, or rough edges. It is constructed of powder-coated steel to resist rusting, and UV-protected polyethylene plastic to reduce heat retention, fading, and discoloration.This backyard swing set meets ASTM safety standards and is designed with rubberized chain grips to prevent little fingers from getting pinched.
Available for Online Purchase Only. Assembly Required. Not eligible for 5 Star Express Delivery.
Features
Free standing (no cement required)
Earth tone color
UV-protected, high-density polyethylene (HDPE) plastic, 3 in. diameter powder-coated steel
2 belt swings with rubberized chain grips and 1 trapeze bar
30 x 35 ft. required safety zone area
5 yr. Limited Factory Warranty
Assembly Required
Specifications
| | |
| --- | --- |
| Dimensions | 162"W x 126"D x 6"H |
| Shipping Weight | 1070.3 lbs. |
| Finish | Earth Tones |
| Unit Dimensions | 13'W x 11'D x 9'H |
| Weight Capacity | Each swing station is 150 lbs with a total max capacity of 405 pounds |
Lifetime Products Play Sets Reviews
Lifetime Products Heavy-Duty Three-Station Metal Swing Set
is rated out of
5
by
67
.
Rated

5
 by out of
Awesome sturdy swing-set
I wanted a swing-set that would last more than a few years and not have my kids outgrow it too quickly. This set was perfect! It is definitely heavy-duty and much sturdier than the cheap sets at Walmart. The kids love it and can get pretty high on it, and it remains stable. My only complaint would be it that the assembly instructions should have an extra warning about the "inside" and "outside" brackets, they are nearly identical and it is easy to miss as you are putting it together, I made the mistake and only realized something was wrong when I tried to put the top bar on. Ended up having to take most of it apart to correct it.
April 25, 2014
Rated

5
 by out of
Huge!
My husband and his brother put it together in about an hour (much easier than all the reviewers had indicated). We love it. Really. But it is terrifying to see our 4 yr old go sailing up so high. It seems higher than the playground swings, but maybe that's my imagination. Not sure if we can bury the legs, or take off the bottom bracket to make it shorter. We'll see. Hopeful our daughter learns to be safe and our 2yr old dd will too, eventually. Ugh. Maybe waiting another 2yrs would have been a good idea. We love the quality though.
April 20, 2014
Rated

5
 by out of
Great for teens too!
My 15 and 10 year old daughters wanted a swing set and the small ones you get from Walmart weren't going to cut it. So I found this online and knew it would be perfect. I don't use the trapeze bar ~ instead I hung a baby swing from there for my 2 year old grandbaby.  The biggest problem with assembly was the metal sleeves that are suppose to slide into the pendulum. No way. The sleeve was too big for the pendulum. I went back online and saw someone else had the same problem. He said he got his in with a bench vice. We didn't have one of those so I ended up carving out some of the plastic out of the pendulum, coat the sleeve with WD40, and then my husband hammered the sleeves into the pendulum. That was the longest part of the assembly.  Also when it comes time to put the cross bar onto the A-frame, you have to lay on the ground to see if the holes are lined up and the screw is coming through. It wasn't easy. We thought we were going to have a problem putting it upright, but that was a breeze. All in all, it took us a little over 4 hours for my husband and I to put it together.  The kids love it! My 15 year old complains that the swing is tight on her hips, but then she has full hips and it's not meant for hips that size. After she swings for a while, she gets use to it. I am twice her size and it was fine with me! Highly recommend if you have bigger kids and you don't want all the other stuff that comes with the smaller swing sets.
March 9, 2014
Rated

5
 by out of
Great swing for 7 & 9 year old grandchildren
The set arrived as promised. My husband, son, and grandson assembled the set in under 2 hours. They were pleased with the quality of the parts and ease of construction. One disappointment was that the top bar came in 3 parts. Other than that, the swing set is big and sturdy- just what we were looking for.
October 30, 2013
Rated

5
 by out of
Heavy duty, for sure
Pros:"High quality swings","Looks great","Definitely "heavy duty"" Cons:"Difficult to assemble" Bottom Line:Yes, I would recommend this to a friend. Received this today, it took me about 4 hours to put it together, it's a real pain to put it together mainly because some of the drilled holes are not quite large enough for the bolts, so you have to force them through which is not easy since everything is heavy, solid steel. But now that it is finally together I am very happy with it. This is not your standard [...] type of swing, it is made with heavy steel pipes and very strong, easily strong enough for an adult to swing on for example. The swings themselves are I think the nicest I have seen. Overall I am impressed and the kids are happy too.
October 4, 2013
Rated

5
 by out of
Love it!
Bottom Line:Yes, I would recommend this to a friend. This is a great swing set. I was skeptical at first because you did not need to anchor it, but as long as it rests on level ground, it is perfect. I have an 8 year old and a 1 1/2 year old and they both love it. It looks great and is very sturdy even when the kids swing high!
October 4, 2013
Rated

5
 by out of
just right for the grandkids
it keeps the grandkids entertained and is safe fun
August 29, 2010