Posted by Andie on October 22, 2009
Happy Halloween!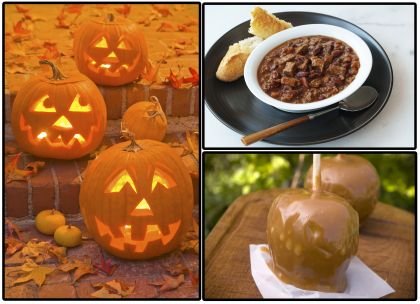 I'm all about traditions. Especially holiday traditions. So much of the way I view the world today goes back to those early traditions my parents started with our little family. Today, years later, they are still a huge part of me.
To me, Halloween means fantasizing about my costume months in advance. It means my mother's homemade chili in bread bowls, family costume parties where we'd paint pumpkins, bob for apples, and have races eating donuts off string without using our hands. It means carving pumpkins on newspaper in our garage and throwing pumpkin goo on my little brother. It's watching scary movies on bales of hay in a barn, getting lost in corn mazes, and hunkering down late Halloween night to sort my Trick or Treat spoils.
Speaking of Halloween Traditions, check out some of the unique things that happen on Halloween all over the world! You might want to try some of them out yourself.....
- People leave their doors and windows open all night in Poland to welcome the spirits and souls of the dead.
- It's tradition in Germany to put knives away in order to ensure the safety of the visiting dead spirits.
- In Portugal, people celebrate at the local Cemetery with feasts of wine and chestnuts.
- Forget pumpkins! Kids in Scotland make Jack-O-Lanterns out of hollowed out turnips, potatoes, and large rutabagas.
- Bread, water, and a lighted lamp are traditionally left out on the table at bedtime in Austria to welcome the dead souls back to earth.
- In Mexico, it's tradition to light bonfires, firecrackers and candles to guide the souls of the dead home. People enjoy picnic lunches on the graves of their relatives, and children run through the streets with lanterns asking for coins.
- Teng Chieh, the Halloween festival in China, is a time where people place food and water in front of photographs of their relatives.
- In Spain, "Bones of the Holy" is a special pastry that is eaten on Halloween.
What Halloween traditions does YOUR family have??
Sort By Blog Topic:
Popular Posts
Subscribe to the Room To Talk Blog
Subscribe to the Room To Talk Blog
Unsubscribe from the Room To Talk Blog