Posted by Andie on November 29, 2009
I love sushi. So much. It's a guilty pleasure for me. I haven't always felt this way though- To be honest, my first experience with sushi was not so pleasant. It was at a little hole in the wall dive, that looked pretty sketchy. It was gross going down, but I kept eating thinking it would start tasting better. Didn't happen. Unfortunately for me, after the whole affair, it really didn't sit well. All of that raw fish came back up later that night, and it was then that I silently vowed that I would never do sushi again.
About a year later, I was going on a blind date. On the way to the restaurant he told me that we were going to be eating sushi. My heart sunk. I told him that I'd had a really bad experience with sushi in the past, in hopes that he'd let me pick a different restaurant. No such luck. He didn't care. At this point, I felt like punching him in the face. I really didn't care about impressing this guy, and I was so not excited to be puking up my guts again. We got to the restaurant and I was starving. I didn't really have a choice at this point and so I was forced to try sushi ONE more time.
You know what happened? I LOVED it. I couldn't get enough. I started eating at sushi joints regularly, and its become a favorite for me. I guess good things really can come from awful blind dates.
Case in point: Sushi can be an aquired taste for people. If you aren't already a sushi fanatic, you might have to try it a couple of times before you love it, but don't give up! It's the best!
RC Willey is going to give sushi lovers, and non-sushi lovers alike in the Salt Lake City, UT area a chance to indulge!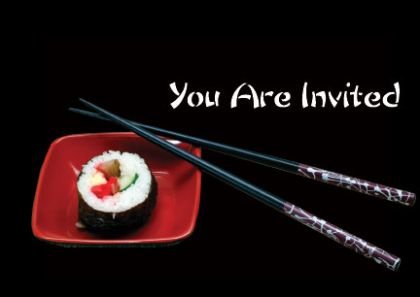 You are invited to an evening of food and entertainment at
RC Willey South Salt Lake Store AND RC Willey Taylorsville Store
Wednesday, Dec. 2
6:00-7:30pm
Simply Sushi, one of my very favorite Sushi places in SLC (in fact I went there for lunch today), will be there doing sushi making demonstrations, which means free sushi tastings for you and me!!
Along with delicious sushi, there will be a 32-Inch Flat Panel TV giveaway, and RC Willey will pay the Sales Tax on any purchase (of at least $599) made between 5:30-9:00 that evening.
So mark your calenders. I'll see you at the sushi bar.
Sort By Blog Topic:
Popular Posts
Subscribe to the Room To Talk Blog
Subscribe to the Room To Talk Blog
Unsubscribe from the Room To Talk Blog