Posted by Andie on November 19, 2009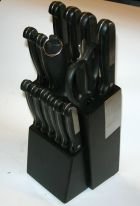 With my very favorite holiday just one week away, I'm gearing up! To me, there is seriously nothing better than being surrounded by my family, and delicious eats..... All Day Long! So, in preparation for this blessed day, I want your help.
I need your recipes! I want to know what dishes make your mouth water this time of year! Simply email me (andie@rcwilley.com) your favorite Thanksgiving or Autumn recipe, and I'll send the first 25 of you a coupon that can be used at any of our locations to pick up a Free 14 Piece Knife Set! I'll be posting some of the tastiest recipes I receive so that all of you can try them out too. Thanks for sharing, everyone! Here's one from me to you: the best candied yams EVER.....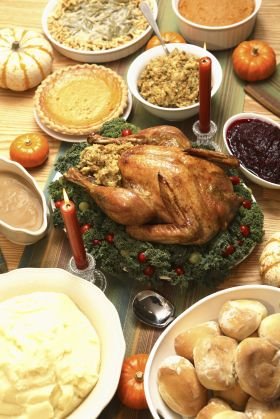 Aunt Jackie's Yam & Apple Casserole
Boil & Peel 3-5 medium sized yams, then slice. Peel and slice 6 apples (preferably Jonathan).
Alternate Yams and Apples in a buttered 9x13, pouring sauce after apple layer ( there will be about 2 layers of each).
Sauce
1 cup brown sugar
3 Tablespoons Corn Starch in 1/2 cup cold water
1/2 teaspoon Salt
1 1/2 cups water
Juice of 1 Lemon
1/3 - 1/2 cups butter
Cook Sauce mixture on the stove until thick.
Bake 1 hour at 350 degrees. Enjoy!!
Now, for a few great Seasonal recipes from our Readers...... (Thanks to everyone that has sent in a recipe, they all look delicious! Keep sending them in, I've got more knife sets for you!)
----------------------------------------------------------------------
Vegetables in a Cloud- from Kari

2 Tbs Butter
1 cup chopped onion
3 cups broccoli (in bite sized pieces)
3 cups cauliflower (in bite sized pieces)
2-3 carrots cut into small strips
15 oz. water chestnut (drained)
1 cup heavy cream
3/4 cup mayonnaise
1 cup grated medium cheddar cheese
Parmesan cheese

Steam veggies to crisp tender. Saute onions in butter. Combine veggies & sauted onions. Place in a baking dish, sprinkle with Seasoned Salt. Whip 1 cup heavy cream until stiff. Fold in 3/4 cup mayonnaise & 1 cup grated cheese. Spoon cream mixture over veggies. Sprinkle with parmesan cheese. Bake at 350 for 45 minutes or until light brown
------------------------------------------------------------------------

Pumpkin Bars- from DeEtte

1 ¾ c. sugar
1 c. oil (can substitute half of oil with applesauce)
4 eggs
2 c. canned pumpkin (1 - 15 oz. can)
1 tsp. baking soda
2 tsp. baking powder
2 tsp. cinnamon
½ tsp. ground cloves
½ tsp. nutmeg
½ tsp. salt
2 c. flour
Beat sugar, oil, eggs & pumpkin together until smooth. Mix dry ingredients and blend with pumpkin mixture. Bake in greased 12x18 jelly roll pan for 20-25 minutes at 350°. Cool and frost.

Cream Cheese Frosting
8 oz. cream cheese
½ c. butter
1 T. vanilla
3 c. powdered sugar
Beat until smooth. Add small amount of milk if too thick.
Carmel Frosting
Melt ½ c. butter in large saucepan.
Stir in 1 c. packed brown sugar and ¼ tsp. salt.
Cook over low heat about 3-4 minutes, stirring constantly until smooth.
Add ¼ c. milk - stir until mixture comes to a boil.
Remove from heat and blend in 2 ½ c. powdered sugar.
Add 1 tsp. vanilla. Mix well. Thin with small amount of milk if necessary.

*Very good with either frosting (I prefer the cream chees
------------------------------------------------------------------------
Dad's Stuffing- from Dave

15 C Broken toasted white bread (2 loaves)
1 1/2 t Salt
1 1/2 t Ground Thyme
1 1/2 t Ground Sage
1/2 t Course Gnd Blk Pepper
1 Turkey Neck
2 C Chopped Onions
2 C Celery Finely Chopped
1/2 C Melted Butter
1/2 t Oregano
8 oz Slivered Almonds
Directions:
Cook neck in water to make 1/4 Cup of Broth
Mix ingredients and pour on broth. Stuff in turkey or cook down on stove.
Sort By Blog Topic:
Popular Posts
Subscribe to the Room To Talk Blog
Subscribe to the Room To Talk Blog
Unsubscribe from the Room To Talk Blog