Posted by Andie on November 9, 2009
RC Willey has always been known for its large selection, excellent customer service, timely delivery, in store credit, being closed on Sundays, free hot dogs, and traditional family values. What started out as a small family business, has evolved over the years into the largest furniture dealer west of the Mississippi!
RC Willey emerged from a small farming community, Syracuse, Utah in the early 1930's.
Rufus Call Willey started selling Hotpoint Brand appliances door-to-door in 1932. Employed by the local electric company, he conducted his small appliance business from the back of his red pick-up truck on the side. To guarantee customer satisfaction while electricity was still so new, Willey would lend out appliances for a week so that people could try them out. His business continued to grow, and in 1950 he built his first store, right next door to his home in Syracuse.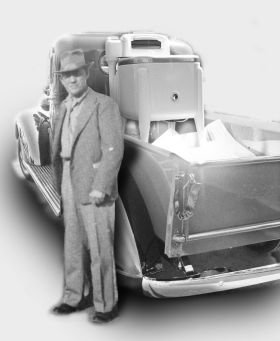 In 1954, Willey left the company due to terminal cancer and left it in the hands of his son-in-law, William Child. He, along with his brother Sheldon, worked over the next 40 years to grow and expand the business. Multiple stores were built along the Wasatch Front, and RC Willey became the most outstanding, well-known Home Furnishings retailer in the state of Utah.
In HFD--The Weekly Home Furnishings Newspaper, company executives credited RC Willey's success to three factors: an eye for expansion, focus on the middle segment of the market, and dedication to customer satisfaction.
In 1995 RC Willey was purchased by Berkshire Hathaway, Inc., one of the most prominent, admired companies in the world, owned and managed by investment guru Warren Buffet.
Today, we have 13 stores located in Utah, Nevada, California, and Idaho, providing our customers with choices in furniture, electronics, appliances, mattresses, flooring, and more. We might not do business in the back of a pick-up truck anymore, but we are still committed to value, excellence, and customer satisfaction.
Sort By Blog Topic:
Popular Posts
Subscribe to the Room To Talk Blog
Subscribe to the Room To Talk Blog
Unsubscribe from the Room To Talk Blog