Posted by Michael on December 18, 2009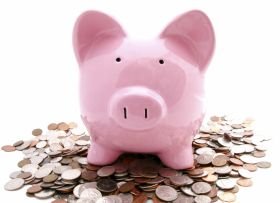 My father always taught me growing up to be very wise in my spending habits. "A Penny Saved is A Penny Earned," he would say. I'm sure he's happy to know that piece of advice is actually one of those things I've taken to heart as an adult. As a child, I was always counting, re-counting, and saving my hard earned cleaning and babysitting money. I was constantly thinking of ways I could earn more, and save more. I'm terrified of debt like society is terrified of the swine flu these days, and for that reason I try to spend within my means. I only have one credit card- simply to build up my credit- and I'm happy that way.
Life Happens. I've realized that sometimes you have to spend more money than you plan on. Paying for a new radiator in your car is a total drag, but spending money on new furniture can be really fun! Since I just got married, my fiance, I mean husband, and I have a new apartment we need to furnish. Lately we've been shopping for some of those newlywed necessities. Someone mentioned that I should open an RC Willey Credit account for my large purchases. Being the conservative spender I am, I was a little leery at first, but once I did my research I was sold.
RC Willey has its own financial department, offering various credit plans, catered to different people with different needs. My personal favorite is the 90 Day Plan. It's almost too simple. You can buy anything in the store and take 90 days to pay for it without interest. Doesn't that sound like the best sort of 'lay-away' plan ever? No down payments. No monthly payments. No interest. No nonsense. It's also a great way to build your credit history. Find a credit card company that will give you three whole months without tacking on interest! That's right, you can't. Perfect for newlyweds or Christmas Shopping, don't you think?
Since I want to get everything paid off as quickly as possible, I'm going to stick with the 90 day plan, but RC Willey offers some amazing long-term no interest finance plans as well. Just make sure that you know you can pay off your bill by the end of the designated period, or else you'll be assessed the accrued interest at the rate of 21% APR, just like regular credit cards. Check out RC Willey's Finance Plans for yourself and see what plans are the best for you.
Sort By Blog Topic:
Popular Posts
Subscribe to the Room To Talk Blog
Subscribe to the Room To Talk Blog
Unsubscribe from the Room To Talk Blog