Posted by Michael on December 11, 2009
What do you remember most about Christmas as a child? The other night I was trying to recall my earliest recollections of Christmas, and my mind was flooded with hundreds of memories. I've always loved Christmas. I would scour the F.A.O. Schwartz catalog in September, and start writing my Christmas Wish List for Santa soon afterwards. I was extra obedient during those autumn months, knowing my behavior would most likely determine my fate Christmas morning.
Isn't it ironic that now, as an adult, I can't even remember one present that Santa ever brought me? All of the gifts are just kind of a fuzzy blur. What I do remember, however, is all of the important stuff- time spent with my family and all of our Christmas Traditions.
One of my favorite traditions as a child started at the beginning of December. Every morning my brother, sister and I woke up extra early to the smell of my mother's mouthwatering home made cinnamon rolls baking in the oven. We rushed downstairs, threw on our coats, gloves and hats, and raced to the kitchen. As my mother dished the warm, gooey cinnamon rolls onto a plate, we sat at the table with my father to decide who in our neighborhood we thought could use a little cheer that morning.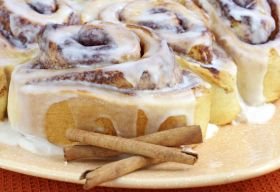 Once we'd picked our victim, we piled into the car, and drove to the designated neighbor's house. Then all of us kids would ring their doorbell and run for our lives, leaving the plate of cinnamon rolls behind. This process repeated itself almost every morning during the Holiday Season.
To this day, every time I eat a cinnamon roll I'm reminded of our family Christmas tradition I loved so much as a child. It's refreshing to know that gifts will be forgotten, but cherished family memories won't.
What are some of YOUR Christmas family traditions?
Sort By Blog Topic:
Popular Posts
Subscribe to the Room To Talk Blog
Subscribe to the Room To Talk Blog
Unsubscribe from the Room To Talk Blog