Posted by Andie on December 10, 2009
I've always told my mother that she was crazy for getting married in December. Why would anyone in their right mind choose to say 'I do' right in the middle of all the busy Christmas festivities, and worse, in freezing cold Utah conditions? No Thank You. I made up my mind early on that I was going to be a September bride.
Well, as luck, fate, or karma would have it...... I'm getting married this weekend. I was hoping it would be a warm December, but don't worry, temperatures are 15 degrees colder than normal. Perfect. Yesterday I started frantically searching online for an ivory wool coat-- for some reason it hadn't even occurred to me that I might get cold in just my dress while our photographer drags us around outside taking pictures. Thank Goodness for overnight shipping. My coat should arrive today. We'll be grateful for the pictures in the end, even if we get hypothermia in the process, right?
The important thing is that we're getting married. And soon enough, we'll be out of this snowy mess. After the ceremony, we're having a small dinner, and then taking off for sunny skies and beautiful warm beaches. I can't wait.
Just because I'm honeymooning, doesn't mean that you won't hear from me. I've written in advance a handful of blogs my co-workers will be posting for me. Enjoy!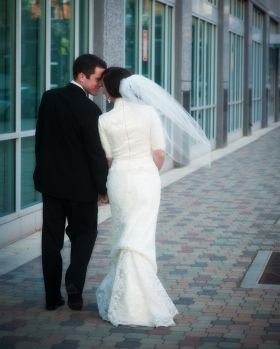 Sort By Blog Topic:
Popular Posts
Subscribe to the Room To Talk Blog
Subscribe to the Room To Talk Blog
Unsubscribe from the Room To Talk Blog