Posted by Andie on December 31, 2009
Can You Believe it?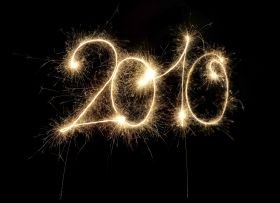 I swear we were just ushering in 2009. It's scary how fast a year can fly by.
What are you doing tonight?
While we are on the subject, I think New Years Eve is totally over-rated. (Don't hate me if it's your favorite holiday. Just my own opinion.)
Truthfully, I think the holiday went downhill for me when staying up until midnight wasn't a big deal anymore, and running around wearing my pajamas in the front yard, banging my mother's pots and pans with the neighborhood kids started to seem a little juvenile.
When I think of New Years Eve, the first word that comes to mind is PRESSURE. In the past I've always had these HUGE expectations for the parties and celebrations I've attended, only to be totally disappointed every time. There's all this hype to watch the dang ball drop, and then...... It's over. Talk about a let-down. So anti-climatic.
My New Years Eve Plans this year? We're spending a quiet evening at home. I'm going to make a healthy dinner because I'm so sick of take-out, cheese baskets, chocolates, and holiday treats. Then we'll probably watch a movie, and go to bed early. I just might ring in the new year when I wake up Friday Morning.
However you choose to celebrate, Have fun and be safe!
Happy New Year!!
Sort By Blog Topic:
Popular Posts
Subscribe to the Room To Talk Blog
Subscribe to the Room To Talk Blog
Unsubscribe from the Room To Talk Blog