Posted by Andie on December 21, 2010
I love watching Christmas movies even more than I adore eating toffee, sugar cookies, and cheese balls this time of year. And that is sayin' somethin'. In order to see if you are as polished as you should be on your Christmas movie trivia, I've put together a little quiz. The first person to leave a comment with all of the correct answers will win this old fashioned popcorn popper! Isn't she beautiful? Talk about the perfect movie accessory.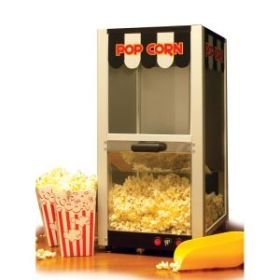 *Update: Winner Winner Chicken Dinner! Congrats to Janet and Chase- their comments came in at the exact same time, and they were the first to answer all correctly!
Thanks to all who participated! You can still take the quiz for fun, answers are posted at the bottom!

1. Name that movie: "I never thought it was such a bad little tree. It's not bad at all, really. Maybe it just needs a little love."
2. What grade does Ralphie Parker get on the essay he writes about wanting a Red Ryder BB Gun for Christmas?
3. What elementary school does Ralphie attend?
4. Name that movie: "Buzz's Girlfriend! WOOF!!!"
5. What is the name of the angel that visits George Bailey on Christmas Eve?
6. Name that movie: "First we'll make snow angels for a two hours, then we'll go ice skating, then we'll eat a whole roll of Tollhouse Cookiedough as fast as we can, and then we'll snuggle."
7. What was the birth name given to the song writer who wrote "White Christmas"?
8. What elf took 1,200 years perfecting her hot cocoa recipe?
9. Name that movie: "We're kicking off our fun old fashion family Christmas by heading out into the country in the old front-wheel drive sleigh to embrace the frosty majesty of the winter landscape and select that most important of Christmas symbols."
10. What does the boy in The Polar Express choose to receive as the First Gift of Christmas?
11. Who is Ebeneezer Scrooge's deceased business partner ghost who visits him and warns him to change his ways?
12. Name that movie: "I'm not just a whimsical figure who wears a charming suit and affects a jolly demeanor. You know, I... I... I'm a symbol. I'm a symbol of the human ability to be able to suppress the selfish and hateful tendencies that rule the major part of our lives. If... you can't believe, if you can't accept anything on faith, then you're doomed for a life dominated by doubt."
13. What does Kevin give the pigeon lady for Christmas in Home Alone 2?
14. Name that movie: "All right, you're a reindeer. Here's your motivation: Your name is Rudolph, you're a freak with a red nose, and no one likes you. Then, one day, Santa picks you and you save Christmas. No, forget that part. We'll improvise... just keep it kind of loosey-goosey. You HATE Christmas! You're gonna steal it. Saving Christmas is a lousy ending, way too commercial. ACTION!"
15. What is YOUR favorite Christmas movie?
Answers:
1. A Charlie Brown Christmas
2. C+
3. Warren G. Harding Elementary School
4. Home Alone
5. Clarence
6. Elf
7. Israel Isidore Baline
8. Judy
9. Christmas Vacation
10. Silver Bell from Santa's Sleigh
11. Jacob Marley
12. Miracle on 34th Street
13. a turtle dove
14. How the Grinch Stole Christmas
Popular Posts
Subscribe to the Room To Talk Blog
Subscribe to the Room To Talk Blog
Unsubscribe from the Room To Talk Blog