Posted by Andie on January 15, 2010
My parents had just re-carpeted their bedroom with the most beautiful, soft, fluffy white goodness I'd ever seen. It was literally only days old; it even had the new carpet smell still. I had been told to stay off the carpet. My parents didn't trust me with anything new and white. For good reason, I guess.
One afternoon I was playing dress ups with some friends. My parents weren't home. I had just put on a great sequin dress and boa, but I needed some makeup to complete the look. I quickly danced across the white carpet with my bare feet, and snuck into my mother's bathroom. After searching through her makeup, I found the perfect dark blue eye shadow! As I started running through the bedroom to show my friends what I'd discovered, the blue eye shadow I was clutching in one hand went flying through the air, landing face down on the blanket of white underneath my feat. Oh NO!!! To my horror, there was a circle of blue powder on the carpet the size of a fist.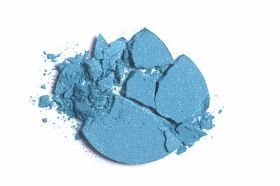 The first thing my nine year old brain thought was Water!! Yes, that's it! Just clean it up with water! I quickly grabbed a washcloth in the bathroom, and as my friends watched with terrified, wide eyes, I started scrubbing the blue carpet with hot water. Much to my dismay, two minutes later the eye shadow was not only still there, but this time it was the size of a bowling ball!! OH NO!!
I started looking around the room trying to figure out how I could cover up the spot. It was a bust. The stain was in the center of the room. There was no hiding it. I thought about blaming it on my little sister, but I knew they wouldn't buy it. I waited in agony until my parents got home, secretly hoping that they just wouldn't notice.
As it turns out, they did notice. Two weeks, and a lot of sunflowers pulled out in the hot summer sun as the form of my punishment later, my parent's bedroom carpet was replaced, once again. I learned two important lessons that day. #1Only get white carpet if you don't have children. #2 Blue Eye Shadow is just bad on so many levels.
What's YOUR furniture/carpet/house disaster story??
Sort By Blog Topic:
Popular Posts
Subscribe to the Room To Talk Blog
Subscribe to the Room To Talk Blog
Unsubscribe from the Room To Talk Blog