Posted by Andie on January 26, 2010
I went to a bridal shower a little while ago and was totally in awe of the decor in the entry way of the host's home: a gorgeous deep blue Victorian Chaise Longue with a beautiful quilt strewn across the back. It was so chic. I even snuck back into the entry way later on by myself to stare again. I'm going to be honest, Chaise Longue's have been on my mind ever since. I want one. So bad.
Why am I so intrigued by the Chaise Longue? Probably because it originated in France, during the Rococo period. I'm not going to lie, I'm a sucker for anything Europe. What's funny, is that we Americans have managed to completely butcher the pronunciation of this fine 'long chair'. The French say "Shayzz Long", and we pronounce it, "Chase Lounge". Yes, I can agree that it makes sense because they are good for lounging, but still. Doesn't the French version sound so much more refined?
Anyway. In my opinion, the Chaise Longue is seriously the epitome of cool when it comes to furniture. You can put it in any room and it brings an element of class like nothing else. Whether it's in your entryway, living room, bedroom, patio, heck, even the garage- it would still be timeless. When I think "Chaise Longue" I think 1. Expensive. French Aristocracy, anyone? 2. Daring. How many people do you actually know that own one? Not everyone can pull it off. 3. Stylish. Need I say more?
Here is the one that I want. 1787100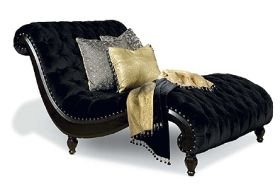 Doesn't this Chaise Longue scream, "Hey, I'm sophisticated! I'm original! I'm classic! I'm individualized!"
I'm saving my money starting now.
Sort By Blog Topic:
Popular Posts
Subscribe to the Room To Talk Blog
Subscribe to the Room To Talk Blog
Unsubscribe from the Room To Talk Blog