Posted by Andie on January 22, 2010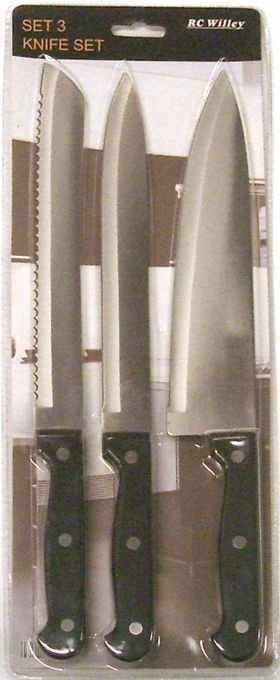 Have you ever tried cutting raw chicken, steak, or a potato with a butter knife?
I'm sorry to say, it's not so pleasant. My fingers were aching for hours.
That's what you get when you don't have a set of knives in your kitchen.
Stupid, I know. But we were hungry!
Next thing on our To-Purchase list? KNIVES.
Good news. Just in case you are suffering without any knives, or it's time to get a better set.... During the 30 Million Dollar Clearance Sale, going on through January, RC Willey will give you a Knife Set of 3 with any purchase! YAY!
Stop suffering now.
P.S. These knives would make an excellent present for newlyweds.
*This week's winner of our random blog follower Contest is Cynthia Sund, of California! She's got a brand new Elliptical coming her way!
She said, "Andie: I am so excited!!! My Mother passed away last month and I have gained 5 pounds over the stress and sadness of losing her! She was truly my best friend! I am going to use the elliptical every day in honor of my Mother, Bobbie! She was 83 and looked 65! She was always in shape!!"
Congratulations Cynthia! Next Friday, we'll draw another winner, so sign up to follow this blog now if you aren't a follower already! Have a great weekend!
Sort By Blog Topic:
Popular Posts
Subscribe to the Room To Talk Blog
Subscribe to the Room To Talk Blog
Unsubscribe from the Room To Talk Blog