Posted by Andie on October 29, 2010
Costume shmostume. It's all about the candy.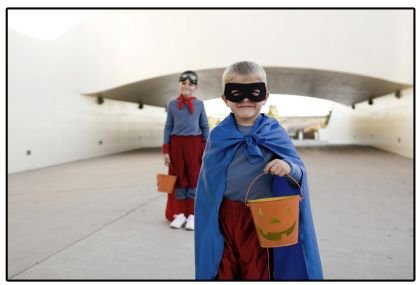 A few words of advice for trick-or-treaters.....
1. Wear comfortable shoes no matter what. You want to be able to run/sprint from house to house, and blisters forming on your feet will just slow you down!
2. Don't get stuck trick-or-treating with your three year old sister. She may be adorable, but have you seen her try to run? Not happening.
3. Ditch the parents ASAP. They'll want to take too many pictures, talk to other parents, show off your costume, and stay in your own neighborhood. They secretly don't want you to get too much candy anyway because it will ruin your teeth!
4. Forget those orange pumpkin trick-or-treating containers. They might be cute, but they are so not functional. Take an old pillowcase instead for maximum candy holding potential.
5. Share the dum dum's, pennies, tootsie rolls and toothbrushes you get trick-or-treating with your siblings. Keep the good stuff stashed under your bed!
When all is said and done, it's not about how cute or scary your costume was. It's about getting enough candy in your sack to last you until Christmas!
Popular Posts
Subscribe to the Room To Talk Blog
Subscribe to the Room To Talk Blog
Unsubscribe from the Room To Talk Blog