Posted by Andie on October 27, 2010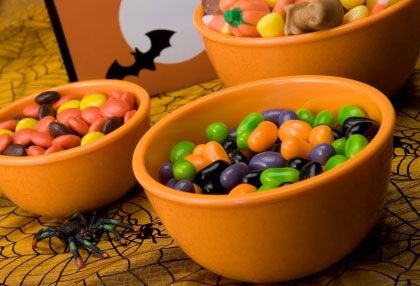 We could have 17 bags of candy in our house and my husband would have no desire to eat any of it. I on the other hand, could polish off a bag a day if I let myself. For this reason, Halloween is one of the more dangerous holidays in my book.
This year, I'm going to rely on David Zinczenko's Halloween Survival Tips so that I still fit in my jeans come November 1st. If you're like me (or you are married to someone like me who will complain about eating too much candy after the holiday) then check out these awesome tips!
1. Toss the candy bowl
Alabama researchers found that people who have snacks within reach when they're watching TV consume more calories per day overall. But instead of simply relocating the bowl to another table, limit the potential for mindless munching by keeping the candy bagged and in the cupboard.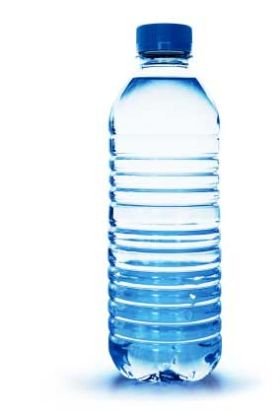 2. Consume drinks before treats
Drinking 16 ounces of water before a meal fills the stomach, quells hunger, and helps you lose weight, according to a study presented at the National Meeting of the American Chemical Society. Use this strategy to help tamp your candy cravings. Just don't substitute a sugary beverage for the water or this strategy will backfire: A can of soda has more sugar than two Hershey's Take 5 bars.
3. Work out on Halloween morning
Lifting weights reduces levels of blood sugar by 15 percent for more than 12 hours after you've left the gym, according to research from Syracuse University. Why does that matter? Some of the sugar you consume will stay in your blood stream, providing energy to your cells, instead of pitching a tent in your belly.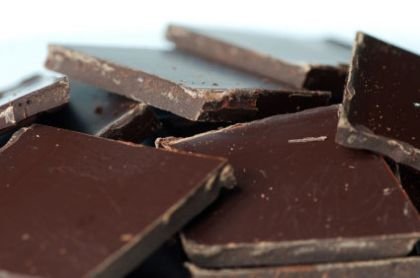 4. Switch to dark chocolate
It won't necessarily save you calories, but dark chocolate boasts a bevy of health benefits that milk chocolate can't claim. Flavonoids in the cocoa help keep your arteries soft, decreasing your risk of cardiovascular disease. And according to new research, a compound called epicatechin might help prevent brain damage from stroke. Keep a bar on hand to nibble on any time you have a craving. Seek out those bars with at least 60% cocoa.
5. Chew gum
Sort through any trick-or-treat bag and you'll undoubtedly discover a handful of Super or Dubble Bubble-those small pink cubes wrapped in old-fashioned, end-twisted candy papers. Instead of plowing through the chocolates and taffies, throw a big gob of the gum in your mouth. The chewing suppresses cravings, and each piece has only about 15 calories.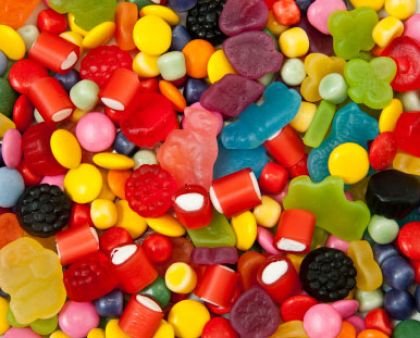 6. Don't hand out your favorite candy
If your favorite candy is Milk Duds, and you're handing out Milk Duds all night, doesn't it seem likely that you're going to wind up with a pound of chocolate and caramel in your stomach by night's end? Of course! And that's not even factoring in how many Duds you'll plow through as they sit on the counter in the days leading up to Halloween. Choose something less tempting.
7. Keep the candy-calorie load to 400
The fewer calories you take in during candy season, the better off you'll be heading into turkey season. So if you worry that you risk overindulgence, set a caloric limit and hold yourself to it. Four hundred is a good number-indulgent yet not overly destructive.
8. Don't skip dinner
A healthy dinner will take the edge off your candy craving, not to mention temper the blood-sugar rush that converts your body into a flab factory and puts you at risk for diabetes. What you want is a meal rich with fiber and lean protein-think chicken breast with vegetables.
9. Take it outside
The worst thing you can do on Halloween night, after most of the trick-or-treaters have cleared off the street, is set your candy bowl by the door where you can grab a handful every day on your way out. Noshing 300 extra candy calories a day will add a pound of flab to your frame in less than two weeks. Instead, set the bowl on the porch before you go to bed. The leftover candy will be gone by morning, guaranteed.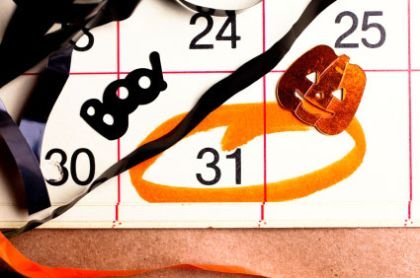 10. Remember: Halloween is a one-day event
A study in the journal of Nature Neuroscience found that eating junk food doesn't just satisfy cravings-it creates them. That's right; junk food is addictive. Limit your sugar splurging to October 31. If you start a week early, you're going to have a serious candy habit to break after Halloween. You might find it to be frightfully difficult.
* David Zinczenko's Halloween Survival Tips found at Yahoo Health
Popular Posts
Subscribe to the Room To Talk Blog
Subscribe to the Room To Talk Blog
Unsubscribe from the Room To Talk Blog