Posted by Andie on November 17, 2010
I've always been fascinated with the art of napkin folding. As a child, I'd practice the folds my mother taught me, and experiment with creating my own. As an adult, one of the toughest decisions I faced while planning my wedding was which type of napkin fold I wanted for our wedding dinner. My then-fiance didn't understand what the fuss was about because "nobody is going to even notice what the napkin looks like". Wrong. The napkin is a central part of the dining experience.
The good news is that my husband still married me, in spite of my freakiness. What's funny is that I honestly can't remember which napkin fold I ended up choosing!
Anyway. I digress.
Since Thanksgiving is approaching next week, I decided to post some handy napkin folding instructions, courtesy of napkinfoldingguide.com for those of you who are like me and like to plan well ahead!
The Bird (or Turkey!) Of Paradise Napkin Fold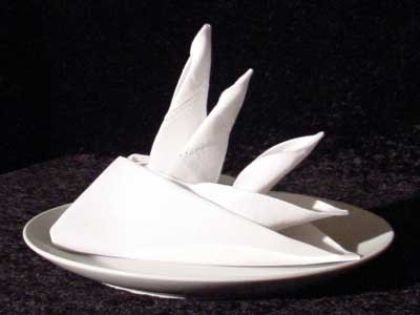 This is a classic and classy napkin folding technique that requires a stiff napkin. If you don't have any dinner napkins made of stiff linen then a light starching should fix you right up.
1. Lay the napkin face down in front of you.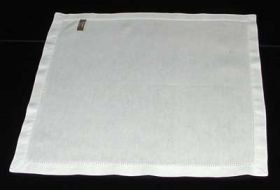 2. Fold the napkin in half.
3. Fold the napkin in quarters.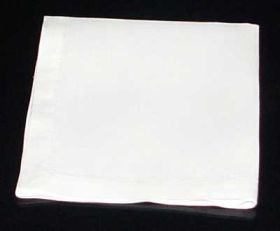 4. Fold the napkin in half diagonally, creating a triangle.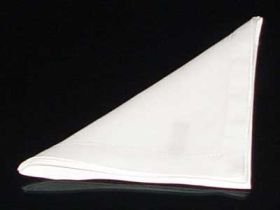 5. Orient the triangle so the open tip is facing away from you.
6. Fold the right corner diagonally towards you - laying it down along the centerline of the triangle, making a new tip pointing towards you. An iron can make this important fold a whole lot easier.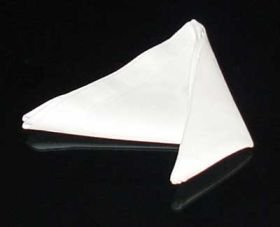 7. Do the same with the left corner, fold it diagonally toward you and press it down next to the previous fold. Now you have a diamond, you're rich! Yay!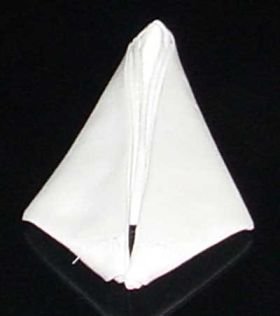 8. Fold the two "wings" that you just made in folds 6 and 7 under so that you have your original triangle shape back. Once again an iron can make a world of difference.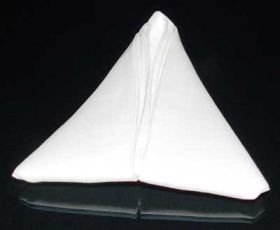 9. Fold the triangle in half by bringing the center seam towards you and allowing the ends to fall.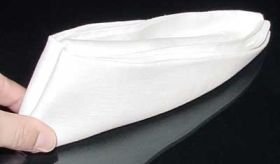 10. This bird's almost ready to fly, but first you must give it some feathers. While holding the base firmly to keep your folds together, pull up the four 'flaps' created by the napkin's corners.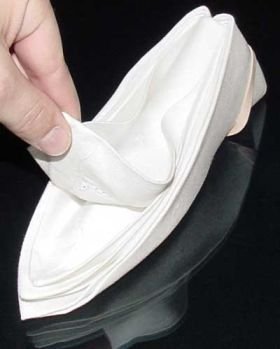 Finished Product! Beautiful!!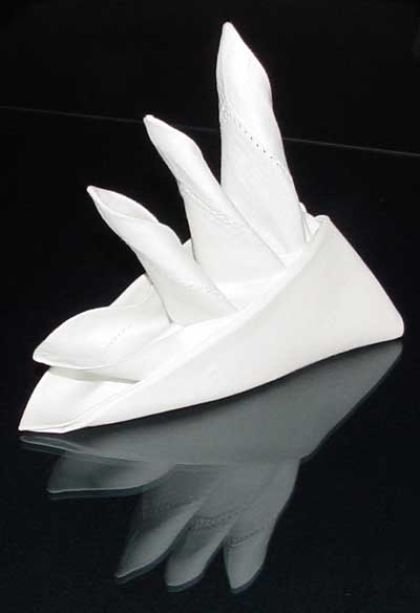 For a large variety of other awesome napkin folds, visit napkinfoldingguide.com!
Popular Posts
Subscribe to the Room To Talk Blog
Subscribe to the Room To Talk Blog
Unsubscribe from the Room To Talk Blog