Posted by Andie on December 1, 2010
The other day my husband and I were driving in the car listening to a rousing rendition of "Jingle Bell Rock" when he turned to me and asked, "Is it a bad thing that I honestly don't like Christmas music?" I was horrified in every way.
Ever since then, I've been scouring the earth for a larger assortment of holiday tunes. I'm determined to de-Scrooge my husband! As fate would have it, I was introduced to "The Gift of Christmas" Album just days after said conversation. Success! This husband of mine just might be on his way to a full recovery. It's such a fresh, eclectic compilation of Christmas music, featuring a variety of artists and sounds. I like it so much, that I want all of you to have your own copy this holiday season!!
Dear readers,
Simply print off this Gift Certificate and take it into any of our RC Willey store locations to redeem your FREE Christmas CD! Thank you for reading Room to Talk. I so appreciate all of your comments, emails, and participation! Here's to the beginning of a great holiday season!
xoxo Andie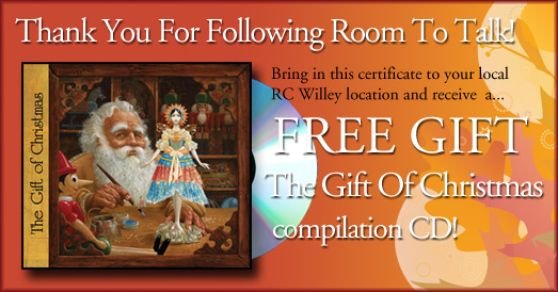 Popular Posts
Subscribe to the Room To Talk Blog
Subscribe to the Room To Talk Blog
Unsubscribe from the Room To Talk Blog