Posted by Andie on December 16, 2010
One of my favorite Christmas memories from my childhood was our annual sugar cookie bakeathon. My mother always made the dough and baked dozens and dozens of cookies in the afternoon; then that evening my whole family gathered in the kitchen to frost and decorate the cookies while we danced around to our favorite Christmas tunes. Two hours later, we had frosting all over our faces and clothes, sprinkles dotting the kitchen floor, and approximately 97 (minus the 15 or so that made it to our stomachs) decorated sugar cookies to show for it.
Now that I'm an adult, I've realized my parents were absolute troopers. Mom and Dad, thanks for being patient and realizing that family Christmas traditions were worth the trouble of total chaos and a messy kitchen!
Have you made sugar cookies yet this season? I've decided to share my grandmother's sugar cookie recipe with you. It's a family favorite. My husband and I are planning on making them this weekend..... you should too!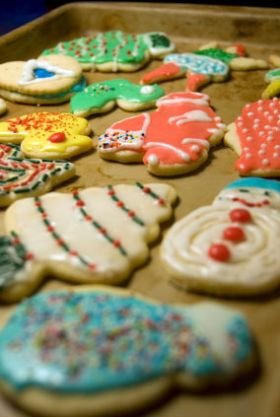 Grandma's Vanilla Rolled Christmas Cookies


3 1/2 c. flour
1 t. baking powder
1/2 t. salt
1 c. shortening
1 1/2 c. sugar
4 eggs
1 1/2 t. vanilla

Sift flour, add baking powder and salt. Cream shortening, add sugar gradually, beat until light. Add eggs and blend thoroughly. Add vanilla. Combine dry and creamed mixture. Mix and chill 3 to 4 hours or overnight. Roll dough 1/4 inch thick, cut into different shapes. Put on greased pan. Bake at 400 degrees for 6-10 minutes. Makes about 50 cookies

Frosting: (Jackie Mckay)
1/2 c. shortening
1 1/2 t. vanilla
1/2 c. margarine
5 c. powdered sugar
Popular Posts
Subscribe to the Room To Talk Blog
Subscribe to the Room To Talk Blog
Unsubscribe from the Room To Talk Blog