Posted by Andie on February 1, 2010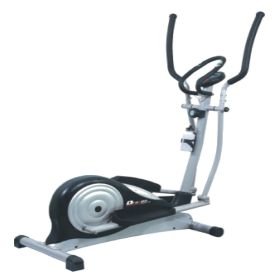 10. Convenience. Convenience. Convenience. Who wants to drive to the gym anyway? You won't have to when you've got your own elliptical in the basement. You might even use it more than once a month!
9. Don't worry, with your elliptical you'll be able to trim off those unwanted Holiday lbs in a jiffy!
8. Can you say Endorphins? You'll definitely be 10 times happier when you are exercising on your elliptical. Guaranteed.
7. Major Earning potential. You could score some extra cash charging women in the neighborhood for a half hour round on your elliptical. Just an idea......
6. Save money. Hold off on buying that new arm chair. You'll never even have a second to sit on anything else because you'll literally be on your elliptical 24/7.
5. You won't have to risk stepping onto a sweaty, stinky elliptical at the gym. Who wants to use a machine other people have been contaminating anyway? Gross.
4. You can teach your children at an early age that exercise is important. Or bribe them. Tell them they can ride the elliptical once they've cleaned up their room and done their homework. Works like a charm.
3. Improve your multi-tasking skills. You can ride your elliptical, watch your favorite TV show, AND eat Cheetos all at the same time.
2. You can use the excuse "I must have been on my elliptical", when your neighbor asks you why you didn't answer her phone calls all day.
1. Because it's absolutely FREE!!! And who doesn't like Free?
Congratulations to last week's Elliptical Winner, Shannon Smith, of Kaysville, Utah!
Shannon said, "I was ecstatic to learn I had won the elliptical!!! I can't wait to try it! My mom and sister have ellipticals of their own and use them all the time. I have no excuse now to not get my cholesterol numbers in check. It will be put to very, very good use. Thank you RC WILLEY!!"
One more lucky random blog follower will win an Elliptical this Friday! Click just below on "Follow Blog" if you aren't already a follower, and you'll have a shot at being this week's winner!
Follow Blog
*Okay let's say worse comes to worst, and you don't win the free elliptical. Don't give up on your fitness goals. We can still help you. Check out our Exercise Equipment...
Sort By Blog Topic:
Popular Posts
Subscribe to the Room To Talk Blog
Subscribe to the Room To Talk Blog
Unsubscribe from the Room To Talk Blog