Posted by Andie on February 17, 2010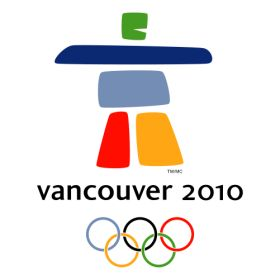 There is something so magical about the Olympic Games to me. As a kid, I constantly dreamed about competing as an ice skater in the Olympics and winning a gold medal for Team U.S.A. I had only been ice skating half a dozen times, but to my seven year old brain, nothing was impossible. Now that I'm an adult and my Olympic dream is no more, I'm simply inspired and awed. It wouldn't be an understatement to say that my husband and I have been addicted lately to the Vancouver Olympics. Every night after work we find ourselves hooked to the television until we fall asleep.
Some of the highlights for me this past week have been watching Hannah Kearney win the Gold Medal in Women's Moguls, Apollo Ohno and J.R. Celski take Silver and Bronze in the Men's 1500 Short Track, Lindsey Vonn earn Gold in the Women's Downhill, Shaun White blow away his competition in the Men's Halfpipe, and Evan Lysacek skate to win Gold last night in the Men's Figure Skating.
As much as I have enjoyed watching the athletes compete, I have encountered several moments of frustration in the past few days. Especially while watching Pairs and Men's Figure Skating. I have had to remind myself several times that I am not an Olympic judge, nor do I have the knowledge or experience to think that my calls are accurate and theirs are not. I just don't understand some of the scores that I've been seeing- some seem too high, and others very low. Is anyone else confused?
You see, to me, a triple axle is a triple axle. A cool looking lift is a cool looking lift. What's technique and form anyway? If an ice skater lands any of his tricks without falling and has a smile on his face, it's an A performance in my book.
I guess we can all be grateful that I'm just an avid spectator from my living room.
Popular Posts
Subscribe to the Room To Talk Blog
Subscribe to the Room To Talk Blog
Unsubscribe from the Room To Talk Blog