Posted by Andie on March 5, 2010
When I was 19 I lived in London for a semester studying film and travel writing. Besides falling in love with the theaters, art museums, restaurants, fashion, and ethnic diversity found in each European city I visited, I also became fascinated with the cars that frequented their roadways. I had been under the impression that my Mitsubishi Lancer back in the states was a petite vehicle, but once I met the European Smart Car, my little Lancer seemed more like a Mini-Van.
The first time I saw a Smart Car parked on the road, I honestly thought it was fake. Remember those battery-powered toy cars? You know, the ones kids could actually sit in and drive around the neighborhood? I thought it looked like one of those. After a few moments of intense observation, I began attempting to measure the Smart Car with my arms, peering inside the windows out of curiosity, and thinking how great it would be to parallel park one of those beauties. I came to the conclusion that these would NEVER make it to the United States. There was just no way.
Okay, so I was dead wrong. It's been five years, and Smart Cars have definitely started to make their presence here in the U.S. Have you seen them around? What do you think of them? Would you want to drive one?? You might be able to soon....
RC Willey is Giving Away a Smart Car!!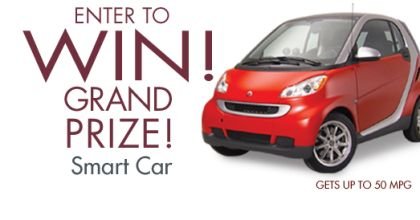 Alright, I'm just going to lay it out on the table. At first, I was incredibly skeptical when I thought about owning a Smart Car. I've already been in way too many car accidents at my relatively young age, and as a result, I prefer safe cars. At first glance, the Smart Car didn't seem all that safe to me. It's definitely not like the Buick my father made me drive when I turned sixteen. (At the time, I was mortified, but I actually appreciate the experience looking back).
This inspired me to do a little research. First, I went and looked at a Smart Car, and got all of the information I could. Next, I turned to the internet. Interestingly enough, I found that the Smart Car is actually pretty safe. In fact, it has earned very high safety ratings thanks to its steel, race-car style frame, and liberal use of high tech front and side airbags. Surprised?
Here are some of the Pro's of owning a Smart Car:
*FUEL EFFICIENT: can you say up to 50 mpg?
*Perfect for city driving
*The ultimate parallel parker
*Mercedes Benz engineered
*Roomy interior (I was shocked at how spacious the inside felt)
*Environmentally friendly
*Makes a statement
Some of the features I (a non-car person) thought were cool in the Smart Car Guidebook:
*5-speed automated manual transmission
*4 Airbags (2 in the front, and 2 on the sides) and Tire pressure monitoring
*Acceleration skid control and Automatic hill start assist
*Heated Seats and door mirrors
*Air Conditioner with automatic temperature control
I'm obviously no expert, so if you want to learn more about the Smart Car, go to the official Smart Car Website.
To enter the RC Willey Smart Car drawing, all you have to do is print out an entry form online, fill it out, and drop it off at the nearest RC Willey. A winner will be randomly chosen on March 29th. It could be you! Good Luck!!!
Sort By Blog Topic:
Popular Posts
Subscribe to the Room To Talk Blog
Subscribe to the Room To Talk Blog
Unsubscribe from the Room To Talk Blog