Posted by Andie on April 27, 2010
The Pantone Institute has been the world-renowned authority on color for the past 45 years. Among other things, they specialize in tracking and identifying the most popular colors for home decor and fashion industries each year.
Last December, Pantone officially named turquoise the "It" color for 2010.
Turquoise happens to be my favorite color. Not only is it perfect for handbags, scarves, and jewelry, but it's also a great color to incorporate into your home. With its warm and cool tones, it compliments an endless array of colors, including black, white, grays and browns. It can also be combined with many different finishes as well, such as dark woods and stainless steels. It's a sophisticated color that exudes calm and serenity while livening up a room that otherwise seems boring or lifeless.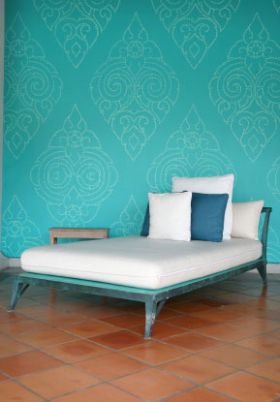 How to incorporate turquoise into your home decor....
1. Turquoise is an excellent accent shade. Get your hands on turquoise accessories like lamp shades, cushions, rugs, wall hangings, and curtains. A little splash of turquoise can freshen up any living space.
2. Experiment with paint. You can paint a whole accent wall, or go for something a little more subtle, like painting an old wooden chair or table.
3. Fabrics are one of the easiest and most inexpensive ways to introduce turquoise to your color scheme. If you are into sewing, try making a turquoise quilt, pillow, chair cover or other soft furnishing item.
Sort By Blog Topic:
Popular Posts
Subscribe to the Room To Talk Blog
Subscribe to the Room To Talk Blog
Unsubscribe from the Room To Talk Blog