Posted by Andie on April 16, 2010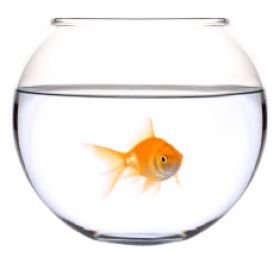 I struggle keeping things alive. When I was about 8, my friend and I both won goldfish at the local 4th of July Carnival. Her fish was still kicking strong when we were in high school, mine died less than a week after I got it. Coincidence? I thought so at first. I used to catch frogs in the pond by my house, and have attempted several more times over the years to be a fish owner, but every time they die days after coming into my care. I guess it's a good thing my parents never got me a puppy. It wouldn't have had much of a chance.
It's not just animals that keel over around me, plants like to jump ship too. I once dated a guy whose parents were SUPER into gardening- their yard was immaculate and they had potted plants all over their house. They knew I was better at picking weeds than growing flowers, and so they gave me a potted bamboo plant because supposedly it's one of the easiest plants to keep alive. The poor thing lasted longer than I expected, but soon it was dead as a doornail. Luckily, the boy and I broke up a few weeks later, so I never had to admit my bamboo growing failure to his folks. They would have been pretty disappointed.
The thing is, I really do love plants. I don't mean to kill them, and I get really frustrated when they die on me. There is something purely magical about planting a seed in soil, and watching it grow into something so beautiful.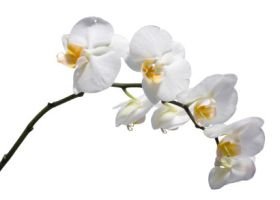 My mother gave me a gorgeous white Orchid for Easter a few weeks ago. I'm not sure she's much better than I am with indoor plants, but we're both trying. The great thing is that I only have to water it every 7-10 days. So far so good, it's still thriving on my kitchen counter. I'm crossing my fingers that I'll be able to keep this one alive!
If you have any 'keeping your flower alive' tips, I'd appreciate them!
Congratulations to Jan Winborg, of Farmington Utah! She is the winner of "Paula Deen's Kitchen Classics" Cookbook this week!
Become a follower if you aren't already, and you'll have a chance to win our blog giveaways!
Popular Posts
Subscribe to the Room To Talk Blog
Unsubscribe from the Room To Talk Blog