Posted by Andie on May 17, 2010
Have you ever tried washing a load of laundry by hand? I don't recommend it.
My friend Brooke and I were living in London, and sick of wasting time and money at laundromats. One day one of us had the bright idea to wash our dirty clothes ourselves at our flat. In our bathtub. How hard could it really be?
Well, we sure gave it a try....
Picture this: Our bathroom floor is flooded with soapy water. It looks like a kiddie pool (minus the urine). We are completely soaked. I'm standing in the bathtub with my pants rolled up, struggling to rinse out the detergent from the two week pile of soapy clothes beneath me. Brooke has one foot in the tub, and the other out on the tile as she's desperately trying to ring out all the water from our jeans and sweatshirts. It looked more like a wrestling match than two girls attempting to do laundry.
After four, yes FOUR hours, we gave up. Our jeans didn't dry completely for a week.
That day I came to respect my pioneer ancestors more than ever before.
I also grew very fond of Washers and Dryers.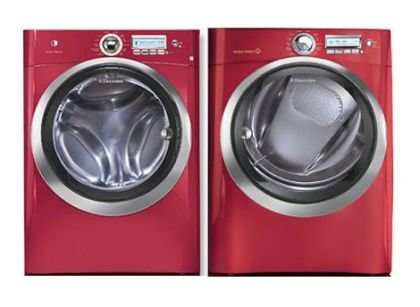 My parents got this washer and dryer a couple months ago. They have so many amazing features I didn't even know existed. I'm so fascinated that I keep trying to find excuses to do laundry at their house.
Yes, they really are that cool.

P.S. It's the perfect time to buy a new washer and dryer with the government appliance rebates!
Sort By Blog Topic:
Popular Posts
Subscribe to the Room To Talk Blog
Subscribe to the Room To Talk Blog
Unsubscribe from the Room To Talk Blog