Posted by Andie on May 27, 2010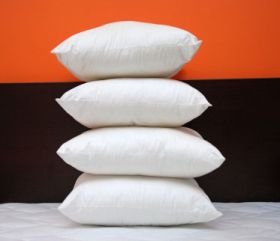 I guess you could say I'm a little high maintenance when it comes to sleeping. I've always enjoyed a pitch black room with my feather pillows and down comforter, but my obsession with sleep has gotten a lot worse lately. I blame it on my new mattress.
Six months ago my husband and I were days away from getting married, and busy shopping for the household essentials. Buying a mattress was at the top of our 'must have' list. To aid us in our search, I went to my friend Brett, the mattress buyer here at RC Willey. Lucky for us, he just so happened to have a whole slew of high end sample mattresses that different vendors had sent him, all of which were available at a fraction of the retail price. We tested about 15 incredible mattresses. The one that stood out to us, which we ended up buying, was a Natura.
Okay seriously, we had no idea what we were getting ourselves into. You might think I'm being dramatic when I say that it's changed our lives for the better, but it's the truth. Our Natura mattress is constructed from natural eco-friendly products, making it comfortable in every sense of the word. I love the fact that not only is it comfortable to lay on, but wool inside of the mattress works to regulate my body temperature and wicks away moisture while I sleep. That's my kind of mattress. Even my husband, who has had horrible sleeping problems since he was a kid, is finally sleeping through the night without waking up every hour. It's nothing short of a miracle. Thank You, Natura.
Unfortunately, RC Willey doesn't normally sell Natura Mattresses. Ever since we got ours, I've been trying to convince Brett to start carrying them in our stores so that customers could benefit from a Natura mattress as much as my husband and I have! Good News! My wish was temporarily granted. For one week only, during our Memorial Day Special, RC Willey is selling Natura Mattresses, at a MAJOR discounted price!! It's pretty unbelievable...
A Queen Natura Mattress retails at $1,999. This week only, you can get a $1,000 discount and take it home for only $999!!
A King Natura Mattress retails at $2,799. This week only, buy it for $1,799.
Seriously people. If there is anything you SHOULD be high maintenance about, it's the quality of your mattress. You owe it to yourself, or your spouse. Go in to any RC Willey store this weekend to check these out. Happy Shopping!
Sort By Blog Topic:
Popular Posts
Subscribe to the Room To Talk Blog
Subscribe to the Room To Talk Blog
Unsubscribe from the Room To Talk Blog