Posted by Andie on June 1, 2010
My co-workers think I'm a social misfit because I STILL haven't seen Avatar.
I guess I'm lame. Am I the only one that hasn't seen it yet?
For all you Avatar fans out there, this week, during RC Willey's Memorial Day Sale, when you spend $599 at any store, you can get an Avatar Blu-Ray PLUS a Blu-Ray Player for only $69! You better hurry in because supplies won't last long!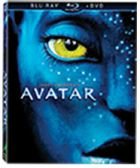 It just so happens that I've saved a copy of Avatar and a Blu-Ray Player to give to one of you lucky chaps. All you have to do is become a follower of this blog if you aren't already, AND leave a comment explaining why you can't live without Avatar and/or a Blu-Ray Player. Best comment wins. The more creative, the better. I'll announce the winner on Tuesday, June 1st.
Good Luck!!
Congratulations to Wendy! She's got a new blu-ray player and a copy of Avatar coming her way! I loved reading everyone's comments, but Wendy won hands down when it came to creativity...
"I am being held captive by some really mean aliens. They are threatening to destroy the earth unless they are able to watch Avatar at *my* house. See, they are extremely ugly, and there would be no disguising them if I were to attempt to take them out in public. I offered to get the dvd to play and show them, but noooooooo, that's not good enough. The evil aliens want to watch it on Blu-Ray. I have tried to explain to them that I don't have a Blu-Ray player, nor the Blu-Ray of Avatar, but they don't seem to understand. (They don't seem to be a super smart race of aliens, like you THINK aliens would be) They also took away my credit cards to use at ear floss (no, you don't want to know). So, as you can see, the FATE OF THE WORLD is in your hands- If I win, I can show the aliens Avatar, and then they'll go on their happy way. If I don't win it, the world will be destroyed. You don't want that on your hands (well, what will be left of them, anyway), do you?"
Sort By Blog Topic:
Popular Posts
Subscribe to the Room To Talk Blog
Unsubscribe from the Room To Talk Blog