Posted by Andie on June 11, 2010
The jury is still out for me when it comes to 3-D Television...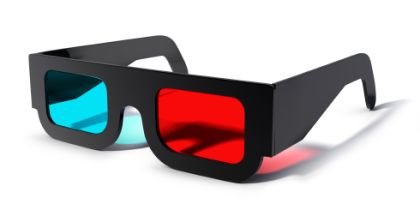 '3-D' makes me think of the "Honey I Shrunk the Audience" 3-D Show at Disney World. Have you seen it? It's horrifying, and intriguing all at the same time. It feels like you are on a roller coaster, all the while you have to deal with the fangs of a python, dog slobber, and loose mice running around your feet. Considering the fact that I'm absolutely petrified of any type of rodent... it wasn't so pleasant for me. I think I ended up taking the glasses off halfway through the show. Even in other 3-D shows I've been to sans mice it always feels like there is an explosion going on in my head. And not in a good way.
So why would I want to watch 3-D in my living room??? Despite my opinions, I decided I needed to see what all of this buzz was about. If 3-D TVs really are the hot TV of the future I wanted to at least know about them.
So I went to RC Willey and checked out their big 3-D television display. I never thought I'd say this, but it really surpassed all of my expectations. It was awesome. I sat there with my stylish 3-D glasses watching Monsters vs. Aliens... I felt like I was a character in the movie, and I didn't even get a headache. AWESOME.
I'm still on the fence as to whether I'd like to actually own one. I guess time will tell.
What do YOU think about the new 3-D TV's?
Sort By Blog Topic:
Popular Posts
Subscribe to the Room To Talk Blog
Subscribe to the Room To Talk Blog
Unsubscribe from the Room To Talk Blog