Posted by Andie on June 8, 2010
Is it time to transition your old, outdated dining room into a modern, eclectic masterpiece? Trying to decide how to decorate your very first dining room? For whatever reason dining rooms are on your mind, here are a few tips to help you on your journey.....
1. Pick Out The Perfect Table
First, you need to determine what type of table caters to your style, and to the function of the room. What kind of ambiance do you want your dining room to have? Is it going to be a formal space, used only on special occasions or when you have company? Or do you want it to feel more casual and lived in, since you'll be using it on a daily basis? Traditionally, dark wood finishes add more formality to a room, while lighter finishes and painted finishes create a more casual feel.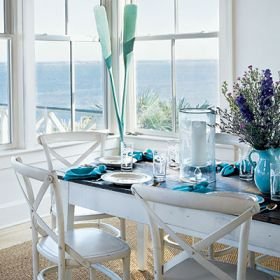 Courtesy of Coastal Living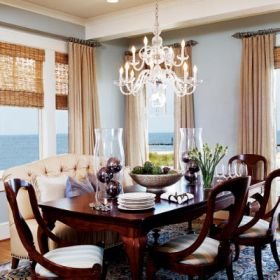 Courtesy of Coastal Living
Next, you need to think about sizes. You don't want to overcrowd the room with the table. How many people will be sitting at it regularly? Do you have small children? Do you plan on having dinner guests frequently? Ask yourself these kinds of questions in order to establish what size and shape of dining table will best fit your expectations and needs.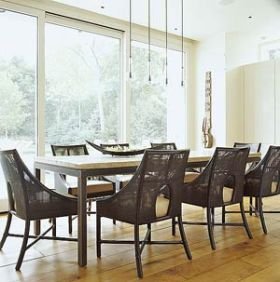 Courtesy of Kitchen Bath Ideas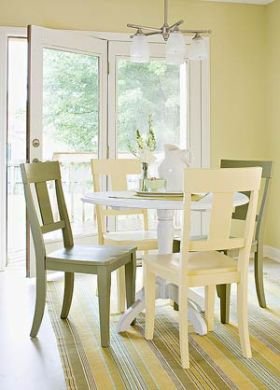 Courtesy of Kitchen Bath Ideas
2. Get Creative With Your Chairs
Nowadays, you don't have to purchase a traditional "set" for your dining room, in fact, the old rules of everything having to match in a room don't apply anymore! Even in a formal dining room the chairs don't have to be the same. Being eclectic, and reflecting your own unique personality is in!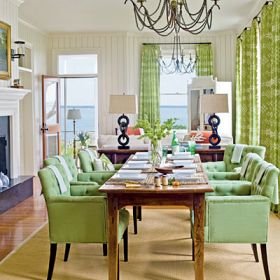 Courtesy of Coastal Living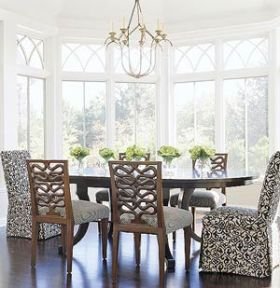 Courtesy of Kitchen Bath Ideas
Look for as many different styles of chairs as you can find and stagger them around your table. The options are endless- wooden, upholstered, metal, leather, etc! The more the better!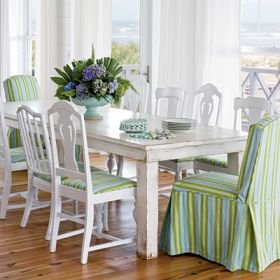 Courtesy of Coastal Living
If you have a casual dining room, there are even more options! Instead of pairing wooden chairs with your casual wood table, try using a couple of rattan chairs for a natural, earthy feel. Lots of people are using a cool bench on one side of the table and chairs on the other for a unique look! Don't forget to go funky with color!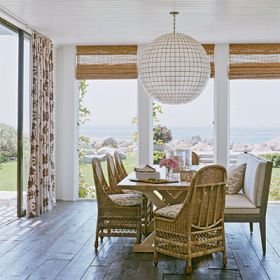 Courtesy of Coastal Living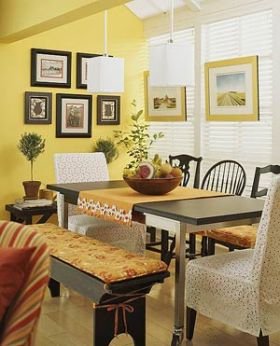 Courtesy of Kitchen Bath Ideas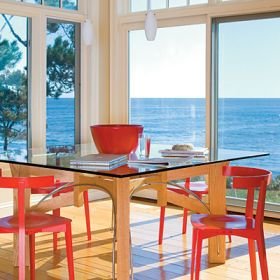 Courtesy of Coastal Living
3. Say Hello to Fabulous Rugs and Colorful Curtains
Incorporating a bright, happy rug is a must! Getting the right size of rug is essential. Take a look at the room, and determine what size of area you want to cover. You don't want something that is wall to wall, but at the same time you want to make sure that all of the furniture you intend to sit on the rug will fit comfortably. When picking out a rug for under your kitchen table, make sure that when the chairs are untucked, they will still be on the rug. You don't want any half on, half off business.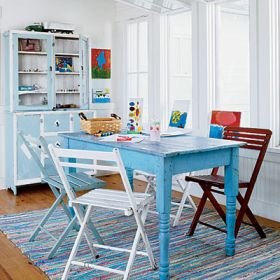 Courtesy of Coastal Living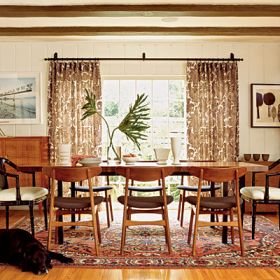 Courtesy of Coastal Living
Curtains can really make or break a room! Make sure that your curtains really enhance the overall look and style that you are trying to create. Don't be afraid to be bold with color and pick out big patterns! Go big or go home!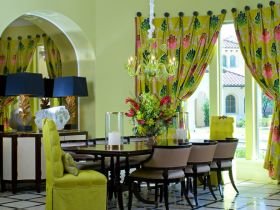 Courtesy of HGTV
Stay Tuned for Part 2: Dining Table Centerpieces 101
Popular Posts
Subscribe to the Room To Talk Blog
Subscribe to the Room To Talk Blog
Unsubscribe from the Room To Talk Blog