Posted by Andie on June 25, 2010
A few weeks ago I went to an outdoor craft market with my sister and sister-in law. There were dozens of vendors, all with pretty and charming homemade items for sale. I stumbled upon a tent boasting beautiful cake stands and thought I'd gone to heaven. Some were vintage, others were more modern, and some were just plain elegant. They were absolutely lovely. I almost bought one because after all, we didn't get a cake stand for our wedding and I've been borrowing one from my mother for the past 7 months, so technically I still NEED to get my own. Right?
After careful examination my practical side got the better of me. In a renewed effort to become more crafty, creative, and thrifty all at once... I decided I'd forego buying a cake stand and make my own instead. Move on over, Martha!
I did it. Trust me, a kindergartner could handle this one.. so easy.
DIRECTIONS:
1. Find a pretty plate
- Any size, shape or color will work. I wanted a large cake stand, so I used a large plate, but you could use a small plate if you want to hold smaller things like candies, a few cupcakes, jewelry, etc. You might already have a plate in your cupboard you could use, but if not, most stores sell plates individually. I found mine at Anthropologie.
2. Find a candlestick
- Any height is great! I wanted mine on the shorter end, but tall candlesticks work fine too. I looked all over, and the cutest candlestick I ended up finding was from Dollar Tree! Don't you love when that happens?
3. Get some glue
- There are probably a number of glues that would work here. The important thing is that it's heavy duty, and clear drying. I used Gorilla Glue.
4. Plate + Candlestick + Glue = Cake Stand
Glue a small circle (the size of your candlestick) on the bottom center of your plate, and then hold the candlestick there for a few minutes. Leave it there to dry completely for the next few hours, and then... Whola! You've got yourself your very own cake stand. Display it in your kitchen, or anywhere else in your house for that matter (mine is sitting on a bookshelf) until you need it for a cake!
Here are some pics of mine....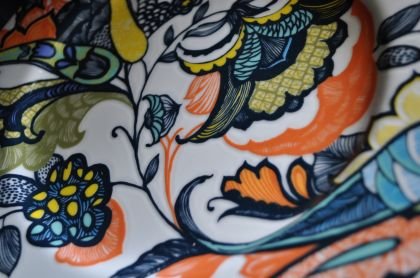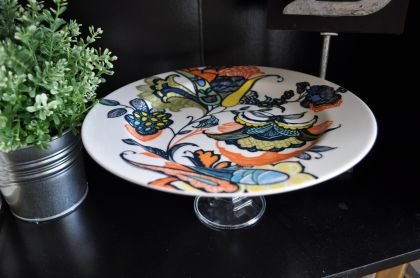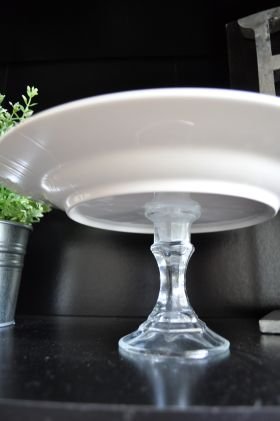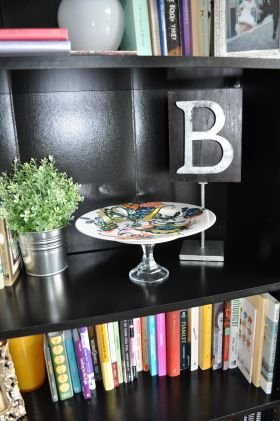 Popular Posts
Subscribe to the Room To Talk Blog
Subscribe to the Room To Talk Blog
Unsubscribe from the Room To Talk Blog