Posted by Andie on August 16, 2010
Have you ever been in a beautiful home only to use the bathroom and realize it's the one room in the house that's a little neglected? If this is the case for your poor bathroom, check out these tips that can help transform it from boring and dull to unforgettable.
1. Say Goodbye to Junk

Get ready for a major throw away session. Get a garbage bag, and throw away anything and everything in your bathroom that you haven't used for a year. Trust me, if you haven't used a bottle of lotion or eye shadow in the past year, I'll bet my life on the fact that you aren't going to use it this next year either. The more you throw away, the better you'll feel. Promise.
2. Scrub, Scrub, Scrub

Give your bathroom a good thorough deep clean. Visit Secrets for the serious Bathroom cleaner for home-made cleaning solution how-to's.
Now the fun can really begin..........
3. Color Goes a Long Way

Bathrooms are great place to experiment with paint because of their small size. Don't be afraid of bold, cheery colors, they make all the difference when it comes to charm.
photo courtesy of House Beautiful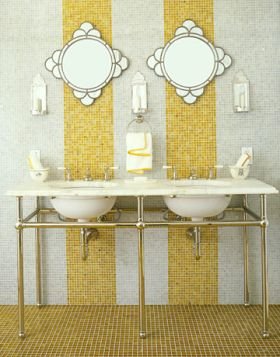 4. Mirror Mirror on the Wall

Nothing updates a bathroom like a new mirror over the sink. Move away from the traditional square mirror everyone else seems to have and get creative.

photo courtesy of House Beautiful
5. Wow Your Visitors
A plentiful pile of fresh, crisp hand towels is where it's at. Especially in guest bathrooms. There is something so lovely about drying your hands with a clean hand towel and throwing it in a cute wooden hamper afterwards. Yes, this means more laundry for you, but your guests will appreciate it!
photo courtesy of House Beautiful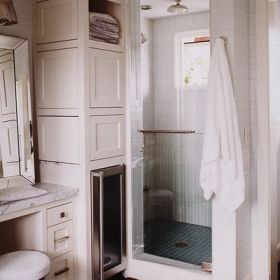 6. Different is good..

Don't get pigeonholed into thinking that all bathrooms have to be the same. Make your bathroom unique to you. Don't do exactly what all of your neighbors are doing..... think outside the box. Heck, if you want a mini fridge in your bathroom, then do it! (Pictured here)
photo courtesy of Coastal Living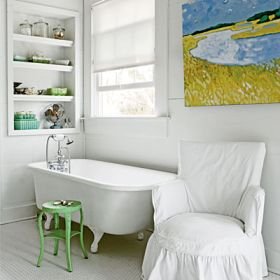 7. Freshen up with Furnishings

The rest of your house has furniture, so why shouldn't your bathroom? Incorporate a small piece of furniture or two, and definitely hang up colorful artwork (especially if your walls are white). Yes, bathrooms are for taking care of business, but it's nice when they are cozy and comfortable as well.
photo courtesy of Coastal Living
Sort By Blog Topic:
Popular Posts
Subscribe to the Room To Talk Blog
Unsubscribe from the Room To Talk Blog