Posted by Andie on August 12, 2010
Hire a Moving Company.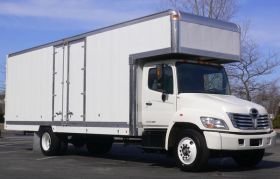 I simply can not stress this enough.
Some of you might remember that a few months ago the Mr. and I moved to a new apartment. As a last minute decision, we hired a moving company to pick up, haul, and deliver all of our big furniture to our new place. This was possibly one of the best decisions we've made as a married couple to date. Seriously though.
I know some of you are probably thinking, "Why hire a moving company when I can round up all my neighbors, friends and family to get the job done for FREE?!" Well, because nothing in life is really free, and there are a couple major reasons why you should make friends with the moving company...

1. Safety First. Moving furniture is dangerous business. Fingers get squashed, toes get broken, and backs give out. Do you really want to be responsible for sending your father/father-in-law/husband/brother/neighbor or anyone else for that matter to the hospital in an ambulance because you asked them to carry your 2,000 lb. armoire down the stairs? Didn't think so. Instead of killing off your loved ones, hire people that actually know what they're doing, and that do it for 8 hours a day!
2. Be Kind to Your Furniture. If you spend good money on beautiful furniture for your home, spend a little money to insure that your furniture will be in the same good condition after you move. A friend of mine has an unmistakable 6" carving in the front of her piano that came about when a neighbor tried to help move it with a set of keys hooked to his belt. Yes, accidents do happen. But you can decrease the chances of dinging up your furniture by hiring professionals.
3. Take a Load Off. Every aspect of moving is stressful. Finding a new place to live, filling out paperwork, packing up your house, saying goodbyes......it's no walk in the park. Hire a moving company so that the morning of the move you can relax and eat waffles with strawberries and whipped cream while you watch the professionals do the hard work. You'll be thanking your lucky stars it's them and not you.
So there you have it. If you're relocating any time soon, go call a moving company. You'll thank me later.
Popular Posts
Subscribe to the Room To Talk Blog
Subscribe to the Room To Talk Blog
Unsubscribe from the Room To Talk Blog